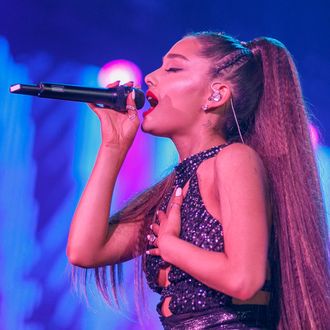 Photo: Rich Polk/Getty Images for iHeartMedia
Ariana Grande isn't just pop-star big, she's Beatles big according to a new chart record. After doing rap numbers to claim her latest No. 1 album, Grande has made more history over on the Hot 100 by occupying the top-three spots with "7 Rings," "Break Up With Your Girlfriend, I'm Bored," and "Thank U, Next" in that order. She becomes the first artist since the Beatles into 1964 to achieve such chart dominance, essentially making Ari as popular now as the Beatles once were in their prime (in as much as such a bold comparison can be made with streaming's impact considered, of course). The Beatles did it first with "Can't Buy Me Love," "Twist and Shout," and "Do You Want to Know a Secret," while Ari becomes the first solo artist to do it.
Ari's "7 Rings" now holds the No. 1 spot for a fourth week; meanwhile, "Thank U, Next" previously went No. 1 for seven weeks, and "Break Up" has entered the chart going straight to No. 2, making it a serious contender for her third No. 1 from the album as well as in her chart history. (And you better believe her fans are already on a crazy mission to make that happen.) Just this week, Grande claimed more history when Thank U, Next became the most-streamed pop album ever. Now, all that said, the Beatles eventually improved on their Hot 100 flex by taking over the entire top five that same year they first went for three. Your move, Ari Hive.