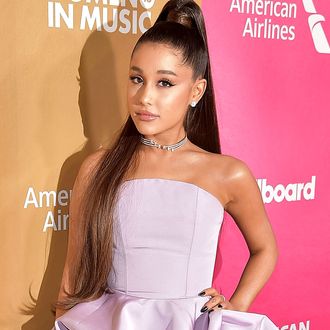 Ariana Grande.
Photo: Theo Wargo/Getty Images
"Thank u, Next" is a certified banger (and a very fun music video) from the saccharine mind of Ariana Grande, a song that's somehow able to make breakups an empowering experience that's less about sobbing next to Oreo sleeves on a couch, and more about being grateful about what your ex taught you about yourself. The tune, of course, was released after Grande broke off her engagement with SNL player Pete Davidson, but as she explained in a new interview on the Zach Sang Show, she actually recorded a few versions of the song to reflect the different relationship outcomes that could've occurred with Davidson.
"We had like three different versions of the song," she said, per Rolling Stone. "In my relationship at the time, things were like up and down and on and off, and so I didn't know what was going to happen and then we got back together. So I had to make a different version of it, and then we broke up again, so we ended up going with that verse." One of those recordings, indeed, reflected if she wound up getting hitched to Davidson. "There's a version where I was getting married, there's a version where I'm not getting married, there's a version with nothing," Grande added. "We're not talking about anything, but we all knew that the first version was gonna be the version we ultimately went with." And we wouldn't want it any other way.