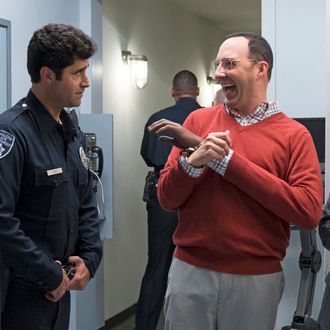 Arrested Development.
Photo: Saeed Adyani/Netflix
Surprise: More episodes of Arrested Development are just around the corner! After dropping hints on Twitter all day yesterday teasing that "something's coming" in the form of an upcoming announcement, Netflix just dropped the news that part two of Arrested Development's fifth season now has a premiere date on the streaming network: Friday, March 15. Here's the log line for the new batch of episodes:
In the second half of Arrested Development's fifth season, pressures mount on the Bluth family as Buster heads toward a murder trial. The Bluth company is on the hook to build a "smart'" border wall that puts them in debt and risks exposing a software hoax perpetrated by George-Michael. Soon the gay mafia is involved and it appears that even Michael can't save the family this time. And Tobias becomes a Golden Girl.
The first eight episodes of the season debuted on Netflix back in May 2018, but the series's return was somewhat overshadowed by an interview the cast did with the New York Times, in which Jessica Walter revealed that Jeffrey Tambor had verbally harassed her on set. Jason Bateman, Tony Hale, and David Cross apologized for defending Tambor rather than coming to Walter's defense in the interview, while Alia Shawkat did her best to stand behind Walter at the time. "Afterwards, I was scared that I didn't say enough and was kind of upset with myself that I wasn't able to stand my ground more," she told Broadly at the time. "But once Jessica was upset, that was my main concern. I didn't even want to necessarily talk about the issues any more. I just wanted to make sure she was okay."