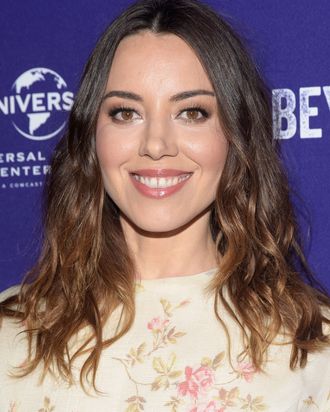 Photo: Michael Tullberg/Getty Images
Aubrey Plaza can't quite believe the freedom she's been given as the host of the 2019 Film Independent Spirit Awards. "I am still a little shell-shocked at just the fact that Film Independent has given me zero parameters — no rules, no nothing," Plaza told Vulture. The indie film world's annual awards show, which will be held on the beach in Santa Monica on February 23, is traditionally a looser, more freewheeling affair than the high-stakes Academy Awards the following day. "They've not once ever said, 'Hey, by the way, you have to do this,' or, 'By the way, you can't do this.' It's a completely clean slate … They were like, 'We're excited to see what you do.' And I'm like, 'Me too!' I don't know what I will do, but if it can be anything, then wow."
Plaza follows in the footsteps of a string of notorious rule-breaker hosts, including John Waters, Sarah Silverman, Andy Samberg, Patton Oswalt, and, most recently, the duo of Nick Kroll and John Mulaney — many of whom are on her contact list. "I made some phone calls — talked to Kroll, talked to Samberg," she said. "They're all my friends. I've known them forever, and you can get as much advice as you can."
The person who gave her the most guidance? Her former Parks & Recreation co-star Amy Poehler, a three-time veteran of co-hosting the Golden Globes. "She knows me so well and she's done it so many times, and to me she's always the funniest person in the room," Plaza said. "She's just very great at having perspective on it and saying to me, 'Don't follow that weird idea. Just your instincts are right. Just do that.'"
"They've all been really helpful, but it's unique to whoever's doing it," she added. "It's like, I can't do what Samberg did. I can't do what Kroll and Mulaney did — I mean, they have a whole shtick together. I'm my own person, and at the end of the day, I have to bring myself to the table in whatever way I can."
Despite her deadpan comedic sensibility, Plaza admits she's a traditionalist when it comes to awards hosts. "I have kind of a nostalgia for the Billy Crystal era of hosting," she revealed, noting that he was the predominant Oscar-night host during her high-school years, when she was falling in love with film and the awards celebrations around it.
As a result, she's a little dubious about the Academy Awards going hostless this year. "I guess I have a more old-school kind of attitude about it," she said. I have a romantic idea of what a host is, and I think it is the Billy Crystal, Whoopi Goldberg kind of vibe — Garry Shandling, also, was such a great example of just a great host."
"I think the takeaway there is having someone make the audience feel like they're in good hands," she added. "Because you're watching a show that is so reliant — literally — on a machine, a teleprompter that's keeping this thing going and revealing these winners, I feel like it's so special and important to have a real human element to the show. Have someone connect with the audience and guide you through this show.
"I'm not interested in self-driving vehicles," she said. "I want a human being there to give me a little something extra. If I want to just know who the winners are, I'll go look it up online the next day."
If and when the Academy gets back in the host market, Plaza said she's listening. "I never thought of myself as a host until now, I'm hosting," she admitted. "If that were an opportunity that came my way, I would be very shocked if I said no to that, but I don't think I'm the obvious choice."