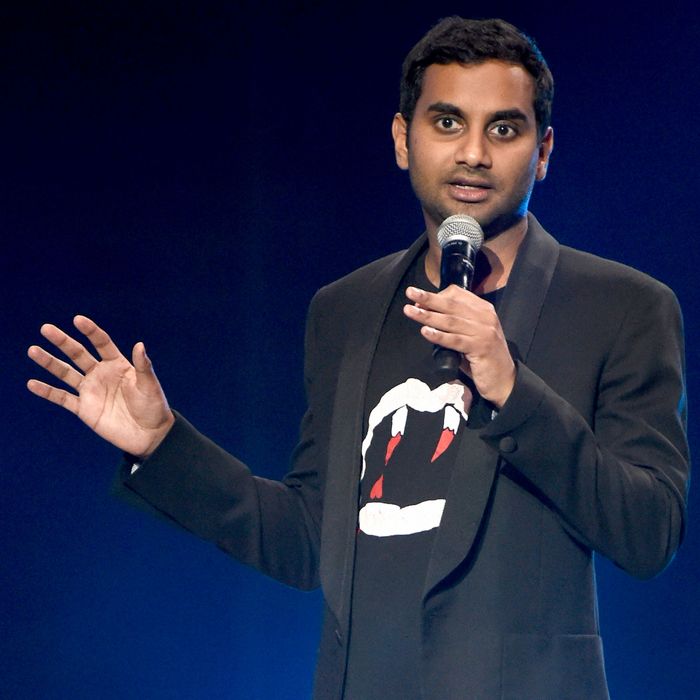 Aziz Ansari.
Photo: Kevin Mazur/WireImage/Getty Images
Last week, Aziz Ansari announced that he would be doing a self-described "pop-up" show in New York. Upwards of 18,000 people signed up to try to get a seat, Ansari informed the roughly 200 people who made it in Monday night, onstage at the Village Underground, the Comedy Cellar's second venue. As he's done with tours in the past, this show, and the similar pop-ups he's done recently in Philadelphia and Washington, D.C., was designed to be a warm-up, a space for him to try out jokes and figure out how the material he's been working on will fit together. It will also likely be one of his last more off-the-cuff appearances before he embarks on a pretty extensive international tour this spring.
A loose tone ran through the whole set, which was made up largely of the material that has been reported on over the last few weeks. This changed, however, when Ansari brought up the topic that it seemed everyone was wondering if he'd bring up. He began by saying that he loves being back in New York. He recalled a guy on the street telling him he loved his Netflix show, only to realize he was talking about Hasan Minhaj's Patriot Act. The guy quickly realized his mistake. "'Oh, no, Aziz, right?' Yeah, yeah, that's me. 'Master of None!' Yeah, yeah, that's me. 'Parks and Rec!' Yeah, yeah, that's me. 'Treat yourself!' Yeah, yeah, that's me. 'And you had the whole thing come out last year — sexual misconduct?' No, no, no, no, no, no, that's Hasan!"
From there, Ansari sat down, and his voice turned somber. He told the audience that there are two reasons he hasn't really talked about that "whole thing" much, referring to the story that came out last year on Babe.net accusing him of sexual misconduct. First, he said, he wanted time to process and determine what he wanted to say. Second, "it's a terrifying thing to talk about." "There were times I felt really upset and humiliated and embarrassed, and ultimately I just felt terrible this person felt this way," he continued, his voice wavering. "But you know, after a year, how I feel about it is, I hope it was a step forward. It made me think about a lot, and I hope I've become a better person." Ansari recalled a conversation in which a friend told him it made him rethink every date he's been on: "If that has made not just me but other guys think about this, and just be more thoughtful and aware and willing to go that extra mile, and make sure someone else is comfortable in that moment, that's a good thing."
"And I think it also just gave me perspective on my life," Ansari added, pivoting to just how grateful he is for getting to perform comedy for a living. "There was a moment," he said, "where I was scared that I'd never be able to do this again." He recalled how, at the end of every show, he would always scream, "Thanks so much!" but in truth, he didn't really mean it. It's just what you're supposed to say at the end of a show. "But now, I really mean it. I mean it on a different level," he said. "You canceled whatever you were supposed to do tonight, and you came out in the cold, and you waited in line, and you put your phone in a stupid pouch," referring to the Yondr pouches that have become popular at stand-up shows to keep the audience off their phones. "You did all this shit just to hear me talk for an hour and some change, and it means the world to me, so thank you so much."
As far as has been reported, this was Ansari's first real attempt to address the allegation since his statement after the story initially came out. As with all the material he's tested, it's unclear if this statement will continue to appear in his act as he goes out on tour or if it will evolve. After a couple of callbacks, Ansari said goodnight, and told the audience he'll be back for a proper show in the spring.