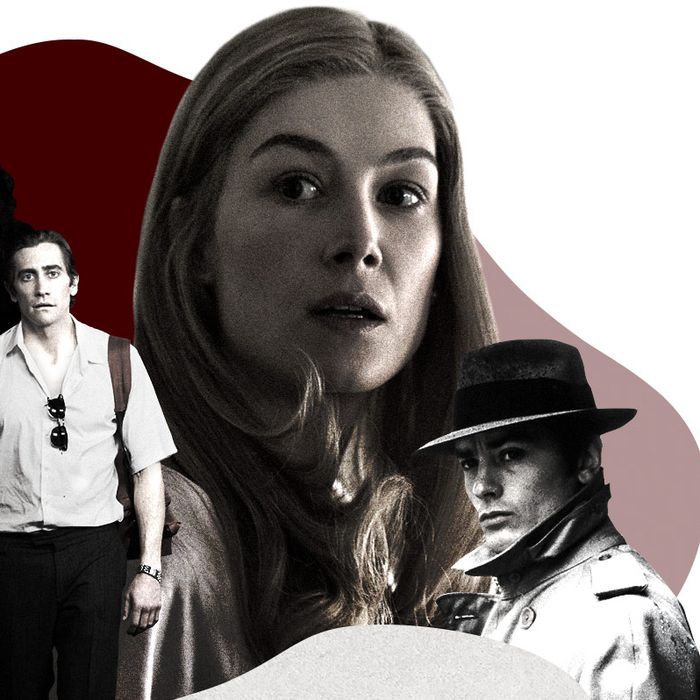 Photo-Illustration: Maya Robinson/Vulture
No genre is shaped as potently by the political and social moment of its time quite like noir. Despite this quality, noir is an elusive category that ebbs and flows within the public imagination. It has evolved dramatically since its beginnings in 1940s Hollywood, drenched in shadows and led by actors like Bette Davis, Barbara Stanwyck, and Humphrey Bogart. With the latest installment of True Detective, which ended its third season Sunday night, and more recent works like TNT's Chris Pine–led I Am the Night, it's in the spotlight once more.
How did noir grow into the genre we see today, which often trades the political and social unease that was the focus of older works for a more personally attuned, existential horror? Let's start with a bit of a history lesson.
So, what is noir?
Noir began as a style that quickly coalesced into a genre. It originally spanned the 1940s and 1950s in Hollywood, but it was also present around the globe, with films like the 1949 British masterpiece The Third Man and Mexican fare like the 1946 Dolores del Río vehicle La Otra. It fully came into its own during, and especially after, World War II, reflecting the anxieties of this era, especially when it came to the agitation over women taking on roles that didn't align with predominant gender norms. Noir is perhaps most known as a genre obsessed with crime — not just in the form of its more recognizable figures, like Bogart's Philip Marlowe and similarly morally complex detectives, but also crimes of the heart and mind that lead people to lose their very souls. Noir is an intrinsically political and psychologically attuned genre.
Early noir is most widely known for its moodiness, expressionism, rhythmic and stylized dialogue, chiaroscuro lighting, and tragic endings, where characters who trespassed societal mores met heartbreaking fates. Some noir tended more toward poetic realism, and others hewed toward an almost surreal expressionism. What remains most immediately iconic is noir's archetypes — especially the femme fatale — which spoke to the darkest corners of the human psyche. More than anything, noir is a very flexible genre, even in its original Hollywood-based era. But this definition is a good frame of reference.
What's the difference between noir and neo-noir?
For one, it comes down to timing. The cutoff is 1959. Color also distinguishes it. In its classic period, noir was primarily confined to moody black-and-white cinematography, with a few exceptions, like the Technicolor feast starring Gene Tierney, Leave Her to Heaven (1945). But neo-noir marks a major shift for more than just the changes in color palette, visual grammar, and time. Neo-noir places the genre in new contexts and settings, and even cross-pollinates with other genres, as Blade Runner (1982) demonstrates. By the 1960s, noir had become self-referential and stylistically more blunt in a way that introduced new mores to the genre, often remixing the past as if in conversation with history. Free of the original studio system, neo-noir also has more brutal violence and sexually explicit scenes, turning what was once subtext into text. The noir of the aughts took this to an extreme, obsessing over the style of the genre's past to the point where it can come across as empty pastiche á la Sin City (2005). In recent years, works like Top of the Lake, Destroyer, and others still care about style, but it's grounded in the personal hells these characters navigate in their urban and rural landscapes.
The below list doesn't include some of the more obvious, highly regarded neo-noirs, including Chinatown, Drive, and Zodiac, in order to provide a more varied overview of the genre. These films (and two TV shows) are a blend of cult classics, canonized favorites, and personal obsessions I feel are particularly illustrative of the soul of this period of noir, and how it has evolved in recent decades.
The Naked Kiss (1964)
Writer-director Samuel Fuller made a career out of using the excess and grotesquerie of pulp to interrogate controversial subject matter. He was never better than when he was working in noir. The Naked Kiss is a gut punch with the rhythm of a dream. Kelly (Constance Towers) is a former sex worker trying to reestablish her life in a small, buttoned-up town. She's harassed by people who treat her terribly because of her former profession, but finds love with a high-profile scion that suggests a happily ever after is possible. But this is a noir by Fuller — so love gives way to depravity, proving that even in the quietest of suburbs, horror can bloom.
Le Samourai (1967)
John Pierre-Melville's carefully constructed, tense masterpiece Le Samouraï was the first time I ever saw French icon Alain Delon onscreen. I was so lost in the icy depths of Delon's blue eyes and the razor-sharp cunning of his physicality that I didn't fully absorb the artistry of the world Melville had created. The beauty of Le Samouraï isn't its plot — which tells the tale of a hit man (Delon) with a job gone wrong — but the assured handling of tone, mood, and style, which tips its hat to the noir of the past while standing out as a unique heady cocktail of its own. It's a story that proves strangely moving about the nature of loneliness, and is one of the most stunning examples of what a great star can do in a role.
Klute (1971)
The reason I fell in love with noir was its women. From Bette Davis's all-consuming fury in The Letter (1940) to Marlene Dietrich's layered, surprising turn in Witness for the Prosecution (1957), noir during classic Hollywood's golden age offered contradictory and alluring roles for women. Free of the restrictions of the Hays Production Code, New Hollywood directors in the 1970s seemingly forgot the importance of women and gender dynamics to noir, which makes Klute, which earned Jane Fonda an Academy Award for Best Actress, an outlier. In Klute, directed by Alan J. Pakula, Fonda plays this decade's conception of the independent women that femmes fatales seemingly represented: Bree Daniels, a no-nonsense sex worker with aspirations of being an actress, gets wrapped up in the murder investigation by Donald Sutherland's titular private eye. Fonda is indeed magnetic as she modulates the performance of her womanhood based on the people in her orbit — whether negotiating pricing with a john in a delicate, saucy voice or trying to remain stoically beautiful while being cruelly appraised alongside other women for a modeling audition. Noir has definitely lost something in shifting its focus away from the gender politics and shifting notions of gender that were a major aspect to its beginnings. But as Fonda proves in her beguiling performance, that doesn't mean the makers of the genre have completely lost sight of this quality.
The Long Goodbye (1973)
You could create an intriguing, albeit limited, history of noir and its shifting definition of masculinity just by tracking the adaptations of Raymond Chandler's most famed creation, Philip Marlowe. Played most iconically by Humphrey Bogart with a sheen of wry cynicism in The Big Sleep, the character has continued to pop up in every era of noir. In The Long Goodbye, Marlowe, as played by Elliott Gould, is a man out of time. His morality consistently juts against the cynicism and amorality of his peers. It's a distinctive, highly radical take on the famed detective, with a brutal finish.
The Parallax View (1974)
The Parallax View, like many films of its era, is typically considered a political thriller. But the genre designation "thriller" has always set my teeth on edge — many films branded as such are more accurately described as either horror or noir. The Parallax View may lack the traditional imagery of the femme fatale and the dogged detective undone by moral instability, but it lives within the noir tradition of analyzing the prevailing powers and institutions that influence our lives with a paranoid cynicism. The film, directed by Alan J. Pakula (who also helmed Klute), features a mesmerizing turn from Warren Beatty as Joseph Frady, a scuzzy journalist known for his "creative irresponsibility," who begins a dangerous investigation into a corporation that may be linked to the assassination of a rising congressman and the witnesses to the event. The opening assassination is still jarring in its abrupt brutality, and the film continues to surprise from there as it creates an intricate, damning web of intrigue. The Parallax View demonstrates how paranoia in noir evolved from being rooted in the interpersonal to something broader about the fear we wrestle with, because of the political and corporate bodies that influence our lives. It's the same interest in dismantling the sanctity of the American dream, just from a different angle.
Blue Collar (1978)
Of all the films on this list, Paul Schrader's directorial debut stands out the most. Its sweaty, unglamorous 1970s aesthetic, bluesy score, and casting of actors like Richard Pryor seem miles away from how noir is typically conceived. But Blue Collar has the soul of noir. It follows a trio of financially strapped Detroit auto workers — Zeke Brown (Pryor), Smokey James (Yaphet Kotto), Jerry Bartowski (Harvey Keitel) — who are livid at their mistreatment by management and their union. United by their anger, they decide to rob a safe at union headquarters, stumbling upon a conspiracy that rips their lives apart. I was introduced to the film when it was chosen for a recent Noir Fest at Chicago's Music Box Theater. It is one of the most impactful neo-noirs I have been introduced to in recent years for its consideration of anti-blackness, the crushing constraints of being the working poor, and its vision of the Rust Belt.
Body Heat (1981)
With neo-noir, the sexual indiscretions and politics between men and women — often subtext in previous decades — comes to the fore. Body Heat is a great example of how much this change affects the genre. The film is very indebted to Billy Wilder's Double Indemnity. But where that film has an air of chilliness, Body Heat is overheated and overwhelmed by sexual desire, free of any subtextual maneuverings. It follows an affair between an inept lawyer, Ned (William Hurt), and a wealthy married woman with untold appetites, Matty (Kathleen Turner). While I typically believe the tension of things unseen is more alluring than explicit sex scenes — and this film is heavy on the sleaze — it's hard not to be entranced by Turner in her decadently cunning screen debut.
Mona Lisa (1986)
Mona Lisa has the two qualities essential to noir: atmosphere and psychologically astute character study. Neil Jordan's 1986 noir follows George (Bob Hoskins), an ex-con who's hired by his old crime boss Denny Mortell (Michael Caine) to act as a driver and bodyguard for a call girl named Simone (Cathy Tyson). This makes Mona Lisa sound lurid, but it shirks expectations. It's a surprising love story roiling with an undertow of grief, obsession, and longing that noir is known for. Each of the main characters are distinctive and beautifully acted, but it is Hoskins who is especially tremendous, earning his only Oscar nomination for this role. He distills what is so moving about the film: its portrayal of love as both a salve and potential weapon.
Black Widow (1987)
If the femme fatale is the most iconic figure in noir's classic period, neo-noir thoroughly adopts the serial killer. Black Widow synthesizes the two archetypes in the form of Catharine (Theresa Russell), a methodical and highly intelligent femme fatale preparing herself for her next mark and kill. Black Widow would be notable for Russell's elusive performance alone, but it's also memorable because the serial killer and the dogged investigator tracking her down are both women. Investigator Alex Barnes (Debra Winger) is the kind of woman who reads obituaries in the morning with her coffee and carries herself with a sloppy lack of restraint, making her the antithesis of the seductive Catharine. Black Widow is at its best when interrogating the ways these different women play off each other and how control shifts between them, creating a propulsive, striking tale.
After Dark, My Sweet (1990)
Somewhere in a desert town near Palm Springs, ex-boxer and current escaped psych-ward patient Kevin "Collie" Collins (Jason Patric) gets wrapped up with an alcoholic widow (Rachel Ward) and her questionable acquaintance's (Bruce Dern) plot to kidnap a rich man's child. Each performance adds new dimensions to the otherworldly, scuzzy landscape of the film. Patric is a standout as a man not even at home in his own mind. After Dark, My Sweet is the best adaptation of noir icon (and one of my favorite authors) Jim Thompson's work, capturing the venomous poeticism, grit, grime, and pungent existential horror that defines Thompson. It's also one of the few neo-noirs that captures the entrancing potential of voice-overs, which are so often ill-used in this genre.
The Grifters (1990)
Three con artists with warring appetites and motives intersect to fatal results: the sharp-eyed and venomous Lilly (Anjelica Huston); the son she had at a very young age, Roy (John Cusack); and his older girlfriend, Myra (Annette Bening), forever using her sexual appeal to advance. The Grifters was adapted by director Stephen Frears and screenwriter Donald E. Westlake, but despite its grit and pallor of doom, it never quite reaches the striking venomous energy of Jim Thompson's novel, except for Huston's tremendous performance. But the film is hyper-self-aware of its cinematic and literary antecedents, making it feel like a worthy heir to the embittered noir landscape of the 1940s and 1950s that it borrows some of its style from.
The Rapture (1991)
The Rapture has one of the most soul-crushing, existentially frightening endings I've ever seen. At first glance, it doesn't seem quite like a noir. The 1991 film stars Mimi Rogers as a sexually voracious, somewhat emotionally distant woman who converts to Christianity when she comes across a sect that believes the rapture is imminent. Noir is not only a flexible genre, but one whose qualities have seeped into so many corners of film that its influence can be seen in surprising venues. The Rapture echoes noir in the particulars of its moral landscape, interest in sexuality, its existential quandaries, and its view of Los Angeles. The city is brimming with hopeless malaise and hollow glamour. As Roger Ebert wrote in his four-star review of the film, "The Rapture is an imperfect and sometimes enraging film, but it challenges us with the biggest idea it can think of, the notion that our individual human lives do have actual meaning on the plane of the infinite."
Deep Cover (1992)
In her essay "The Dark Continent of Film Noir," film critic and historian E. Ann Kaplan describes race as film noir's "repressed unconscious signifier." Noir has always had a complex relationship with race, especially black identity, which is often implied in the darkened shadows that envelope the faces of its leads. (Sometimes, it's more bluntly addressed, like in Sidney Poitier's early leading role in No Way Out.)
Directed by veteran actor Bill Duke, Deep Cover creates a paranoid and poetic fable that strikes at the heart of racial and economic unease in the 1990s. Russell Stevens Jr. (a magnificent Laurence Fishburne) is a police officer who goes undercover as a drug dealer working his way through the criminal enterprise. Along the way, Stevens meets a cast of colorful and selfish characters, including a memorably eccentric Jeff Goldblum. But he becomes racked with guilt over committing heinous crimes undercover, the collateral damage of which affects the very communities he wants to protect. It's a heartbreaking and at times even nihilistic consideration of blackness, community, and the ability to change institutionally prejudiced systems from the inside. And it simmers with intensity, thanks to the assured performances and direction.
One False Move (1992)
Black women have always operated in the margins of noir. They've been former maids interrogated briefly for information (Theresa Harris in Out of the Past), lounge singers, minor love interests. Rarely have they been more substantial figures like Fantasia/Lila (Cynda Williams), one member of a deadly criminal trio in Carl Franklin's 1992 film One False Move. Lila isn't a simplistic femme fatale providing a jolt of sexual energy to this low-budget, southern-inflected tale of criminals on the run and the detectives hunting them down. She has specific, moral reasons behind her involvement. Lila is joined by her boyfriend, Ray (Billy Bob Thornton), and ex-con Pluto (Michael Beach) on a crime spree that leads them to Arkansas, where most of the film takes place. The rural atmosphere opens the film up to fascinating new avenues, including a great performance from Bill Paxton as the small-town sheriff who shares a past with Lila. What makes One False Move such an engrossing film is how it shirks the empty pastiche of 1970s and 1980s noirs and instead uses the genre to confront issues of privilege, white guilt, and anti-blackness, with small-town grit.
Suture (1993)
Suture is a curiosity. More than any other film on this list, it represents my issue with how neo-noir often elides trenchant political and emotional concerns for an obsession with style. Writing, directing, and producing partners Scott McGehee and David Siegel have a design background — and it shows. The black-and-white cinematography is stark and richly textured. Each frame has a sparse aesthetic, in which people are positioned in ways that gleam with a geometric elegance. The premise of the film suggests that it's interested in the nature of identity and blackness. The plot concerns two half-brothers — the wealthy, white Vincent (Michael Harris) and working-class, black Clay (Dennis Haysbert) — who reconnect after the death of their father. They often make pronouncements about how uncanny their resemblance is, which is comically ridiculous, considering Clay is a dark-skinned black man and Vincent is as white as can be. Suture plays with a number of noted noir tropes — doppelgängers, mistaken identity, and amnesia. It never taps into the intriguing surreality and potential political weight of its plot, but it is a strangely spellbinding tale thanks to the assured lead performances and visual ingenuity.
Fallen Angels (1993 –1995)
This Showtime anthology series only ran for two seasons, and it's a bit hard to get ahold of. It boasts a bevy of icons in front of and behind the camera: Laura Dern, Alan Rickman, and Danny Glover; producers like Sydney Pollack; stories based on the writing of noir mavericks like novelists David Goodis and Cornell Woolrich, whose work draws on classic noir traditions and curiosities; and a surprising array of directors, including Alfonso Cuarón, Agnieszka Holland, and Tom Cruise. (Yes, that Tom Cruise.) While it's a highly imperfect neo-noir, it's fascinating to watch these collaborators wrestle with the moody stylings, language, and visual grammar of noir's classic period in the mid-century Los Angeles landscape they create.
The Last Seduction (1994)
Unapologetic. Emotionally cold. Sexually voracious. Bridget Gregory, the harsh protagonist impeccably brought to life by Linda Fiorentino, is one of the most brutal femmes fatales within the annals of film noir. After she and her husband swipe nearly a million dollars in a pharmaceutical scam, Bridget runs off to a small town outside of Buffalo with the money and performs increasingly more terrifying actions to keep it. Bridget is the ne plus ultra of modern femmes fatales, representing just how brutal they've become.
Strange Days (1995)
"Memories were meant to fade, Lenny. They were designed that way for a reason," Mace (Angela Bassett) says to the obsessive, flawed Lenny (Ralph Fiennes) in the best scene of Kathryn Bigelow's violent techno-noir Strange Days. What's great about neo-noir is how it splices noir concerns with other genres. In the case of Strange Days, it's science fiction. Bigelow, along with screenwriters James Cameron and Jay Cocks, creates a Los Angeles in the closing days of 1999 that is pockmarked by crime and defined by a language all its own. Strange Days is a manic, sensory experience, which makes sense given its preoccupations with tackling a wide range of harrowing subject matters, including voyeurism, rape, and racial strife. Lenny's drug of choice is "jacking in," which allows him to experience the fleeting high of reliving other people's memories. Lenny uses this drug to relive his time with his great love, Faith (Juliette Lewis), whom he's trying to return to with help from Mace. Strange Days is an urgent, visually extravagant, and often horrifying tale, taking us through this techno-hell of future Los Angeles, from skeezy hotels to the interior fantasies of people's minds. The only way this film could be better is if Angela Bassett — whose tender, tough performance gives it pathos — were the lead.
Devil in a Blue Dress (1995)
Adapted from Walter Mosley's novel of the same name, Carl Franklin's adaptation of Devil in a Blue Dress holds many pleasures. As Ezekiel "Easy" Rawlins, the makeshift private detective tasked with finding a missing white woman named Daphne Monet (Jennifer Beals), Denzel Washington carries himself with grace and enviable swagger. But the film, like all great noir, is brimming with amazing performances, particularly Don Cheadle's manic, lightning-bright performance as Mouse. Most intriguing is how Franklin reimagines 1948 Los Angeles, interrogating the racial landscape and existential unease from the perspective of the sort of black characters that predominantly colored the margins of the genre in decades past.
Bound (1996)
The Wachowskis' Bound exemplifies what I love most about noir: It offers the space to explore a variety of desires and gender fantasies. Too often, the wrong lessons are learned from noir's classic period, making its modern descendants too keen on machismo. Bound is one of the few neo-noirs that understands the desire that develops between women, for women. Or maybe I just have a bit of crush on Corky (Gina Gershon), the butch ex-con who starts an affair with Violet (Jennifer Tilly), who is struggling with the narrow boxes the men in her orbit have created for her, including her abusive, Mafia-connected boyfriend, Caesar (Joe Pantoliano). The relationship between Corky and Violet teases new dimensions out of both women, making this neo-noir so memorable.
Jackie Brown (1997)
Jackie Brown is the only Quentin Tarantino film I truly, deeply love. Perhaps because it feels soulful in ways his other work doesn't, even as they riff on cinematic figures and inspirations from the past. Tarantino's at his best when he creates multidimensional, contradictory women, understanding them beyond the sleek stylings they can provide. As the titular Jackie Brown, Pam Grier is the crown jewel in his oeuvre. Adapted from Elmore Leonard's Rum Punch, the film centers on a down-on-her-luck airline stewardess who smuggles for a black-market gunrunner named Ordell (Samuel L. Jackson) to make ends meet. She's pressured on all sides: by Ordell, by a bondsman she shares a tender and honest connection with named Max Cherry (Robert Forster), the LAPD. Jackie Brown is a scuzzy valentine to the blaxploitation films that launched Grier's career, and noir, going so far as to thank Samuel Fuller (whose neo-noir The Naked Kiss is also on this list). The film is colored by sharply constructed performances from Forster, Bridget Fonda, and Robert De Niro, as well as a killer soundtrack, taut direction, a heap of charm, and an undertow of menace. Grier is the best part of a film already marked by greatness. She's sexy with a naturalistic air, smart, tough, cunning. She's unlike anyone else in the genre. Why don't we get more films like this?
Twilight (1998)
Paul Newman makes a curious noir lead, whether as Detective Lew Archer in Harper (1966) and The Drowning Pool (1975) or in later work like Twilight. Perhaps it was his sunshine-bright good looks, or the easygoing way he moved through the world, which is antithetical to the ragged paranoia that holds the heart of so many men in this genre. No American actor has communicated the ease Newman does before the camera, which he shows here playing Harry Ross, a retired detective struggling with aging and trying to piece the wreckage of his life into something meaningful. When we meet Harry, he has a sour, guarded air to him, as if he's not sure quite how life turned out this way, even when interacting with his friends, a married pair of aging movie stars, Catherine (Susan Sarandon) and Jack Ames (Gene Hackman). When Jack asks Harry to do a favor for him, he finds himself involved with a decades-old case about Catherine's first missing husband. Twilight doesn't reinvent neo-noir, but it's a sincere portrayal of aging and loss, and a valentine to a Hollywood that no longer exists, bolstered by fine performances.
Mulholland Drive (2001)
Many of David Lynch's films have playfully toyed with noir, including Lost Highway and Twin Peaks: Fire Walk With Me. But trying to pin down his work to any single genre feels like a futile exercise. Is Mulholland Drive a noir with elements of horror, or vice versa? Does it matter? Mulholland Drive creates a Los Angeles of thwarted desires and surreal heartbreak, of garish colors and hallucinations that cloud reality, making it a magnificent example of the genre's astute handling of setting-as-character. It travels into strange corners and vignettes, but the heart of the film concerns the relationship between aspiring actress Betty (Naomi Watts) and an amnesiac (Laura Elena Harring) who adopts the name Rita after looking at a poster for the 1946 noir Gilda, starring Rita Hayworth. Lynch fully embraces the surreal qualities that have touched noir since the beginning with his use of sound, nonlinear narrative, the visual landscape, and the way he plays on identity, as characters seem to merge and splinter.
Femme Fatale (2002)
Brian De Palma's devious neo-noir Femme Fatale operates on multiple levels: It's an ode to the titular archetype that pushes the characterization in surprising directions, especially when it comes to women's internal lives; it's also De Palma's own effort to refute criticisms about the way he writes women; and finally, it's a beautiful modernization of noir's classic concerns. Femme Fatale  begins with footage from Billy Wilder's classic noir Double Indemnity, letting viewers know immediately the kind of world they're entering. The film follows Laure (a stellar Rebecca Romijn), a seductive, intelligent thief involved with a heist at the Cannes Film Festival, who adopts the identity of her doppelgänger after she commits suicide. This synopsis doesn't capture the decadence and surreal quality of Femme Fatale, which is as arch and seductive as its lead.
Collateral (2004)
Michael Mann has made a career out of slickly produced noirs dealing with the travails of toxic masculinity. When I was writing this list, I knew I wanted to mention one of his films, but given the length and grace of his career, it was hard to choose. Should I go with the iconic Heat, which let Robert De Niro and Al Pacino briefly but impactfully play off one another? What about the neon hell of Thief? I settled on Collateral perhaps because it is the film of his I return to most often, due to the sincere pleasure I find in watching it. Collateral is bolstered by one of Tom Cruise's finest performances, which taps into a quality most directors don't utilize: the chilling unease and unknowability that hides behind his bright smile. There has always been something practiced, even a bit dark, about Cruise's charisma, which is fully weaponized here in his performance as Vincent, a hit man who ropes a meticulous cab driver (Jamie Foxx) into driving him around to make hits for his current assignment.
Lust, Caution (2007)
There are certain films that are designed to haunt. They slip under your skin, grab hold of your heart, and never let go.  Lust, Caution is one of them, a film defined by both splendor and aching tragedy. Like the 1946 Hitchcock film before it, Notorious, Ang Lee's Lust, Caution blends spy thrills, romantic drama, and the seductive qualities of noir. Lust, Caution takes its time to tease out the particulars of the affair at its heart, between Mr. Yee (Tony Leung, whose charisma carries an undertow of menace) and Wong Chia Chi/Mrs. Mai (a revelatory Tang Wei). This isn't any simple con, but an elaborate game — Chia Chi is part of a group of radical Chinese patriots tasked with seducing Yee and assassinating him for his high rank in the Japanese occupied government. Each frame is gorgeous, colored by the allure of this landscape, the fine clothing, and the shifting identities of the two leads.
Mother (2009)
Noir has long been viewed as a predominantly "masculine" genre. To put it bluntly, I think that's bullshit. Noir is nothing without women. This Bong Joon-ho–helmed film centers on an unnamed widow (a tremendous Kim Hye-ja) who is fiercely protective of her teenage son, Yoon Do-joon (Won Bin), who has an intellectual disability. When Do-joon is accused of murdering a high-school girl and forced into a flimsy confession, his mother goes to extreme lengths to protect him and prove he's innocent, as she believes. Mother echoes an earlier noir, the 1940s Joan Crawford vehicle Mildred Pierce, in its keen-eyed understanding of the warping abilities of obsessive love between a mother and child, even in the cold face of reality.
Gone Girl (2014)
Of David Fincher's recent films, it's Gone Girl — adapted from Gillian Flynn's bracing and deliciously arch novel of the same name — that I revisit most often. It took me a bit to realize why I've been so drawn to the film, which is perhaps not as flawless as Fincher's previous work, like Zodiac. Is it the carefully structured mystery at its center, about a wayward husband, Nick Dunne (Ben Affleck, seemingly in the role he was born to play), suspected for the disappearance and possible murder of his picture-perfect wife, Amy (Rosamund Pike)? Is it the assured handling of tone, morose mood, and pulp sensibilities that Fincher and his collaborators coax out of this story? More than anything, it's how Pike brings the obsessive, fatalistic genius of Amy Dunne to life in startling emotional Technicolor. She is the synthesization of two kinds of women that have populated noir since its beginnings: the angelic emblem society expects in women, and the dastardly femme fatale. Amy isn't out for money or sexual gratification, but something a bit trickier: the undying loyalty and soul of her husband, who had the gall to betray their unspoken allegiance to a perfect love story that was always illusory. Amy is both a frustrating and awe-inspiring character for the lengths she goes to for vengeance. She's aware of the stereotypes and horrors — like sexual assault — that women grapple with, and uses them to her advantage. With icy malevolence and practiced charisma, Pike brings to life my favorite femme fatale of the modern age.
Nightcrawler (2014)
In writer-director Dan Gilroy's Nightcrawler, Jake Gyllenhaal looks like a starved coyote prowling the streets of Los Angeles, feasting on the remains of other people's tragedies. Louis Bloom (Gyllenhaal) is a freelance videographer, recording moments of violence and crime in Los Angeles to sell to local news stations. Bloom is exceedingly craven and dangerous, manipulating acts of violence, engendering the demise of everyone in his orbit, and even blackmailing a morning news director, Nina (Rene Russo), into sex. Nightcrawler is blunt in its commentary on the intertwined nature of unethical journalism, consumer desires, and wayward capitalism. It brings to mind Billy Wilder's prescient noir Ace in the Hole, which stars Kirk Douglas in the role of an equally amoral, manipulative newspaperman.
Phoenix (2014)
Phoenix is the kind of film I remember for the physical experience. My heart seized in my chest watching this stellar noir, which considers identity and love in a way that is equal parts somber and devastating. Phoenix exists within a lineage of noir reckoning with the emotional and interpersonal aftermath of war soon after the battlefields have cooled. In Berlin after the end of World War II, Nelly Lenz (Nina Hoss), a Holocaust survivor and former singer, tries to return to some semblance of her old life. But her husband, Johnny (Ronald Zehrfeld), doesn't recognize her, as she's had reconstructive surgery after a bullet wound. Yet, he sees an opportunity: She looks enough like his wife to impersonate her, so he can get her inheritance for himself. Nelly goes along with this ruse even though her friend, Lene (Nina Kunzendorf), warns her that it was Johnny who sold her out to the Nazis. Phoenix is a heartbreaking, atmospherically astounding play on identity anchored by a tremendous performance by Nina Hoss.
True Detective, Season 1 (2014)
When I watched True Detective's first season in 2014, it felt like a bolt of lightning, crackling with the intensity and energy I've come to love deeply about neo-noir. I grew obsessed with the season, which stars Matthew McConaughey and Woody Harrelson as two Louisiana state cops untangling a conspiracy that wrecks their lives over a 17-year span. I didn't feel the need to solve its mystery. I was fascinated with how the series considered the rural Louisiana landscape I know as home, southern masculinity, and the ways obsession festers. True Detective quickly came to be viewed as a noxious emblem of the type of crime drama obsessed with exploring a specific brand of toxic, self-destructive masculinity, where women are mere sketches rather whole characters. This argument holds merit. But True Detective has many pleasures, including its assured direction by Cary Fukunaga, the gorgeously textured cinematography by Adam Arkapaw, and stellar acting by all involved. The show reflects a perfectly balanced collaboration: the pulp sensibilities of Nic Pizzolatto balanced by Harrelson's humor, Fukunaga's delicate and emotionally rich touches, and McConaughey's soulful grit. It's a stunning example of what happens when you place the concerns and questions of the genre in an environment it has rarely explored — and it's a testament to the continued greatness of neo-noir.
Hell or High Water (2016)
Hell or High Water proved to me that Chris Pine is more than just a pair of stunning blue eyes with easygoing charisma. In the film, Pine plays one-half of a brother duo (Ben Foster is the more unhinged sibling) robbing banks in order to save the family ranch, while being hunted by a dedicated Texas Ranger (Jeff Bridges). Pine is a revelation as a man compromising his moral compass for a greater cause and reckoning with the instability of his dangerous brother. Due to its dusty and sun-drenched West Texas setting, Hell or High Water is considered a neo-Western. And while the David Mackenzie–directed and Taylor Sheridan–written film does have traces of a Western, it's soul is pure noir. From its heist setup to its murky morality to its commentary on masculinity and loyalty, Hell or High Water gives us  the best this genre has to offer.
The Handmaiden (2016)
Filmmaker Park Chan-wook has long used neo-noir to create brutal, arch, moving, and deliriously detailed worlds designed for us to get lost in, like Sympathy for Lady Vengeance and his English-language film Stoker. But I am including The Handmaiden, which he co-wrote and directed, due to how it updates, subverts, and queers noir's most important interests — the dynamics of lust, class, politics, and history — in incredibly lush ways. Park Chan-wook transports Sarah Waters's novel Fingersmith from Victorian era Britain to Korea under Japanese rule. The film lingers due to the tremendous performances that anchor it: Kim Min-hee as Lady Hikeo, a young woman trapped in a gilded cage, and Kim Tae-ri as Sook-hee, her quiet maid involved in an elaborate confidence game, as they fall in lust and love while grappling with the societal strictures that control their lives, leading to personal mayhem and murder.