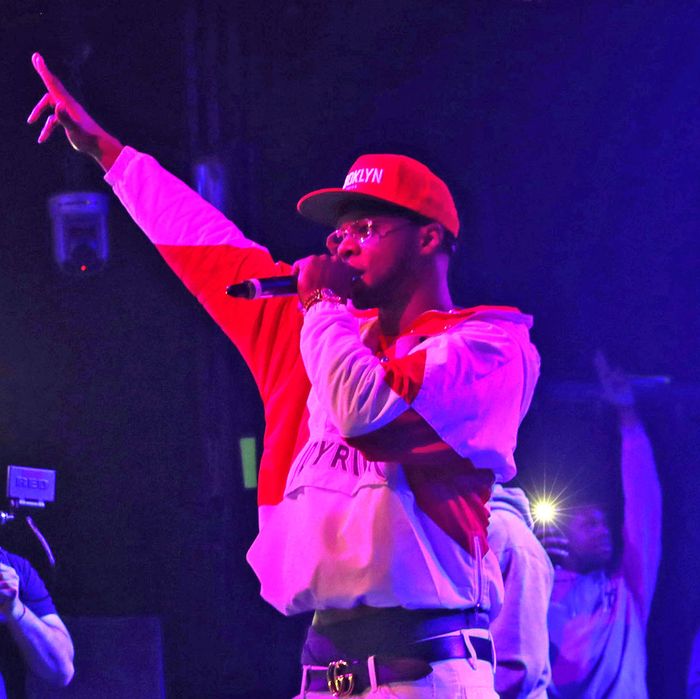 Papoose.
Photo: Johnny Nunez/WireImage
Every week, Vulture runs through the best, most interesting, and sometimes most confusing rap releases. In this installment: Papoose is still obsessed with obvious metaphors (but it's not as bad as you think), Lor Choc makes nuanced love rap, Lucki gets heavy about addiction, and Mozzy and Berner unite.
Papoose, Underrated
There was a time when it seemed like Papoose would be the next big rapper to come out of New York. It's tempting, with hindsight, to see this as an indictment of where the city's scene was in 2006, but people were excited, and for certain crowds of rap fans in the city and on the internet, mixtapes with his name on them were must-downloads. Jive gave him $1.5 million a half-decade before A$AP Rocky got $3 million. There was a blend that added a Papoose verse to the end of Nas and Jay-Z's "Black Republicans," and it caused a minor sensation; on that mp3, he announced the title of his album: The Nacirema Dream. That's "American" backwards. Get it?
Papoose was too wordy, too cloyingly, self-consciously clever. He was Fabolous without all the social tact. This was before Twitter, but he wrote and rapped like lazy Twitter jokes about New York rappers; his famous verse on Busta's "Touch It" remix is the one where he raps about how the city's five boroughs were personified by each of his fingers ("QUEENS ON MY THUMB, DUDE"). One of his big mixtape hits was called "Alphabetical Slaughter:" "A: ASSASSINS AT LARGE ALLEGEDLY." His narrative songs were similarly unsubtle. Websites popped up, collecting his most egregious punchlines. By the end of the decade, he had become one himself — out of sight, out of mine, off of Jive.
The thing is that Papoose was never as good as the internet pretended he was in '06, but he was also never close to as bad as it pretended he was a decade later. His new record, Underrated, is comfort food of a certain kind. What's striking — at least it was striking to me, someone who hasn't spent extended time with his work since Bush was in office — is to hear his version of the New York rap ideal stripped of the subtext of Papoose as a blue-chip prospect.
None of which is to say he's toned it down: three consecutive songs are called "3rd Eye," "God MC," and "University of the Streets." (They come after "Numerical Slaughter," a song that you can probably imagine before you hear it. But every once in a while you need to hear someone shout, "You start so much shit, you should carry a starter pistol," very earnestly.
Lucki, Freewave 3
Earlier this month, Lucki sat for an interview with Pitchfork . The Chicago rapper told the writer Alphonse Pierre, at considerable length, about how much Future's music has meant to him, inspiring the way that the Atlantan uses his own struggles with substance abuse as fodder for music that makes the audience feel less like voyeurs and more like members of a community. With Freewave 3, his best record since Alternative Trap (2013 — three lifetimes ago), Lucki strikes on something very dissimilar but just as affecting.
The album is a stark, heartbreaking exhibit of addiction to pills and lean — an addiction witnessed with great, detailed concern by Lucki's own mother. Where Future sometimes makes his codeine habit seem analogous to less insidious, more abstract vices (and thereby makes the mechanics of his personal life more recognizable to a wider swath of listeners), Lucki's rendering of addiction is lonely and unknowable. Though it's ostensibly a breakup album, Freewave 3 has to wade through several feet of mud to get from beat to beat on that romantic storyline. Produced in part by ChaseTheMoney, it's frantic, unable to sleep, just like Lucki.
Lor Choc, Love Is Love
One of the most captivating breakout singles of 2017 was "Fast Life," a song by a teenager from West Baltimore that sounded like it would never come back down to Earth. Lor Choc's new tape, Love Is Love, is the sort of record that sounds, at first pass, as if it would be tired and overdetermined. But this Valentine's Day special is a revelation for Choc, a magnetic vocalist who is able to wring [leans close to microphone] love for a refreshingly varied slate of sounds. When rapping or singing, Choc is poised and urgent-sounding enough to play with the listener's attention, but never frantic or out of control.
Berner and Mozzy, Slimey Individualz
Berner and Mozzy are, once again, the kinds of artists whose consistency threatens to flatten and dull the nuances of their work — at least in reputation. (While Mozzy, the more gifted and interesting of the Northern California duo, has enjoyed a spate of big press looks following co-signs from more famous rappers, the size and pace of his catalog has been remarked on at least as much as its emotional depth and unique moral perspective.) Slimey Individualz is appropriately businesslike, throwing you headlong into proceedings and keeping the gas on for the duration. Despite the record's brevity, there's a laundry list of high-profile guests — YG, Wiz Khalifa, Logic, SOB x RBE — none of whom snatch a song out of Mozzy's clutches.