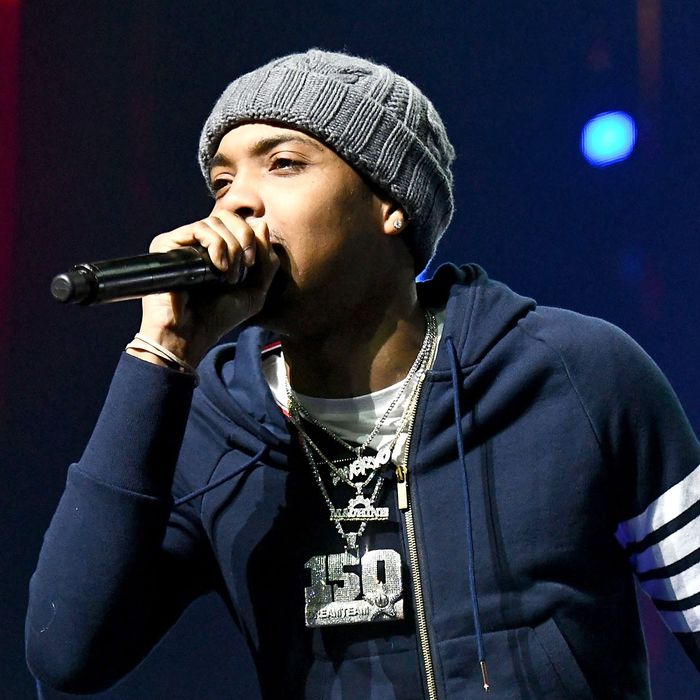 Photo: Scott Dudelson/Getty Images
Every week, Vulture runs through the best, most interesting, and sometimes most confusing rap releases. In this installment: G Herbo returns with a quality tape of manic Chicago Rap, Kenny Beats continues to impress, and much more.
Q Da Fool & Kenny Beats, Bad Influence
As hip-hop production goes, 2018 belonged to Kenny Beats, the 27-year-old Connecticut native who furnished punishing, distinctive tracks (and sometimes entire projects) for the likes of Vince Staples, Rico Nasty, 03 Greedo, ALLBLACK, and JPEGMAFIA. His ascent was so rapid that a "Kenny Beats" Wikipedia page has yet to be split off from the one for Loudpvck, the EDM duo that, until recently, consumed his professional life. His latest collaboration is with the talented Maryland rapper Q Da Fool, who writes songs that are straightforward and defiant. Q's accent is distinctly Maryland, but he's comfortable with both the jagged raps and drawled, melodic stretches popular in Atlanta this decade, which is a testament to his versatility, but at times leaves the music feeling unmoored. Bad Influence is effective and more often than not will rattle trunks and skeletons, and sees Q moving slightly closer to making a truly singular statement as a solo artist.
G Herbo, Still Swervin
G Herbo is one of the most stylistically interesting rappers working today: someone who can push contemporary street rap to its avant edges, a fierce, commanding vocalist, careening over and past the ends of a beat's measures. Often those beats are the steely cool of post-drill production in his native Chicago; other times, like on his underrated Humble Beast, he skews closer to the warm, lush, soul-leaning beats that were so popular at the turn of the century. Still Swervin', by contrast, is Herbo's second full-length collaboration with 808 Mafia leader Southside in less than a year. (The first, Swervo, was a solid record but not quite the commercial coup some might have expected — it peaked at No. 15 on the Billboard 200.) Like those on his best records — Beast, Welcome to Fazoland, Ballin' Like I'm Kobe — Herbo's verses jerk from grave personal revelations to callous threats, the pace and schizophrenia giving the whole thing a manic effect. His writing is engrossing, and Still Swervin' is a lean, digestible slice of it.
Payroll Giovanni, January 30th
Payroll Giovanni's national profile rests largely on the two installments of the Big Bossin series, his delightfully extravagant records with the Minnesota-born producer Cardo. But he's also a core member of Doughboyz Cashout, the Detroit collective that defined and (to a modest extent) exported the new sound of the city's street rap, grim, gothic, and propulsive. As of late, Payroll has been remarkably prolific; last year alone he dropped 4-1P and 10 Stack Commandments, in addition to the second Bossin'. He's also been consistent, packing each of those records with the sort of daring-you-to-disagree taunts that have colored his music since 2015's brash magnum opus, Stack Season. January 30th is short on yachts but long on color, making rote drug runs spring to life.
Offset Jim, No Pressure
Offset Jim's music feels current in the sense that it's vital, loose, and alive, but it also feels totally unswayed by the creative winds of the moment. From production to slang to wobbling beats with stuttering drums, it's aggressively, audaciously Oakland. Jim raps mostly in a deadpan, which on first listen often masks his sly, hilarious writing (see especially: the irresistible "Play Runna"). Jim has collaborated often with ALLBLACK, whose EP with Kenny Beats last year marked him as a star in waiting; Jim's voice takes up far less space in a song's mix, but his presence on the microphone is just as large.
Tuamie & Fly Anakin, Emergency Raps Vol. 4
Fly Anakin is the kind of young rapper whose SoundCloud page you stumble onto and are unable to leave for days at a time. He's overflowing with personality, and technically impressive, too, but that's beside the point. Emergency Raps Vol. 4 pairs the Richmond native once again with the producer Tuamie, and reveals him, once again, as one of the most exciting artists poised to break through in 2019. On "Old 50 Cent," the duo does less to evoke the namesake than to re-create the slightly weirder, somehow darker undercurrents of his carefully bulletproofed surface.
BoatHouse & Ajani Jones, One Punch
Another he's the DJ, I'm the rapper affair: Ajani Jones is from Chicago and has a particularly expressive voice, bouncing all over his natural register even while the subject at hand is serious, like a villain in a cartoon. One Punch, his collaborative EP with producer BoatHouse, is bothered at its beginning — opener "Saitama" is mid-tempo and somber — but loosens into songs that are danceable ("Futurama") and triumphant ("Apex"). For much of the 2010s, Chicago rap was broken down into frustratingly rigid boxes: drill here, Chance there. Ajani is a refreshing rapper because he does not make music that's reactive to his contemporaries.