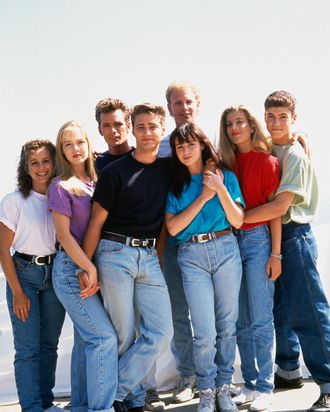 Photo: Mikel Roberts/Sygma via Getty Images
The Beverly Hills, 90210 revival has finally found its network: Fox announced today that it will air a "six-episode event series" this summer with most of the original cast reuniting. Fox also revealed that it won't be just your average reboot, as the plot actually revolves around the cast, playing themselves, trying to organize the reboot of Beverly Hills, 90210 itself.
Returning cast members include Jason Priestley, Jennie Garth, Ian Ziering, Gabrielle Carteris, Brian Austin Green, and Tori Spelling. Luke Perry is noticeably absent, likely because of Riverdale, but EW reports that the list is not final. Chris Alberghini and Mike Chessler, who worked on Awkward and the original 90210 spinoff together, will write and executive produce.
The original show first aired in 1990 and ran for ten seasons, until 2000. In case you need a refresher, the premise of the original follows a group of teens navigating the trials and tribulations of growing up in Beverly Hills. This marks the sixth installment in the Beverly Hills, 90210 franchise, the second reboot (after the 2009 Melrose Place, but we won't go there) and the second titled 90210. But with a new meta twist, this one is, at the very least, bound to be different from the rest.
Check out the not-revealing-whatsoever teaser below.