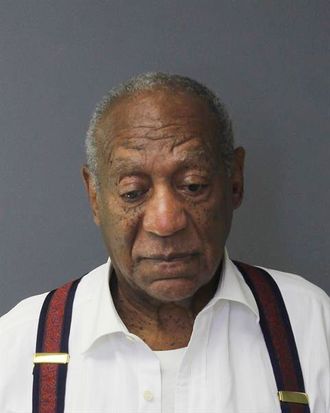 Photo: Montgomery County Correctional Facility/Getty Images
Bill Cosby seems to be adjusting well to prison life during his first four months. According to his spokesperson, Andrew Wyatt, Cosby has even said that being in a 7-by-13-foot cell after being convicted last year on three counts of felony sexual assault has been an "amazing experience."
Wyatt told NBC in Philadelphia that Cosby actually used the term "amazing" to describe his incarceration. "He's just a strong man," Wyatt said.
When Cosby (known now as inmate NN7687) first entered SCI Phoenix, a maximum-security prison about 20 miles from his home in suburban Philadelphia, he was housed alone in a single cell near the prison's infirmary out of concern for his safety.
The 81-year-old has since been moved into general population, where he could serve anywhere between three and ten years. This means he's now permitted to share out-of-cell time with other inmates in a central day room or yard where people watch television, exercise, socialize, and play games. There are about 3,830 inmates currently incarcerated at the prison.
Because Cosby faces challenges as an older inmate who's said to be visually impaired, he's reportedly assisted with daily activities by fellow inmates. Wyatt said Cosby has befriended prison staff and that many inmates applaud when he enters the visitor's room. Otherwise, Cosby eats, sleeps, and exercises alone. He wakes up early and observes a special dietary plan that avoids sweets and bread. He's also reportedly lost weight and has stopped drinking coffee.
Cosby also seems to think of himself as a political prisoner. He's been comparing himself to men like Dr. Martin Luther King Jr., Nelson Mandela, and Malcolm X. Wyatt told the Washington Informer: "He said they told him if he was going to continue to fight for civil rights, something like this was bound to happen, and he's been preparing for it and he knows he's in prison not for rape, but for infidelity. He's knows he's innocent and kept his head up."
Cosby is also currently facing a lawsuit by model Janice Dickinson over allegations he made that she lied after publicly accusing him of drugging and raping her in Lake Tahoe, Nevada, in 1982. Dickinson was one of several accusers who took the stand during his retrial last year. In October, the Supreme Court handed Dickinson a big win by allowing the suit to move forward.
Another lawsuit against Cosby brought by six other women, had originally included the actress Louisa Moritz, who died in January. The question about whether this suit may also move forward could be determined as early as February 28, when the next hearing is scheduled.
While there are challenges for a deceased person to sue a living person in civil court, it's not impossible, say some legal experts. Her lawyer argues that because Moritz already provided a signed statement alleging that Cosby assaulted her before an appearance on Johnny Carson's Tonight Show in 1971, her story is well-documented.
With so many cases pending (and a possible appeal in the works), Cosby's attorneys continue to visit the comedian, while his family and friends do not. "That's the way he wants it," said Wyatt, confirming that Cosby's wife of 55 years, Camille, has not visited her husband since the day he was incarcerated. His three daughters also have not seen their father in jail, nor have any of his famous friends. Instead, Cosby reportedly speaks to his wife three times a day for a total of about nine minutes.
In a strange turn, it's also been alleged that Cosby's been playacting his most famous sitcom role of Dr. Cliff Huxtable. Radar Online recently reported that the entertainer's allegedly been diagnosing inmates based on his experience on The Cosby Show, which is curious for many reasons, not the least of which is that Cosby played an OB/GYN on the show.