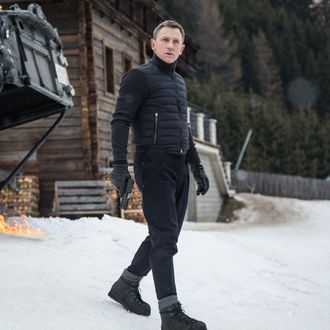 Live and Let Die. The Man With the Golden Gun. On Her Majesty's Secret Service. Shatterhand. One of these things is not like the others. In a February newsletter for the movie industry publication Production Weekly, the 25th James Bond film is listed under the working title Shatterhand — a name that is already cresting a tidal wave of Schadenfreude across social media since first being reported by The Guardian Friday.
The name is derived from an alias used by the series's most enduring supervillain, Ernst Stavro Blofeld — most recently portrayed by Christoph Waltz in the 24th Bond installment Spectre (2015) — that first reached public consciousness in Ian Fleming's 1964 novel You Only Live Twice. That title designation would appear to confirm long-standing speculation that Shatterhand is on a short list of names being ultimately considered by the series's production company Eon Productions, but by no means rules out Bond 25 reaching theaters with another name. To wit: Solo: A Star Wars Story carried the working title Red Cup all through production, and Christopher Nolan faked out Batfans by misnaming The Dark Knight under the working title Rory's First Kiss during the lead-up to filming.
While Shatterhand (due in theaters in April 2020) stands as an undeniably wacky title, it certainly exists on a continuum of other reliably absurd Bond movie names from over the years, such as Octopussy, Moonraker, and Thunderball. And as a swan song for Daniel Craig — who previously said he'd rather "slash my wrists" than portray 007 again — and who will mark his fifth and last outing as the British superspy with the film, why not leave fans of her majesty's most famous secret servant shaken, even if not totally stirred by the name?