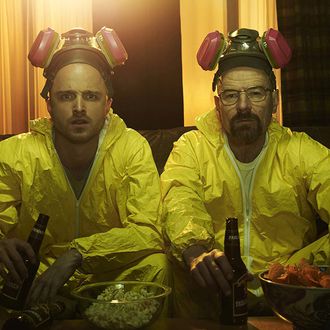 Photo: Frank Ockenfels/AMC
Things we know for sure about the Breaking Bad movie: It's definitely happening, it'll be written and directed by series creator Vince Gilligan, and now Deadline reports that it will be available first on Netflix. In a twist, the movie will broadcast on AMC — the home of Breaking Bad and its Better Call Saul spinoff — only after its streaming debut on the platform that helped make Heisenberg famous in the first place.
Beyond that, very little about the movie has been made official or confirmed. Bryan Cranston has said that he doesn't know if Walter White's services will be required, but he's ready to answer the call if Gilligan needs him. It's rumored that the movie will focus on Aaron Paul's Jesse Pinkman, according to The Hollywood Reporter, but right now that information is being attributed to anonymous sources and is not confirmed by Gilligan or the network. Speculation from THR suggests that the story "will follow the escape of a kidnapped man (Paul's Jesse) and his quest for freedom." No matter the narrative format, trouble always seems to find that Pinkman!