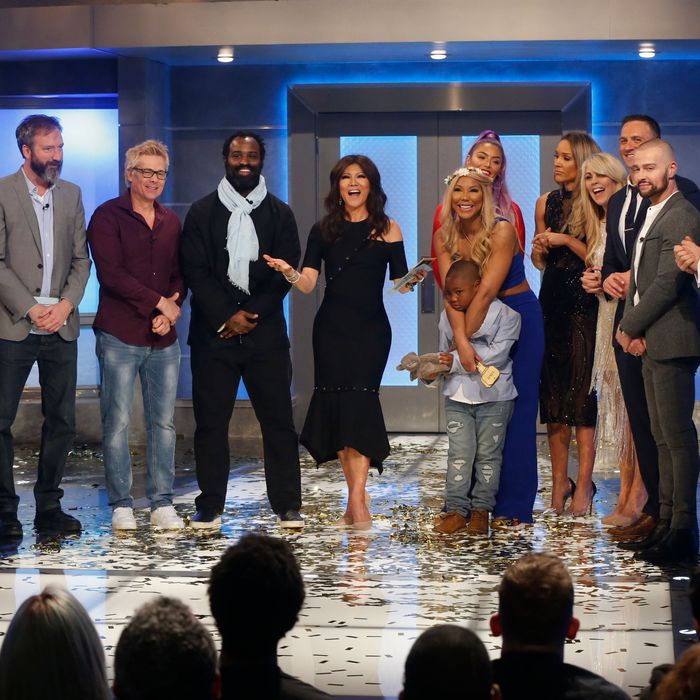 It's hard to know what constitutes a bad choice until it's made. Could Ricky Williams — former NFL running back, two-time All-American, and winner of the illustrious Heisman Trophy at the end of his tenure in the NCAA — have known it was possible to lose this season of Celebrity Big Brother to Tamar Braxton before witnessing the unanimous vote in her favor? Williams played a cautious, even circumspect game from the beginning of his time in this house, remaining on the periphery of the action where possible and observing quietly instead of bickering or being rash. He seemed to have a better sense than most of what the competition was thinking — of where he stood with others, of whom he could trust and whom he ought to fear. How did a player so sensitive to house dynamics misjudge his opponents' sympathies this badly? What happened?
Williams dominated the two-hour finale. To begin with, he made short work of the "Bats the Musical" competition introduced in the final minutes of Monday night's episode: canny editing could not obscure the marked lead he had over the three women against whom he found himself playing, and when he emerged with his first Head of Household title it was by a serious enough margin that one might have wondered where this comp beast had been hiding until now. Williams quite sensibly elected to nominate Dina Lohan and Kandi Burruss for eviction, though he confessed to Tamar Braxton his intention to backdoor Lolo Jones if the opportunity should arise. It did not; Jones won the Power of Veto, if only just. Still, he persuaded Jones not to use the veto, and when the vote was split, it was he who decided that Burruss would go home.
It seemed like seconds later that Williams won another competition — another Head of Household, the most consequential of the season. Now, the traditional Big Brother finale starts with three contestants. They compete in a three-part sequence of competitions to determine the final Head of Household, and the winner of that title chooses which of the two runners-up he or she would like beside them when the jury votes to award the grand prize. A bit inexplicably, the Celebrity Big Brother finale starts with a group of four — and the winner of that final Head of Household title — again, inexplicably — chooses his or her companion to head before the jurors from the remaining three. In other words, by winning an undemanding memory comp by a single point, Williams was in a position to select Tamar Braxton, Dina Lohan, or Lolo Jones as the second half of his final two.
He chose Tamar Braxton. I don't think anyone expected him to. I don't think Tamar Braxton herself expected him to — her stunned reaction upon hearing Jones and Lohan named for eviction would have been impossible to simulate. This decision is extraordinarily confusing, from a strategic point of view. Why this woman above the others? What was it about Tamar Braxton that Williams assumed would deter his ten former housemates from casting a vote on her behalf? On what grounds did he feel he presented the stronger case to a jury of men and women he'd variously annoyed and betrayed? I refuse to believe that Williams — a smart player who understands how the game is played — would have based his selection on some agreement or compromise or sentiment or anything other than what he felt gave him the best shot at winning. I just don't see why he felt that way about her.
Dina Lohan would have lost to Ricky Williams in a vote. Right? She was a textbook floater: she won nothing, exerted no influence, made no decisions or actions of note. It would have been difficult for her to mount an argument by which any reasonable voter might be persuaded she deserved to win. Frankly, even Lolo Jones — such a maniac in the house, prone to the kinds of eruptions that foster resentment and antipathy in a body of voters — may have been an easier adversary for Williams to beat. It seems fair to conclude that Williams made the single worst choice possible in his position given the circumstances. He willingly went up against a well-liked player with several competition wins and two diehard allies in her corner. The man played well this season, but by picking Tamar Braxton, Williams proved he did not deserve to win.
Braxton needed five votes to win. She got all ten. Her longtime friend and rival Kandi Burruss voted for her. So did Lolo Jones and Natalie Eva Marie, both of whom had been working with her since almost their first night in the house. Jonathan Bennett and Ryan Lochte voted for her, and those two have been out long enough to have been watching most of the season like ordinary viewers. Dina Lohan voted for her over the man she's described as one of her favorite people in the world; Joey Lawrence voted for her over a man who seemed like his close household friend. Even Tom Green voted for her — for the woman who orchestrated his eviction and did a jaunty jig when as he was walking out the door. It wasn't merely that Williams made a bad choice and lost the game. Tamar Braxton unequivocally won.
Housekeeping
• This is the first unanimous Big Brother victory since Dan Gheesling beat Memphis Garrett in the tenth season, way back in 2008. This is also the first time in Big Brother history that a final Head of Household has lost unanimously to the winner they brought to final two — it's such a grave blunder it's literally never happened before.
• Tamar Braxton is also — amazing to say — the first-ever black winner in the history of Big Brother. That includes all 20 seasons of the traditional show and seven seasons of Big Brother Canada. About time.
• Tom Green was my favorite player of the season. Turns out America concurred: at the end of the finale, Green was crowned America's Favorite Houseguest, an honor that includes a $25,000 prize. And that's $25,000 USD, a small fortune in Canadian dollars.
• "Why aren't mine sticking?" Dina Lohan failed to understand the rules of the penultimate Head of Household competition, which required the contestants to arrange tiles on a magnetic wall and slam a buzzer every 20 seconds — the latter instruction apparently flying over her head. Poor Dina Lohan. About 90 percent of this entire game eluded her.
• It was nice to see Anthony Scaramucci reunited with his former teammates. As to the ongoing contention that his exit from the game was anything other than voluntary resignation for reasons unknown? Please. Let it go.
• Tom Green and the Mooch taught Kandi Burruss chess on their first night in the house — and she was beating them both "less than 36 hours later," according to Scaramucci. The case for Kandi's tactical brilliance is fortified further.
• Oscar syndrome spreads: Both Kandi Burruss and Dina Lohan made such long speeches during the night's first live eviction that they had to be told to stop talking. Julie Chen even joked about playing them off, in the fashion of the Academy. "If we had music, we would play it."
• Which junior celebrity lookalike bore the most uncanny resemblance? The Mooch Jr. nailed the delivery. But for my money it was Joey Jr., whose facial hair had the same unmistakable je ne sais quoi.
• Lolo Jones left the Big Brother house in a predictable fit of pique. How did Dina Lohan, evicted simultaneously, feel about this injustice? Was she upset? "No!" Her blithe self-deprecation and easy air was the ideal antidote to the usual Lolo fury. Let us all learn from Dina.
• So that concludes our recaps of Celebrity Big Brother's second season. The super-compressed schedule of the Celebrity edition by the standard of the classic made for some pretty brisk analysis, but I hope you have found this experience as clarifying — and some weeks, therapeutic — as I have.