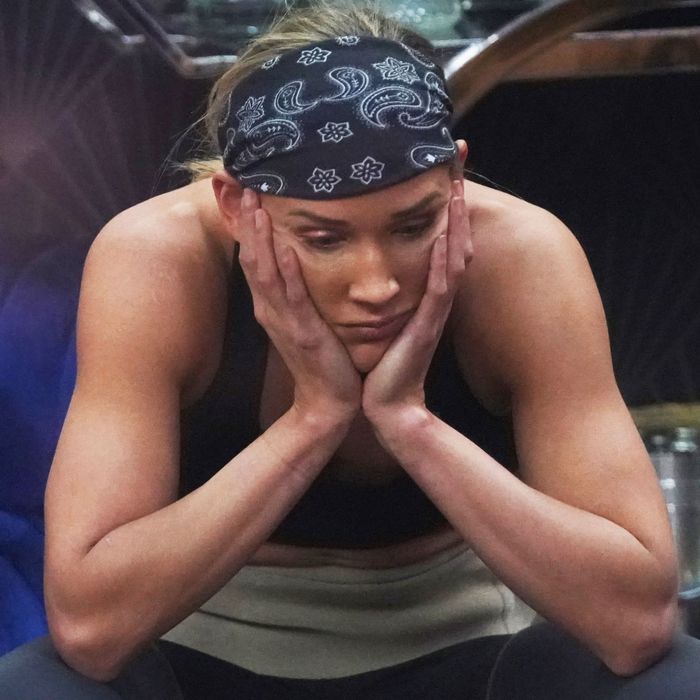 Photo: Sonja Flemming/CBS
Reality TV is so outrageous by design that it can be surprising when it doesn't follow the most fundamental principles of fiction. The stories are sensational. The action is exaggerated. The contestants are characters, either villainous or heroic according to the parameters of the role they're assigned. But narratives fashioned in the editing room are still at the mercy of the game being played — and the real men and women playing, unlike fictional characters, don't always win or lose in the ways that would be most conventionally satisfying. Assholes frequently prevail. Wonderful people are often trounced ignominiously. The only scripted drama the resulting chaos resembles is The Wire.
Tom Green was evicted on Saturday night. I wish it could have been otherwise. It was impossible at this point not to root for the hapless Canadian comedian to best his competitors and emerge victorious: He had played so well, and had been treated so poorly, that one's sympathies surged his way instinctively, the charismatic underdog alone against the rest of the house. The ferocious duo he was foolish enough to confide in earlier in the game — Lolo Jones and Natalie Eva Marie, together as volatile as any pair this season — had double-crossed him without provocation. The shrewd ally with whom he'd been lately ruling, Kato Kaelin, was expunged without regret. And so it was both inevitable and enormously disappointing to watch him be eliminated soon after.
There was a moment when redemption seemed attainable. Following Kaelin's eviction Green scored an incredible coup: On Thursday night, despite the best concerted effort of Lolo Jones, Natalie Eva Marie, and Ricky Williams to thwart him, Green won the difficult Tumbling Dice competition to become Head of Household for a second time. It was obvious to everyone that if anyone other than Green had won the comp he would have been consigned to the block at once without reprieve and would have been the next one out the door at the following eviction ceremony. So this unlikely triumph was essential to Green's immediate survival — and afforded him an invaluable opportunity to assess his prospects and negotiate a deal to keep him in the game.
Those prospects were unfortunately dim. What could Green do at this stage? His position empowered him to send one of his enemies home on Saturday, but no matter whom he evicted, two equally formidable threats would remain, both all the more resolved to retaliate. As the outgoing Head of Household, he would be unable to compete for the title again, leaving him completely defenseless. Meanwhile the two women in the house who might reasonably be expected to target his rivals instead of him were the least capable of actually winning HOH competitions: Nice as it would have been to see Dina Lohan or Kandi Burruss crowned and ruling, there was no hope of them beating Jones, Williams, or even Tamar Braxton in feats of memory or strength. Green was doomed the moment Julie Chen said the words "double eviction."
Green did manage to terminate Natalie Eva Marie before his own tenure in the house was concluded. Which means we are down to just five contestants as we head into the fourth and final week of Celebrity Big Brother: Kandi Burruss, Dina Lohan, Lolo Jones, Ricky Williams, and Tamar Braxton, an arrangement of floaters, troublemakers, and misfits I doubt anyone predicted would be the last players standing. It's an unusual bunch, for not uninteresting reasons — beginning with the fact that the most accomplished physical competitor of the five so far has been Braxton, who flailed her way on Saturday night to two competition wins back to back. Williams is a former NFL linebacker and Jones is an American record-holding Olympian. The latter's only excelled at memory comps. The former hasn't won anything since day one.
Who does that favor? It's hard to say. Much will be determined by who wins the "Bats: The Musical" competition to become the next Head of Household, an honor that for reasons unknown will not be revealed to us until finale night. After a seriously thrilling two-hour Double Eviction special over the weekend, last night's languid little misty-eyed highlights reel was perhaps a necessary interlude — the climax is nigh, and the super-compressed Celebrity schedule means this season of Big Brother feels like it's ending right as it's getting good. If this iteration of the show suffers in comparison to the original, it's because classic Big Brother has the luxury of the time to slow down and linger. It's the stuff between the noms and comps that are the real gameplay anyhow — bring on the navigation of complex interpersonal dynamics and subtle relationships of power, baby!
Ahem. And so we return to the hierarchy of the house. This is Vulture's Official Celebrity Big Brother Power Ranking: five contestants who made moves good and bad. Some are poised for domination. Others seem condemned soon enough to the block. All are in thrall to the household forces of turbulence and caprice that make this a white-knuckle social experiment. As our beloved host Julie Chen is always reminding us — and as this week's treachery reminded us once more — expect the unexpected.
Tamar Braxton
It feels like only yesterday that Tamar Braxton was at loggerheads with her roommates for no apparent reason, erupting in geysers of inexplicable fury whenever another member of the house made the tactical error of, say, talking or moving in her vicinity. And yet somehow — despite another flare-up against Tom Green in the wake of a rumor he'd be using the Veto to backdoor her — it is Braxton who has emerged as the favorite to leave the Big Brother house with the $250,000 grand prize. Is she some kind of savant? A political genius? Or is it simply that her seven years' experience as the star of a reality-TV show makes her uniquely equipped to dominate this game?
Ricky Williams
It is an irony unique to Big Brother that someone's disappointing performance in competitions will often improve their chances of winning the game. Which accounts for why Ricky Williams — a two-time All American and winner of the Heisman Trophy! — has made it this far while consistently losing challenges he ought to handily clinch. At the same time, he's remained a steady, prudent member of the season's most influential alliance, contributing to strategy but avoiding confrontations with other members of the house. His biggest liability, though he can hardly be blamed on this account, is that he's now the only man.
Lolo Jones
Shockingly, inveterate hothead Lolo Jones made it through her archrival's Head of Household reign without having an absolute meltdown about it, even after he used the power of Veto to remove her teammate from the block and make her a last-minute target for backdooring. This out-of-character sangfroid was doubly rewarded: first, when she survived the eviction and watched her best friend and ally Natalie Eva Marie voted out; and second, when she almost immediately avenged the loss by winning the HOH and sending Tom packing. Jones still has a nails-on-chalkboard quality that makes it difficult to see her thriving, but even I will begrudgingly concede she played well this week and has a good shot as we approach the finale.
Kandi Burruss
Kandi Burruss, canny diplomat: She saw, when nobody else did, the wisdom in abandoning the athletes in favor of a tentative alliance with Green — a choice that paid off when Green won Head of Household and seemed highly receptive to her suggestions for how to play it. She hasn't had much luck this season, in both the way she's been used as a pawn (she's practically taken up residence on the block) and the indifference with which she's been treated (no one wants to talk game when she's around). It's a shame she isn't more skilled in comps, because socially this is a game to which she's very well-suited.
Dina Lohan
Dina Lohan is … still in the game. Somehow. I wouldn't discount the possibility that she could win this game on the strength of absolute inconspicuousness.
Housekeeping
• "How come Lindsay Lohan's mom gotta catfish?" Tamar, as usual, says what the rest of us are thinking: Truly, how come Dina gotta catfish? The 56-year-old momager has by her own admission been maintaining a long-distance relationship with a strange man over social media for half a decade. She claims they haven't FaceTimed because he doesn't know how to use it. Tamar again: "My 91-year-old grandma use FaceTime."
• Natalie Eva Marie is both strong and skeptical. "I don't trust Tom as far as I can throw him," she says after his surprise nominations. "And trust me, I can throw him pretty far." We don't doubt it.
• Have Head of Household powers ever been forfeited on the grounds of indecision? Lolo Jones nearly found out during the second nomination ceremony on Saturday night, when she dithered for minutes until Julie Chen insisted she make up her mind. Amazing that someone so quick to argue could be so reluctant to commit a rival to the block — especially on live television, where we can see the sweat beading on the poor woman's forehead in real time.
• "Tom Green is crazy. Thank you Jesus." Indeed.