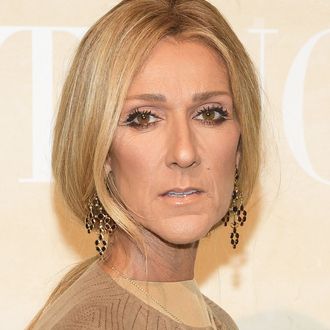 Photo: Pascal Le Segretain/Getty Images
It's a relief that — because the verve of Celine Dion could not possibly be captured by one single biopic — there is another Dion-based film in development. According to The Hollywood Reporter, Céline Before Celine from Quebec director Marc-André Lavoie is set to tackle the titanic life of one of music's premiere icons and Instagram personalities. Unlike the previously announced The Power of Love, Céline will be an English-language film, but similar to that French production, it will cover the singer's early life with her family and her manager turned husband René Angélil. It sounds, though, like Lavoie's movie will focus specifically on her life before stardom, while Power follows her rise as a pop-culture force.
Dion and her family have bestowed their blessing upon Céline, giving the filmmaking team access to family archives and their own accounts of life back in those humble pre-legend years when she was just the youngest of 14 siblings growing up in Quebec. She also apparently wrote a letter to Lavoie and the producer that said in part, "I wanted to let you know just how much I was touched by the film that you are preparing. With your unique approach, you managed to seize the essence of a period that is very dear to my heart." Jimmy Dion, the singer's nephew, is also writing the screenplay. And while we love a family affair, it's a true bummer to know that a movie about her life before recording contracts means we won't see dramatic reenactments of performances like "My Heart Will Go On" at the 1998 Oscars.