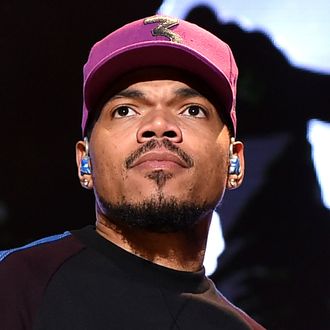 Chance the Rapper.
Photo: Kevin Winter/Getty Images for LiveNation
Between performing, planning his upcoming wedding, supporting a new generation of Chicago politicians like Amara Enyia, and closing down Barneys to eat what are probably the world's most delicious little sandwiches, Chance the Rapper barely has a full minute of free time to work on his music. Luckily, all those seconds add up, and he'll be ready to release his new album by July.
"So many people that be in my comments like, 'Yo, where's my music at? We need an album now,'" Chance laughed in an Instagram video posted Monday. "You're gonna get that shit when I'm ready! July though." The as-yet unnamed project is the follow-up to the rapper's mixtape Coloring Book, which only came out in 2016. The levels of tiny sandwiches Chance must have ascended through in just these past three years alone, it's unfathomable.