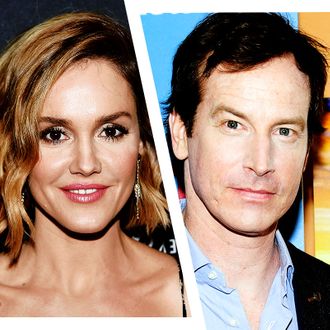 Erinn Hayes and Rob Huebel.
Photo: Getty Images
A mini Childrens Hospital reunion is happening over at Netflix. According to The Hollywood Reporter, the streaming network has given a ten-episode series order to a half-hour comedy series titled Medical Police, which boasts a bunch of Childrens Hospital alums both behind and in front of the camera. Erinn Hayes and Rob Huebel will star in the series, which is written by David Wain, Rob Corddry, Krister Johnson, and Jonathan Stern. The show is set in a pediatric hospital in São Paulo, Brazil, with Hayes and Huebel playing two American physicians stationed there "who discover a civilization-threatening virus and are recruited as government agents in a race against time and around the world to find a cure and uncover a dark conspiracy." Corddry hinted at the show back in 2017, framing it as a Childrens Hospital spin-off described as "a global thriller from country to country."
Other Childrens Hospital alums are also slated to show up in recurring roles on the new series, including Corddry, Malin Akerman, Lake Bell, and Ken Marino, who currently appears in Comedy Central's The Other Two. Even Brazil is a returning Childrens Hospital alum — the show headed to Rio to film a 30-second scene there back in 2011 just to confirm the joke that the entire series was, in fact, set there. "No even knows the show is supposed to be in Brazil. That's a joke that someone threw out early on in the show, and we don't ever reference that or even talk about it," Huebel said at the time. "It was just sort of a sub-sub-joke. So, we literally went down to Rio for the four people that will get that joke." Count on this level of sub-sub-joke dedication when Medical Police premieres.