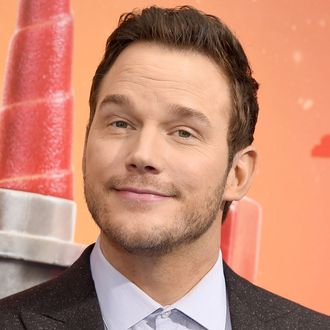 Chris Pratt.
Photo: Gregg DeGuire/Getty Images
After a recent appearance on The Late Show With Stephen Colbert in which the actor talked about fasting and his faith with the host, Ellen Page called the actor out for his church's position on queer issues, calling it "infamously anti lgbt" on Twitter. Pratt — who has been linked to the hip, recently planted Zoe Church in Los Angeles — didn't react to Page's comments at the time, but posted on Instagram today to make some points he sees as clarifying about his house of worship. Over a picture of a lamb posted to his stories, Pratt wrote "nothing could be further from the truth" in regards to his church being anti-queer, and said, "Hate has no place in my world or this world."
Zoe Church has been closely linked to Hillsong, another popular church in L.A. with a famously high-profile congregation. (It counts Justin Bieber, Hailey Bieber, the Jenner sisters, Kevin Durant, and Selena Gomez as attendees.) Zoe pastor Chad Veach told the New York Times he "modeled his church after Hillsong," and Hillsong has a reputation for taking a "hate the sin love the sinner" stance on homosexuality. Pastor Carl Lentz counts it as a sin, but as it was characterized in a GQ profile from 2015, "homosexuality isn't a different kind of sin to him than, say, tithing at 9 percent instead of 10 percent, or gossiping or telling a lie. Everyone should feel welcome at Hillsong." They are not, however, "welcome" in leadership positions, as evidenced by a church choir member in a New York congregation who was made to step down from his role with the choir for being in a relationship with another man. Lentz told GQ:
Yes, their sexuality is involved with it, but it's not as cut-and-dry as you think it is. And if they make a decision to live as gay men, they are going to get married, our stance in this church is there's going to be a limited involvement when it comes to leadership, because you don't believe what I believe. This would create friction that wouldn't be fair to the people that we're serving. If you believe that homosexuality is God's will for your life, and I disagree, well, what if you're a leader and, you know, a young man comes up to you, and he has questions about his sexuality? What are you going to tell him? What I believe or what you believe?
That's a kind of "inclusivity" that seems at odds with Pratt's "everyone is entitled to love who they want free from judgment of their fellow man." So someone might want to inform the actor that the role-model church for his own seems pretty homophobic.