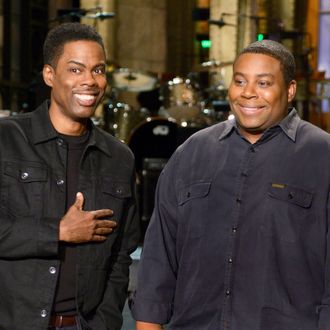 Chris Rock and Kenan Thompson.
Photo: NBC/NBCU Photo Bank via Getty Images
According to Deadline, Lorne Michaels is doing his part to encourage Kenan Thompson's impending takeover of all television by bringing in none other than Chris Rock to direct and executive produce Thompson's upcoming sitcom pilot Saving Kenan. In addition to Top Five and I Think I Love My Wife, Rock directed a season one episode of Everybody Hates Chris, so you know he has those sitcom beats in his back pocket.
Written by Jackie Clarke, Saving Kenan will star Thompson as a beleaguered dad (naturally) who must reluctantly turn to his father-in-law for parenting help after the death of his wife. Kenan is also co-judging NBC's new comedy competition show Bring the Funny, reviving the Nickelodeon classic kid sketch show All That, and, oh yeah, there's no way he's staying on SNL if this all pans out, is there?