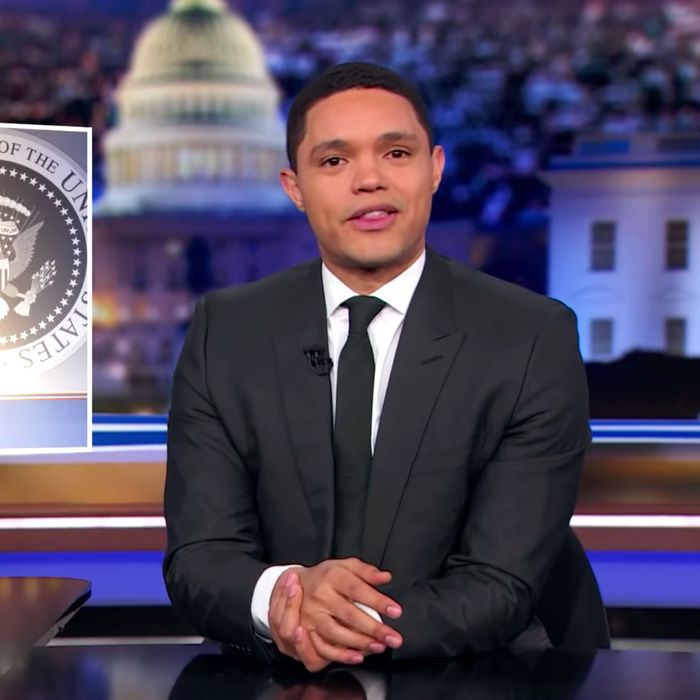 America's favorite late-night talk-show hosts have not been known to mince words about President Trump's job in office, so naturally they spared no joke when it came to the commander-in-chief's latest maneuver.
On Friday, Trump declared a national emergency in order to build his infamous wall at the U.S.-Mexico border, which allows him to bypass Congress and divert funds to the construction of the wall. The move has been widely condemned as one of Trump's most brazen yet, but at least late-night television has lent some humor to the dire situation. On Saturday Night Live, Alec Baldwin reprised his role as Trump and mocked his rambling emergency declaration in the Rose Garden. And last night, Stephen Colbert, Seth Meyers, and Trevor Noah also skewered both the announcement and Trump's use of the term emergency. Check out some of their best reactions below.
On Trump's rambling "emergency" explanation:
They all agreed that Trump's tone was odd, to say the least.
Colbert: "I can't tell if he was answering a question or reading his Torah portion."
Meyers: "He sounds like a 5-year-old telling you what he saw at the zoo."
Noah: "Why is he talking like that? It sounds like he's being auto-tuned?" Noah also compared his tone to hitting notes on Guitar Hero.
On what the term emergency means by Trump's definition:
All Trump had to do was say that he declared the state of emergency because he had no other options — but as Trump himself put it, he "didn't have to do this."
Colbert: "Hello, 911? I would like to call an Uber, but that would take too long. Please, please send an ambulance, I want to go to the movies."
Meyers: "That's like saying, 'I'm having emergency surgery to get butt implants. I didn't need to do this, but I hate doing squats.'"
Noah: "It would be like a pilot, coming out of the cockpit with a parachute saying, 'Look, I don't have to open the emergency door, but we're right over my house and I don't want to fight traffic.'"
On Trump's Nobel Prize nomination:
During his emergency declaration address, Trump also said he had been nominated for a Nobel Peace Prize by the prime minister of Japan. Although it later came out that Trump had asked Shinzo Abe for the nomination, he couldn't help but boast about it.
Colbert: "You're there to announce a national emergency, not talk about awards you're never going to get."
Meyers: "Did you also bribe him?"