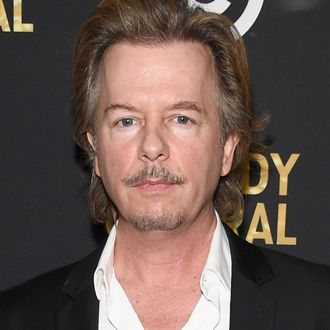 David Spade.
Photo: Michael Kovac/Getty Images for Comedy Central
Comedy Central has chosen the show that will fill its 11:30 p.m. post–Daily Show slot, and has also decided to revive a classic series. At TCA today, the network announced that it's added a late-night series hosted by David Spade, which will feature Spade's "signature take on the pop culture news of the day" and "a rotating group of Spade's comedian and celebrity friends, while also incorporating field segments that mirror his popular Instagram stories." The show, which does not yet have a title, is slated to premiere after The Daily Show With Trevor Noah from Monday to Thursday nights sometime later this year.
In addition to the Spade series, Comedy Central is bringing back an oldie: Crank Yankers. Twenty more episodes of the puppet prank-call show, which originally ran from 2002 to 2007, have been ordered by the network. The revival will mark the first project through Jimmy Kimmel's production company Kimmelot. In addition to Kimmel, original Crank Yankers executive producers Jonathan Kimmel, Adam Carolla, and Daniel Kellison will return in their roles. "Crank Yankers has always been my favorite show to make," Kimmel said on the news. "Nothing is more fun or makes me laugh harder than a great crank call, and I am thrilled that Comedy Central asked us to do it again."
The network also announced a round of projects in development. First up is a series titled How to Be a Couple from Naomi Ekperigin and Andy Beckerman. Based on the couple's life, the show would star Ekperigin and center on "an interracial couple in a wild polyamorous affair with their careers."
Another show in development, The Chameleon, follows "an extraordinarily talented, yet chronically broke entertainer who unwittingly stumbles into a world of covert operations and international espionage, where he's finally offered his big break … as the government's most fabulous spy." Stand-up Matteo Lane, who co-created the series with Jared Lapidus, would star.
The final show in development is based on Samantha Irby's 2013 book of essays, Meaty, and counts Broad City's Abbi Jacobson and former Inside Amy Schumer head writer Jessi Klein as executive producers. The show centers on "20-something Sam as she tries to laugh her way through failed relationships, identity crisis, her sexuality, and a recent Crohn's disease diagnosis, among other challenges." Irby is attached to the project as creator, writer, and executive producer.