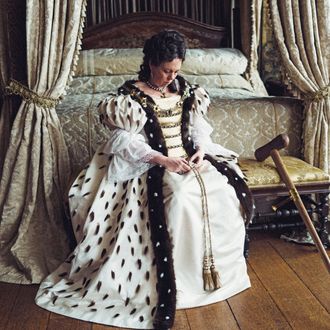 Photo: Yorgos Lanthimos/Twentieth Century Fox
'Twas the last guild awards before the Oscars, and all through the house, not a creature was surprised that The Favourite, Crazy Rich Asians, and Black Panther took home the top trophies at the Costume Designers Guild Awards on Tuesday night.
Sandy Powell, who won for The Favourite, told Vulture back in December that she pulled the costumes together in about five weeks' time. She is up for the Academy Award on Sunday, and previously won Oscars for her work on Shakespeare in Love, The Aviator, and The Young Victoria. Three-time Oscar nominee Ruth E. Carter, who won for Black Panther, is also up for the Oscar this year. She was honored last night with the Career Achievement Award.
Glenn Close also continued her awards-season spree, picking up the Spotlight Award at the ceremony. In 2017, Close donated her costume collection to Indiana University, including looks from 47 projects. Will she ever stop giving?
The Assassination of Gianni Versace, The Marvelous Mrs. Maisel, and Westworld took home top honors in television. Check out the full list of winners below.
EXCELLENCE IN CONTEMPORARY FILM
Crazy Rich Asians — Mary E. Vogt
EXCELLENCE IN PERIOD FILM
The Favourite — Sandy Powell
EXCELLENCE IN SCI-FI / FANTASY FILM
Black Panther — Ruth E. Carter
EXCELLENCE IN CONTEMPORARY TELEVISION
The Assassination of Gianni Versace: American Crime Story — Lou Eyrich & Allison Leach
EXCELLENCE IN PERIOD TELEVISION
The Marvelous Mrs. Maisel — Donna Zakowska
EXCELLENCE IN SCI-FI / FANTASY TELEVISION
 Westworld — Sharen Davis
EXCELLENCE IN SHORTFORM DESIGN
Childish Gambino "This Is America" — Natasha Newman-Thomas
EXCELLENCE IN VARIETY, REALITY-COMPETITION, LIVE TELEVISION
RuPaul's Drag Race — Zaldy Goco
CAREER ACHIEVEMENT AWARD
Ruth E. Carter
SPOTLIGHT AWARD
Glenn Close
DISTINGUISHED SERVICE AWARD
Betty Pecha Madden
DISTINGUISHED COLLABORATOR AWARD
Ryan Murphy