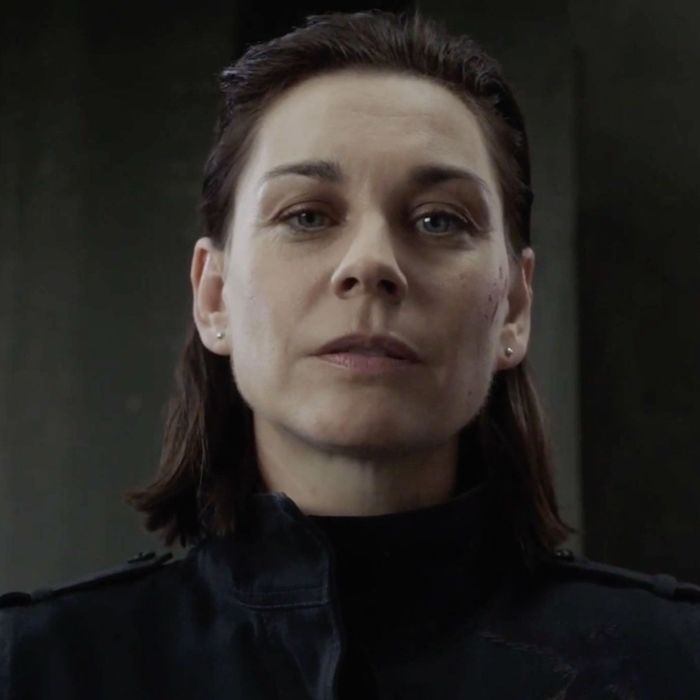 Last Monday, Starz announced that it was cancelling Counterpart after two seasons, an acknowledgment that its critical respect hadn't quite panned out in the ratings. I have my theories as to why that happened: The show has only lived up to the metaphysical potential of its premise in fits and starts, and the beginning of its second season was lost in the weeds, tangled up in so much confusing intrigue that it failed to emphasize its purpose. But Counterpart has rebounded with a strong second half, concluding with a series finale that truly feels like a series finale … right up until the final scene. The producers are reportedly out shopping a third season on another service, and "Better Angels" feels like a bit of bet-hedging, wrapping up all the loose ends while leaving one thread just dangling in case the story gets to continue.
The dangling thread is a mistake, and would have been easily snippable, even this late in the game. For Mira to release a deadly virus into the Alpha world through Yanek is nice twist, a clever contingency plan in case the main Indigo cell gets thwarted. But it undercuts everything that's happened before it, all those individual journeys that took two seasons to come to a satisfying, well-earned end. In the imagined Season Three, we now have to consider that Howard Silk won't be able to retreat from the intelligence world as planned, that Quayle and Clare will not be able to convene a more genuine domestic bliss, and that Ian Shaw's reacquaintance with his daughter and his real life will be short-lived. All the progress they've made as humans will have been erased, because now they'll have to contend with the fallout from a genocidal act of biological warfare.
As its title suggests, "Better Angels" generally favors a more optimistic view of mankind's potential for change. Counterpart is a show that has physically manifested the notion that a person's life can veer off in a totally different direction based on a decision or a certain set of circumstances. The opening of the Crossing between two worlds, one a copy of the other, is the basis for this experiment, and we've spent two seasons going over different test cases that have yielded different results: The two Howards are a study in contrasts, the two Lamberts are virtually the same, and the other doubles have been at varying points in between. Clare and Yanek murdered their "others." One Mira enjoyed the privileges of comfortable domesticity and motherhood, the other started an entire school with the intent of eradicating untold scores of people. Decency and villainy can be, in some instances, two sides of the same coin.
Yet the finale largely chooses to believe that reconciliation and peace are possible, if not easy to achieve. With the Indigo threat looming, all parties come together to stop the plan from coming to fruition, including some people who would not have been inclined to work with each other otherwise. It's taken Clare a season-long transformation to get to the point where she can turn against Mira and Indigo, but it's a much shorter transition for Spencer, who gives her a critical tip on finding a cell he'd been leading. Howard's hostility toward Howard Prime for taking over his life in Alpha gets set aside for the same reason, though not before Howard has a gun to his other's head. (One minor gripe: It seems strange that Howard prioritizes settling a beef with his other over saving millions of people whose lives are in imminent danger, but that's how this plays out.)
The heart of "Better Angels" is the scene where the Silks come home together for the first time since the two Howards switched worlds. In that period, Howard has been thoroughly abused on the Prime side, beaten and imprisoned and interrogated, all while imagining Howard Prime lustily gobbling up his identity. As for Emily, she's had the unique opportunity to perform a gut-rehab on her soul, carving out the regrettable aspects of her life before the coma and starting again as a nobler being. It's this Emily who gently pleads with Howard for a chance to start over, but the prospect is difficult for him to embrace. He tells her that he's always known she's lived a double life and that he'd told himself that accepting her betrayal was unconditional love, part of the marital contract. He's now come to see it as a form of "cowardice," and doubts a new beginning is possible. "We would all like to be the better version of ourselves," he tells her. "I don't know if it's possible."
Counterpart seems to believe that it is, by and large, though it's a line as thin as the trip wire Ethel chooses to step on. And who's to say what's better, anyway? The show has always likened Indigo to a terrorist cell, but if you believe that the Alpha world deliberately released a biological agent designed to decimate your wife, then it's not immoral or incomprehensible to plot an equivalent response to it, as Mira does. What's fascinating is that Mira's Alpha self is shown leading a completely normal life, with a couple of happy, healthy young children. They're the same person, reacting to a drastically different menu of options.
The message of Counterpart: As they go, so do we.
Silk Threads
• A final tip of the hat to one of the best opening credits sequences out there. Evocative graphics, great score, unskippable.
• The two-worlds experiment has been a failure — in that assertion, Mira and Yanek are mostly correct — but it's touching to see the scene where diplomats from both sides negotiate an exchange of detainees before the Crossing is closed. They like each other. And they'll miss continuing to try to hold the peace between Alpha and Prime.
• "We've been taught to believe that the existence of this other world was some aberration of nature. But what if this was all nature's plan and the real test isn't whether we can eradicate this other side of ourselves. What if it's about acceptance?" That seems like a good working thesis for the episode, until it isn't.
• J.K. Simmons could turn this same dynamic into a straight-up odd-couple comedy about identical twins and just take everyone's money.