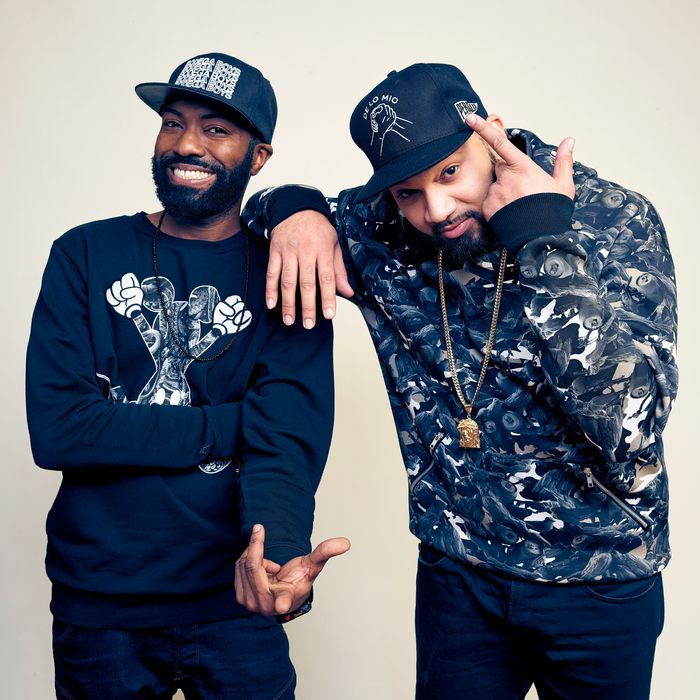 Desus and Mero.
Photo: Robby Klein/Getty Images
Desus Nice and the Kid Mero debut the new version of their late-night series Desus & Mero (formerly on Viceland) tonight on Showtime. It's been a meteoric rise for the duo, going from two guys with soul-sucking jobs who used Twitter as a distraction to becoming premium-cable late-night hosts going up against stalwarts like Bill Maher and John Oliver.
While their appeal is simple — boiled down to its essence, it's just the two funniest guys you knew from the neighborhood shooting the shit — getting into the expanded Desus and Mero universe filled with inside jokes and a lengthy past can be a little daunting. As a fan going back to their pre-podcast days, I've put together this glossary so the uninitiated can feel like full-fledged members of the Bodega Hive.
AKAs: The intro and outro to nearly every episode of the Bodega Boys podcast, the AKAs are a lengthy — sometimes 15 minutes each way — and always-growing rundown of every nickname the duo go by. Some of Desus's include Young Charcuterie Without the Coonery, Desus Ex Machina, the Human Dr. Bronner's Label (Dilute! Dilute! Dilute!), and Mr. La Marina in a Mesh Merina With a Fresh Misdemeanor and a Cold Demeanor. For Mero, his greatest hits include SKKRRRRT Loder, Light-An-L Dutchie, Barmelo Xanthony, and the Plantain Supernova in the Sky. The AKAs are a tribute to old-school hip-hop DJs, who were known to shout out their AKA.
Babe Ruth: Famous Dominican baseball player for the New York Yankees. You might have heard otherwise, but according to Mero, the legendary Bronx Bomber was 100 percent Dominican.
Black Enterprise: Black-owned magazine focusing on African-American business owners. It was one of the last jobs Desus worked before doing comedy full-time. Under C. Daniel Baker, a modified version of his birth name, Desus wrote blog posts with dreary titles like "Free Verizon Webinar on Offering Leadership Principles for Small-Business Owners." While simultaneously working at Black Enterprise and recording the audio-only Desus vs. Mero podcast, he kept his identity hidden. This led to a short-lived meme, covered by Gawker, that purported Desus was white until he went on camera for episode nine of Desus vs. Mero.
Bodega Boys: Desus and Mero's current podcast, started in September 2015. Known as the Art to its fans, Bodega Boys is the raw, uncut version of their web and TV shows, featuring the duo riffing for up to two hours at a time with no boundaries or guests, save for one episode with Jonah Hill. That particular episode promoted their move from longtime hosts Red Bull Studios to Milk Studios, where the audio podcast is now filmed and uploaded to YouTube.
Bodega Hive: The name for Desus and Mero's passionate fan base, which has gone from faving tweets to packing theaters across the country. If Monday comes along and the latest episode of the Art is late, you'll find the hive posting nothing but the art palette emoji in their Instagram comments asking, "Where's the Art?"
Brand, the: What is the brand? "The brand is strong." With their move to premium cable, the duo's catchphrase has never been truer. Hopefully Showtime will know what to do with the brand after the failures of MTV and Viceland.
Bronx, the: The mecca of all things Desus Nice and the Kid Mero. Home of the Yankees, hip-hop, and Desus and Mero. There is nothing about Desus and Mero that doesn't scream out, sometimes literally, the Bronx.
Chelsea Peretti: Stand-up comic and former Brooklyn Nine-Nine cast member who featured Mero on the first episode of her podcast Call Chelsea Peretti way back in October 2012. According to the New York Times, she encouraged the rising Twitter star not to give away his best material for free.
Chris Hayes: Host of MSNBC's All in With Chris Hayes and Bronx native. Hayes, a repeat guest on Viceland's Desus & Mero, went to Pablo Casals Middle School with Desus.
Desus vs. Mero: The duo's first podcast, produced by Marc Ecko's streetwear magazine turned media company Complex. Desus vs. Mero premiered as an audio-only podcast in December 2013 and transitioned into a web show in April 2014. Essentially a low-budget version of their Viceland show (which also had a miniscule budget), Desus vs. Mero was a distinctly Bronx-influenced talk show, with the hosts behind a milk-crates-and-plywood desk that held bottles of Hennessy, Beck's, and quarter waters instead of the usual coffee mug. Desus vs. Mero grew their cult following during the show's 13-month run, and by the end, guests like Hannibal Buress and New York Knick Iman Shumpert were stopping by to give their co-sign. The show ended after the duo signed a development deal with MTV. Despite knowing each other since they were teens, Desus and Mero were not officially a comedy team when the show started.
Desus & Mero (Viceland): The four-nights-a-week talk show that broke it open for Desus and Mero. Developed by Nick Weidenfeld and produced by Erik Rydholm, the man behind ESPN's influential Pardon the Interruption, the show stood out in a Viceland landscape full of shows about smoking weed, eating weed, and growing weed. Desus & Mero was essentially Desus vs. Mero with a bigger budget, albeit not that big, since Mero eventually found out that the channel's executives were using the set to hold meetings. By the second season, the show had become such a hit that the pair were booking guests like Kirsten Gillibrand and Seth Rogen and regularly making appearances on The Tonight Show.
But all was not well behind the scenes, as the duo felt that their heavy workload for the network wasn't being appreciated. After word leaked that the pair had negotiated a deal with Showtime, Viceland prematurely ended their signature show two months before their contract was up. As they explained to Bossip, the duo was not pleased with how the network treated them. "We were carrying that network on our back, and we felt the weight," Desus said. "They were talking about, 'do not take the weeks off because we don't get ratings.'" Vice's new CEO Nancy Dubuc recently took shots at Desus and Mero's move to "a platform that their audience doesn't pay for," an ironic statement from a cable network aimed at an audience that has never paid for cable.
Desus & Mero (Showtime): We won't really know what the Showtime incarnation of Desus & Mero will be like until tonight's premiere with guest and fellow Bronx native Representative Alexandria Ocasio-Cortez. In interviews, the duo has dropped hints that it'll retain the same off-the-cuff brashness that the fans love. But that they'll be branching out with field pieces and sketches thanks to a writers room (their first ever) led by Michael Pielocik. Unlike the Viceland version, the show will be weekly.
Diaspora: Both Desus and Mero are first-generation Americans and proud members of the Caribbean diaspora. Their parents immigrated to the United States from Jamaica (Desus) and the Dominican Republic (Mero).
Ezra Koenig: Vampire Weekend front man and host of the Beats One radio show "Time Crisis." Koenig, born in NYC and raised in New Jersey, helped Mero pitch a show based on their similar experiences working in NYC public schools (Koenig was briefly a junior-high English teacher). Koenig is the creator of the Netflix anime Neo Yokio, featuring the voice talents of Desus and Mero as Lexy and Gottlieb, two friends who open a bar centered on their signature drink: the Caprese Martini. Koenig, a baby-faced Jew with a singing voice like an angelic Paul Simon, has been described as "lowkey v. hood in real life" by Desus.
"Facts don't matter": An early catchphrase of Desus from the Desus vs. Mero days. Later co-opted by Donald Trump as his unofficial campaign platform for the 2016 election.
"Gotta hear both sides": Another one of Desus's catchphrases. A sarcastic response to issues where you definitely don't need to hear both sides.
Heather: Mero's wife and the mother of his four (and likely counting) children. Heather is Jewish, and by proxy, Mero has slowly become an unofficial member of the tribe with a taste for hamantaschen. It's even rubbed off on Desus a little. Mero and his family now live in Heather's home state of New Jersey, a reason he explained to NJ.com came from fellow Bronx native Fat Joe: "Fat Joe the rapper told me, 'You live in the Bronx. When you get money, you're supposed to move to New Jersey. If you were to be from Queens, you are supposed to move to Long Island. That is a Fat Joe rule and if there's anybody that you take seriously in life, it's Fat Joe. So I followed his advice and now I live in Bergen County."
"It's Friday. Avoid the bookings, beloved.": A weekly tweet from Desus reminding his NYC fans that if they wild out and get arrested on a Friday, the soonest they'll be able to see a judge is Monday.
Juicebox: The Timbs-wearing stuffed bear who served as a mascot and backdrop for Viceland's Desus & Mero. For a time, it was once officially sponsored by Timberland.
Mike Francesa: Radio talk-show host and former co-host of Mike and the Mad Dog, the most influential sports talk show of all time. Francesa and his co-host Chris Russo gained a nationwide audience for their brash and unapologetically New York style and served as a clear influence on Desus and Mero. For years, Mero has done an impression of Francesa as a bloviating racist who hates when certain players from a certain foreign island with the initials D.R. don't hustle to first base. This made it all more of a surprise when it was revealed that Francesa was Desus and Mero's guest on the final episode of their Viceland show.
MTV2: Viacom-owned network that signed Desus and Mero to a development deal following the cult success of Desus vs. Mero. As part of the deal, Desus and Mero appeared on shows like Joking Off, Guy Code, and Uncommon Sense. Desus has said that MTV had no idea what to do with them, which is unsurprising given Viacom's reputation for letting comedy talent find greater success after they've bounced. In the same interview, Mero likened his time at the network to being in "community college." Desus & Mero would premiere on Viceland shortly after they moved on from their MTV deal.
Nicknames: In an interview with Trevor Noah, Daniel Baker and Joel Martinez revealed how they got their nicknames, respectively, of Desus Nice and the Kid Mero. Daniel's came from his cousin saying that he "made miracles happen." For Joel, the men in his family only called him "Romiro," the name his father had wanted for his son but his mom had vetoed. As a teen, Joel began tagging with the modified "Ramero" because he didn't like how I's looked. To avoid getting caught by cops, he shortened it to Mero.
NYC Department of Education: School system where Mero worked at as a junior-high school teacher's aide as recently as 2014. While working, Mero was simultaneously enrolled at Hunter College and originally planned to become a science teacher.
Pio: Dominican internet sensation and frequent Desus and Mero topic of discussion. First known for his viral hit "IM NOT A BABY," where the little person implored a worldwide audience that he was not a baby, but a man. Since his multiple appearances on Desus & Mero, Pio has become the host of his own BET show, Excess With Pio, and built a following of over 3 million Instagram followers.
Problematic Light: A warning that goes off during Bodega Boys when they start getting into problematic areas. As two no-bullshit guys from the Bronx, Desus and Mero are not politically correct in the slightest. One of Desus's nicknames is "your problematic bae," after all. But they're also progressive guys who are cognizant of when things get too far. Plus, the Light is a handy thing to have when you're trying to secure the bag and the internet is scrutinizing every word you say.
Rainbow: The affirmation, advice, joke, or wild-as-hell statement chosen by guests that ended almost every episode of Desus & Mero on Viceland. Starting with episode two (featuring guest Taxstone), these sayings were superimposed onto a rainbow that appeared over the interview table. Some of the all-timers include "Life's too short to drink the house wine" by Rosie Perez, "Never compromise who you are as an artist for money … Toyota: Let's Go Places" by Jimmy Fallon, and "Make Dat Pussy Talk" by Melissa Harris-Perry.
Smack City: Desus and Mero slang for heavy intoxication. Like, reaaaaally heavy. Here is the duo photographed after taking a ride to Smack City.
Target: The eighth largest retailer in the United States and a favorite place for Mero to visit with his ever-growing brood. As he reminds listeners in each episode of Bodega Boys, if you see him stoned out of his mind at Target, DO NOT, I repeat, do not surprise him. Instead, respect his agency and approach him like an ursine mammal.
Victor Lopez: Desus and Mero's longtime manager and the key behind-the-scenes person behind their rise from nobodies to having billboards in Times Square. Few photos of Victor exist, and he rarely appears on camera, but he is known among the Bodega Hive for his uncanny resemblance to Bruno Mars.
www.VICTORY-LIGHT.blogspot.com: The Kid Mero's early blog. Now locked —probably to prevent the Problematic Light from permanently going off — it contained hilarious CAPS LOCK diatribes on music, fashion, celebs, and whatever else was going through the mind of a then-struggling Mero. At the time, the blog was compared to (and sometimes confused for) the anonymous person blogging under the name Ghostface Killah, which has since been changed to Big Ghost after legal action from the Wu. Desus and Mero archaeologists can go digging through the Internet Archive's Wayback Machine for early 2010s #KNOWLEDGEDARTS from the Kid Mero.
Yacoubians: Desus and Mero's tongue-in-cheek nickname for white people. Comes from the Nation of Islam belief that white people were invented via selective breeding by Dr. Yakub, a black scientist living on a Mediterranean island.