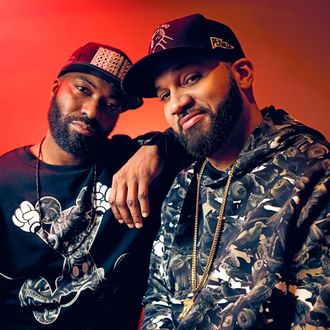 Desus and Mero.
Photo: Robby Klein/Getty Images
A newcomer hits the late-night scene next week when the new show from Desus Nice and the Kid Mero, Desus & Mero, debuts on Showtime. The show will also mark the network's first-ever late-night series. Representative Alexandria Ocasio-Cortez will be the show's first guest next Thursday, and other guests slated to appear during the first batch of episodes include John Legend, Vince Staples, Ben Stiller, Issa Rae, Senator Kirsten Gillibrand, and Pusha T.
In the meantime, Showtime has confirmed the full Desus & Mero writing staff with Vulture, so start following these people on Twitter now if you haven't already. While it's a relatively small staff, the writers working for Desus & Mero come from a variety of other late-night shows, including Last Week Tonight With John Oliver, The Late Show With Stephen Colbert, The Rundown With Robin Thede, and Saturday Night Live. Here's the complete list:
Speaking at TCA last month, the hosts said that they don't plan on straying from their NYC roots just because they're heading to Showtime. "We used to be told we were too New York–centric. People want the authenticity; people appreciate that. Even if you don't understand what we're saying, you watch because you like us and you wanna know what we're saying," Mero said. Another way Desus & Mero will differ from some other late-night shows, according to Nice, is their no-promo approach to celebrity guests. "Don't come on the show only to promote something. Everyone we have on the show is someone we rock with. We're not having them on to amplify their message."
Desus & Mero makes its Showtime debut next Thursday, February 21, at 11 p.m.