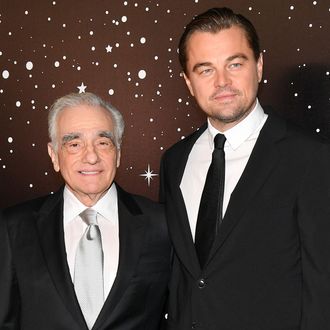 Marty and Leo.
Photo: Dia Dipasupil/WireImage
Leonardo DiCaprio won't actually star in Martin Scorsese's Devil in the White City adaptation, which won't actually be a movie. Instead, the duo will turn the novel into a limited series for Hulu, according to Variety. In 2010, DiCaprio got the rights to the Erik Larson book — about serial killer Henry H. Holmes's murders at the Chicago World's Fair of 1893 — and planned to star. Five years later, Scorsese signed on to direct.
Scorsese previously executive produced the TV shows Boardwalk Empire and Vinyl for HBO. He and DiCaprio are reportedly at work on another story about serial murder that they do actually plan to make into a movie: Killers of the Flower Moon, based on the nonfiction book of the same name, which is about a series of murders perpetrated against the super-wealthy Osage Nation in Oklahoma during an oil boom in the 1920s. As for Devil in the White City, get ready to see Leo DiCaprio vaping at the Emmys!