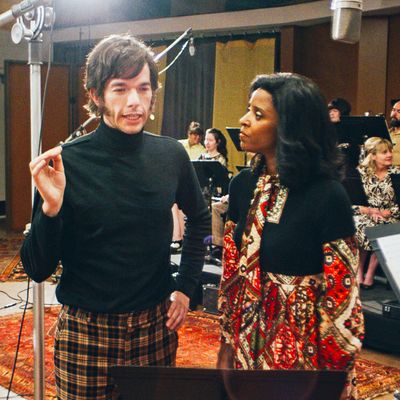 You could drive a person crazy.
Photo: Rhys Thomas/IFC
In order to parody the documentaries it takes on each week, IFC's Documentary Now! works hard to re-create many of their most specific details. That means, if you're making a send-up documentary about a famous musical, you have to create the musical, too. That's what John Mulaney and Seth Meyers did in writing the show's latest episode, "Original Cast Album: Co-op" (airing tonight), which spoofs D.A. Pennebaker's Original Cast Album: Company. That documentary went behind the scenes of Stephen Sondheim and George Furth's fractured 1970 musical Company, which sets a series of New York vignettes around a bachelor's 35th birthday. For their version, Mulaney and Meyers decided the best, silliest way to make a similarly '70s New York musical meant setting their musical in a co-op apartment building.
"I was like, 'What is '70s New York to me?'" Mulaney explained to me. "I had spent a decade living in the 1970s New York doing Oh, Hello, so I thought, Oh, a co-op." So, Documentary Now!'s musical is a series of vignettes set within a cooperative apartment building. The title is Co-op, but the reviewers keep calling it "coop" — a running gag that was cut from the episode for time, but which Mulaney wanted to explain by noting that the theater-owning Shubert Organization didn't have the money to pay for a hyphen for the sign.
With a rough sense of the musical's structure in place, Mulaney and Meyers worked with composer Eli Bolin to develop a series of songs that would fit within the show's 1970s setting, resemble Sondheim's music without directly ripping it off, and, crucially, still be funny. The writers came up with lyrics using the melody and meter of other songs, mostly using Sondheim tunes as a basis, but not always. For instance, the first song in the musical, "Co-op," pulled from Alan Menken and Howard Ashman's "Skid Row," the opening to Little Shop of Horrors. Other inspirations were more obscure. "I Gotta Go," the showcase number of Paula Pell's Elaine Stritch–esque character, which references Company's "Ladies Who Lunch," also pulls from Craig Carnelia's "Just a Housewife" from the 1974 musical Working. Co-op's finale, "Going Up," grew out of the unlikely combination of the rhythms of Sweeney Todd's "A Little Priest" for the verse, and "Something Just Broke" from Assassins for the chorus.
That those inspirations aren't directly apparent is a credit to Bolin, who took Mulaney and Meyers's lyrics and fiddled with them to create new melodies. Bolin, who met Mulaney through Oh, Hello director Alex Timbers, had experience writing soundalikes for Sesame Street, but described the process for Co-op as less about creating one-to-one matches for specific Company songs and more about developing a specifically 1970s musical-theater vibe. Much of that came out in Mike Pettry's orchestrations, which were done to resemble the instruments used in Company. That musical's cast recording prominently features the Rocksichord, a kind of electric piano that's difficult to find today (you can hear it prominently at the beginning of "Another Hundred People"). "It's so evocative of that time," Bolin said. "That's why [the original cast recording] is the only one that I really like to listen to, because I love that sound, and it's kind of impossible to find that keyboard anymore." So, for Co-op, he and Pettry managed to get samples from a real Rocksichord and program them into the fake musical's orchestrations.
While most Co-op songs are pastiche, there is a song that quite directly resembles a Sondheim tune: Co-op's "Holiday Party," written by Meyers, directly recalls the breakneck pace of Company's "Getting Married Today," subbing in a story about doing too much cocaine at a holiday party for a woman's wedding-day jitters. Bolin stressed, however, that his work differs from Sondheim's simply because it's not as complex as that of the musical-theater master. "A couple people listened to it while we were working on it and were like, 'Is this legal?'" Bolin said. "We were able to explain how Sondheim's 'Getting Married Today' is actually a lot more complicated, and my version is actually a lot more simple and less dissonant."
Despite being a fake musical, everyone featured in Co-op has real theatrical experience, and was able to take the ideas and turn them into, as Mulaney joked, "something actually of artistic value." From the start, Mulaney wanted to cast Richard Kind, who'd appeared in Sondheim's perpetually troubled Bounce, a.k.a. Road Show, as an actor who literally struggles through his songs. There's also Paula Pell, who arrives in Stritch drag and has "a lot of wattage in her voice," as Mulaney puts it, as well as Hamilton's Renée Elise Goldsberry and School of Rock's Alex Brightman, who, as seen in scenes that were cut for time, is supposed to be playing the one Co-op cast member who got good reviews.
Those sorts of cuts are the inevitable result of trying to stuff a lot of painstaking detail into a half-hour episode. Mulaney also wanted to include a montage from the original documentary where the vocals drop out and it cuts between instruments in the orchestra, which wasn't possible because they didn't have live players while filming. "For the folks that are really furious that we didn't include that obscure moment," he said, "I just want you to know I tried."
But there's plenty of highly specific material as well. At one point, Mulaney's Sondheim analog Simon Sawyer confronts Goldsberry's character about her pronunciation of ruined, in a reference to Sondheim's insistence of a pronunciation of bubbi in the original. "Ruined is one of my favorite ways people pronounce a word incorrectly," Mulaney said. "I first saw it on Project Runaway about ten years ago. There's a character named Vincent, who was actually one of the older contestants, and he got his shirts back from the dry cleaner and he said, '$150 shirts, ruined!'"
While there are only brief versions of each song in the episode, Bolin promised that they'll all appear in full on Co-op's actual cast recording, which will also be available on vinyl. There were plans to write one more song, a hat tip to "You Could Drive a Person Crazy" about people ordering Chinese food, though it never got fully developed. "If any major Broadway financiers are reading this, Seth and Eli and I will absolutely put up Co-op the musical as is, just with those songs, and we'll write the Chinese-food song," Mulaney said. "I was thinking of it as two two-acts, like Harry Potter. You could go to one in the day, and then come back."