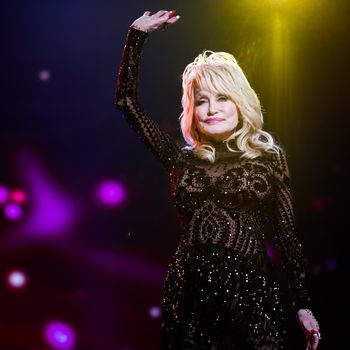 Dolly Parton.
Photo: Rich Fury/Getty Images for NARAS
"All of my life, I have been known for two things," deadpanned Dolly Parton, as she took the stage to collect the MusiCares Person of the Year, pausing for effect, "Well, not them."
"I've also been known as a singer and songwriter, too," the country icon clarified. "Although, I'm not complaining — Ol' Pancho and Lefty've been pretty good to me!" She then confided to the packed-to-the-back-wall crowd assembled at the Los Angeles Convention Center: "Everybody always expects me to do a boob joke, and I like to do that right up front."
To illustrate Parton's reputation as a stellar songwriter over the course of her five decade career, an A-list assembly of talent from across a wide swath of musical genres took the stage to perform her biggest hits and most personal compositions as the Recording Academy and its philanthropic arm MusiCares paid tribute to Parton's singular accomplishments and longtime commitment to giving back at its annual Grammy Week gala (The Grammys will be broadcast live on CBS at 8 p.m. ET, February 10).
Among the luminaries tackling Parton's catalogue: Pink opening the show with a rendition of "Jolene"; Parton's goddaughter Miley Cyrus teaming with Shawn Mendes and Mark Ronson for a fiery spin on "Islands In the Stream," Parton's chart-crossing duet with Kenny Rogers; Katy Perry and Kacey Musgraves dueting on "Here You Come Again"; country star Chris Stapleton giving a honky-tonk spin to the film anthem "9 to 5"; and gospel singer Yolanda Adams' epic belting of "I Will Always Love You," Parton's early career hit later made immortal by Whitney Huston.
Other performers included Willie Nelson and Brandi Carlile; Garth Brooks and Trisha Yearwood; Vince Gill and Don Henley; Leon Bridges, Mavis Staples and Jon Batiste; Lauren Daigle; Norah Jones; and — in a pitch-perfect approximation of Parton's harmonizing with Linda Ronstadt and Emmylou Harris's '80s era recordings — Cam, Jennifer Nettles, and Margo Price. As a cherry on top, Harris and Ronstadt appeared together on stage to present Parton with her award. Parton then closed out the night with her autobiographical breakthrough hit "Coat of Many Colors," accompanied on guitar by her recent collaborator Linda Perry.
Being honored for her contributions to music, Parton told Vulture on the red carpet, "means more than anything, because if I had to stop everything else and just choose one thing, I'd choose to be a songwriter."
On their way into the gala, Parton's musical colleagues were eager to literally sing her praises, making note of her songs they can't help to crank up whenever they come across them on the radio or on Spotify. "Today I get to do 'Islands in the Stream' with Shawn Mendes, which I love to do because usually when I'm singing it in the car I don't have my Kenny, and now I do!" Miley Cyrus told Vulture. After her performance, Cyrus further demonstrated her fandom by furiously bidding during the live auction on a Dolly-guided trip to the icon's theme park Dollywood, which came with an authentic Parton stage costume straight out of curated storage. As bidding hit $90,000, Cyrus admittedly wavered, and — with a nod of agreement from Parton — ultimately agreed to split the prize into with her bidding rival, resulting in a $180,000 windfall for MusiCares.
The pop star's father Billy Ray Cyrus said he remains blown away by the close connection his daughter has always shared with her godmother. "They're kind of kindred spirits, in a way," he told Vulture. "The first time I ever saw them together it was like looking at one person, as the same. They both are old souls, they dig deep in their wisdom, their lyrics, humanity. And they're really kind of one and together. They are dynamite."
Singer-songwriter Lisa Loeb didn't hesitate to name her favorite Parton tune. " '9 to 5' gets me every time — I'm a child of the '70s and '80s," she admitted, noting her awe at Parton's blend of accessible showmanship and artistic merit. "She has the ability to be so down home and so regular and so fabulous, and just out in the stars beyond the rainbow at the same time. She's got so much heart and so much connection, and yet she's so huge and universal. To be able to do those things is unbelievable."
Garth Brooks, on the other hand, couldn't land on a single Parton-penned favorite. "You just said 'Dolly song,' " he said. "If it's a Dolly song, you do it, you crank it up because her voice holds up when you crank it up."
"And the songs are timeless," agreed Brooks' wife Yearwood. "'Jolene' to 'Daddy,' '9 to 5' to 'Old Flames,' that voice — I mean, forget it. I don't know what we were thinking: We're going to sing a Dolly song tonight in front of her? … I'll never get to that level, but she is a woman who continues to work harder than anybody, and inspires me to work hard."
"Yeah, Amen," agreed Brooks. "I wish I was half the woman she is. Man, she's ballsy. I love her."
For Nettles, who portrayed Parton's mother in two television movies based on the icon's childhood, Parton holds a particularly special place in her life. "For me, she is a mentor, she is an icon, she is a hero, someone I look up to as a singer/songwriter, as a woman, as a businesswoman, as a philanthropist, as an actress," Nettles said. "She's done it all, and she's still so vibrant, still so relevant. I look at her, and we should all be so lucky, I think, to be able to have that kind of career and that kind of impact."
"Those waters run really deep for her," added Nettles. "You hear all of that depth and all of that gravitas in the stories that she tells, but then she has all this buoyancy on top that really draws us in."
"I truly, I truly can feel the love in this house tonight — either that or my telephone's on vibrate," Parton cracked, telling the crowd she endured the career retrospective with a mix of dismay — "I really thought my hair looked good, back then. Can you believe that hair? Now that's country music at its finest" — and wry reflection. "Watching them is sort of like watching porn. You're not personally involved, but you still get off on it. So really got off on this show, tonight. Hey now, don't blame me. At my age, you'll take anything you can get. And I'm still hoping that I live long enough to get the Betty White longevity award. I'm working on it."