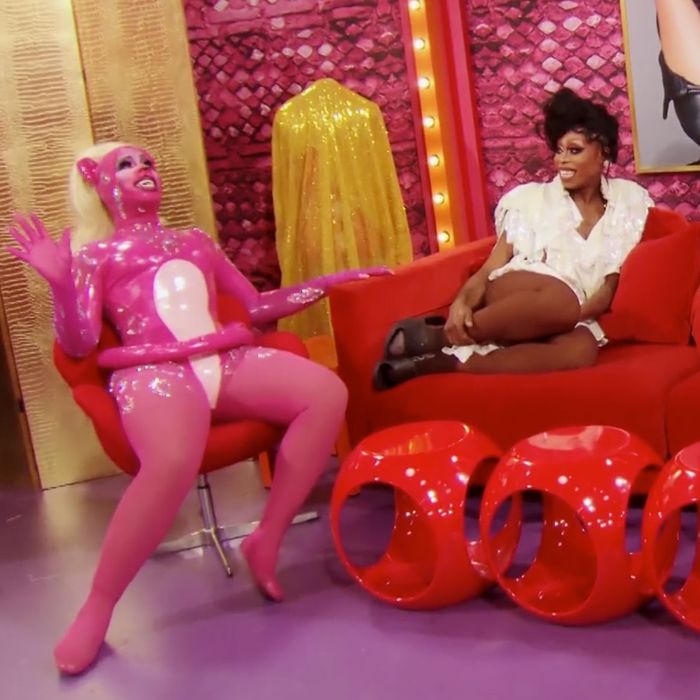 Is your jaw still on the floor after being fully gooped by the results of RuPaul's Drag Race: All Stars 4? Let What the Tuck, the first and only Rupaul's Drag Race podcast (you better not have fact-checked that, bitch), pick that thing up for you. Unless your jaw has actually been clenched in anger ever since RuPaul made her "decision." If that's the case, let hosts Joel Kim Booster and Nicole Byer and their extra-special guests — Vulture's very own Drag Race recapper and one half of Las Culturistas, Matt Rogers; and Horny 4 Horror co-host Mano Agapion — help you relax that thing, baby.
Together, the four get. Into. It. And by "it," we mean the finale of All Stars 4. They address questions like: What happened? Why did it happen? Was it good or bad? Should the winner be whoever performed best in the final episode or who performed best over the course of the season? Was "Super Queen" too midtempo for anyone to actually slay!? And, of course, can someone please fix All Stars? Get out your nicest tea-cup corset and pour yourself one, because this is a long one, honey.
What the Tuck will be back for RuPaul's Drag Race season 11, so make sure you subscribe on Apple Podcasts, Spotify, or wherever you listen. And remember: No tagging! Just gagging!