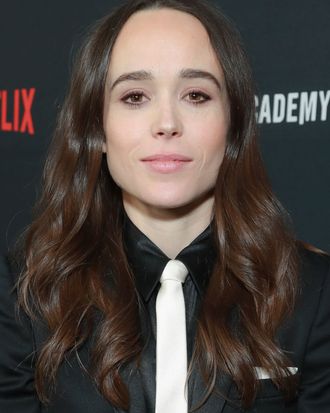 Photo: Rich Fury/Getty Images
On The Late Show With Stephen Colbert last month, Ellen Page blamed Mike Pence and the Trump administration for the rise in hate crimes — like the one supposedly perpetrated against Jussie Smollett. Today, in light of the allegations that Smollett planned the attack himself, Page penned an op-ed for The Hollywood Reporter to remind people that anti-LGBTQ+ violence is very prevalent and very real.
Page was one of the first to speak out vehemently in support of Smollett when news of the attack first broke, and her heated comments on Colbert were widely shared. Until today, Page had yet to speak out about the Smollett case since revelations that the attack might be fake. Smollett was charged with filing a false police report, and police now claim that he planned the attack himself.
In the letter, Page addresses the controversy directly, reminding readers that she had "no reason to doubt Jussie." She also addresses what could happen if the Smollett hoax turns out to be true: "If this situation was staged, it could make victims even more reluctant to report these crimes. Very real crimes."
Page pledged to use her privilege and visibility to continue speaking out — and she's been doing so recently. Earlier this month, Page called out Chris Pratt for attending what she called an "infamously" anti-LGBTQ+ church. (Pratt responded to the accusations with an Instagram Story, claiming his church was all about love.) Just last week, she opened up about Hollywood pressuring her to stay in the closet when she was in her early 20s.