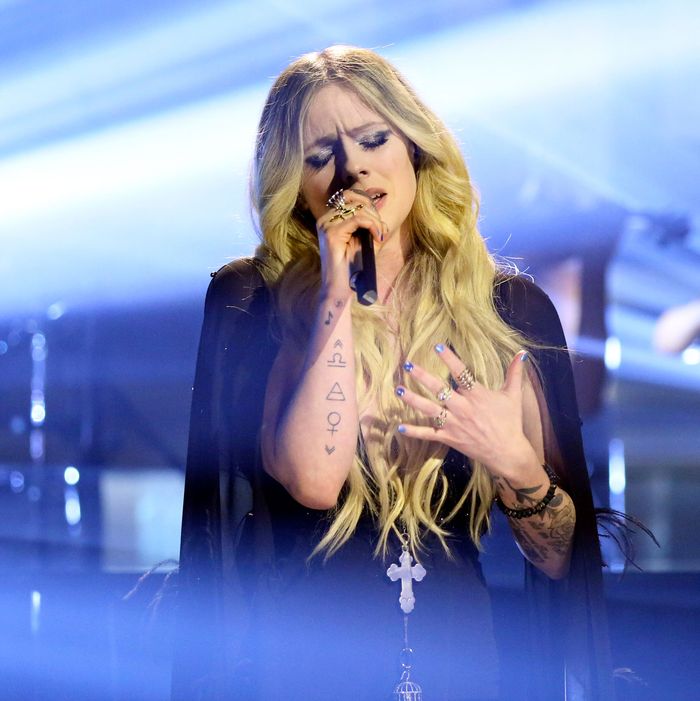 Which 2000s pop-rock artist influenced some of last year's most acclaimed indie-rock records? The answer is complicated — literally. "You can just put [those first two albums] on in the car and every track — boom. Hit, hit, hit, hit," Soccer Mommy's Sophie Allison told Billboard last year about the impact that Avril Lavigne (specifically, the Canadian artist's 2002 debut Let Go and the darker follow-up Under My Skin from 2004) had on her debut album, Clean.
Lindsey Jordan, who records as Snail Mail and currently resides on storied indie Matador, testified in the same article to the essence of Lavigne's generational appeal: "I remember thinking she was the penultimate [alternative] chick … I just wanted to be her so badly." On a level, such admissions from indie-situated artists aren't as surprising as they seem. When Let Go — an album largely comprised of inescapable radio anthems and the occasional, melodically rich deep cut — was released, rock and rock-adjacent pop was male-dominated as ever, a symptom of nu metal's hangover effect as well as the overall culture of misogyny that continues to plague the music industry today.
Tori Amos and Alanis Morissette — the latter of which being Lavigne's countrywoman and practical '90s analogue — were sliding out of pop and rock radio's field of vision; Regina Spektor, Tegan and Sara, and Yeah Yeah Yeahs were still a few years away from reaching the pop-cultural prominence they occupy now, and speaking as a tristate-area teenager surrounded by big-box record stores at the time, capital-R rock releases from artists like Sleater-Kinney and Rilo Kiley were tough to track down in a pre-piracy, pre-streaming era of musical consumption. In 2002, Lavigne was practically the most visible female-identifying rock-adjacent musician, and her punkish, mall-destroying image packed undeniable appeal for a generational subset otherwise gazing at the masculine, often-misogynistic landscape of nu metal and Bush-era pop-punk.
At the time of Under My Skin's release, both Jordan and Allison — who told The FADER last year that Lavigne's sophomore album was the first she ever owned on CD — were still making their way through elementary school; they essentially grew up on the pristine-sounding, gently barbed pop-rock associated with Lavigne, whose sixth album and first in a half-decade, Head Above Water, sees release today. Just as Jordan and Allison have notably displayed musical capabilities at an impressively young age, Lavigne had a similarly prodigious rise after appearing onstage with Shania Twain at the age of 15. (Behind Shania and Céline Dion, she also currently stands as the third-biggest-selling Canadian artist of all time.)
On a basic level, the music that Jordan and Allison make does not sound like Lavigne's — an ostensible fact supported by the comparisons typically reached for by critics and savvy listeners alike. Both Clean and Jordan's fantastic debut LP Lush are perceived as extensions of the crunchy, loose, just-imperfect-enough sounds of 1990s indie rock. (To wit: In the lead-up to Lush's release last year, Pitchfork published a moderated convo between Jordan and '90s indie scion Liz Phair.) Through a purely sonic lens, Lavigne presumably represents a generational totem — an ideological starting point based on the representational image she projected during her early years — than an explicit fount of influence to draw from musically.
In other words, the professed admiration for Lavigne doesn't make for as neat of a connect-the-dots of indie-influence peddling as, say, a similar act explicitly sounding like indie totems of years past, such as Pavement or Guided by Voices. But Jordan and Allison's Lavigne-citing tendencies are indicative of a larger generational shift of perceived influence across genre — a practical reclaiming and recasting of artists previously deemed "uncool" from an ascendant age group that merely recognizes said artists as the cherished architects of their pop-cultural adolescence.
Twenty-four-year-old Philly rapper Lil Uzi Vert has long cited shock-rock veteran Marilyn Manson as an influence, and pop star Halsey (who is the same age as Uzi) recently displayed a fresh, torso-length Manson tattoo as a permanently inked co-sign. In interviews, genre-blending upstart crooner Dominic Fike has claimed Jack Johnson and Red Hot Chili Peppers as the formative music of his youth, and late emo-rap icon Lil Peep — whose music often took on the melodic timbre of nigh-unfashionable 2000s pop-punk acts like Good Charlotte and New Found Glory — was known to claim latter act's front man Anthony Kiedis as an "idol." These instances of influence-citing carry a greater meaning than making one feel "old"; they signify the arrival of a new, younger generation of artists and listeners whose formative tastes are mismatched with the generation directly above them, a cycle of pop-cultural change as dependable as aging itself.
Typically, when artists possessing more than an iota of legacy find a new youth-oriented ore to mine, they're quick to seize on the opportunity. For his part, Manson — whose entire career has arguably depended on cultivating attention — has returned the influence-peddling favor to Uzi, claiming the two have spent considerable studio time together; Red Hot Chili Peppers' near-unintelligible performance with the 23-year-old pop superstar Post Malone at this past weekend's Grammys was similar evidence of a game attempt to appeal to this younger generation. One could argue that the stage is similarly set for Lavigne to successfully attempt a similar aisle-reaching gesture by reaching back to the era of her career that younger artists are expressing admiration for.
But if there's one takeaway from the last decade and a half of Lavigne's career, it's that she's possessed little interest in seizing on any perceived moment. And why would she? Although Let Go and Under My Skin were massively successful in her own right, she didn't achieve a chart-topping hit until 2007's "Hey Mickey"–aping "Girlfriend," from her The Best Damn Thing released the same year. Indeed, Lavigne's discography since has represented a conscious rejection of the persona and sound that Allison and Jordan consider near and dear, from more "Girlfriend" retreads and questionably offensive EDM singles to treacly duets with ex-husband and Nickelback front man Chad Kroeger and ultraraunchy collabs with (guess who) Manson.
The closest Head Above Water comes to achieving generation-spanning relevance is the Nicki Minaj collab "Dumb Blonde," a pop-rap trifle that could've easily camouflaged itself amid late-2000s pop radio without sounding a touch out of place. Otherwise, the album represents another baffling step taken in her career — a hard 180 away from the garishness of her last few albums and toward weighty balladry. During a recent interview with The Guardian's Laura Snapes, Lavigne claimed that the label move accompanying the album — to BMG and away from longtime home RCA — was partially because the former treated her as a "legacy artist"; as a result, there's an abundance of plodding tempos and melodic blare, representing a shift toward adult-contemporary pop that suggests that, after 17 years, Lavigne's completely lost sight of her own strengths.
During the aforementioned Guardian interview, Lavigne waffled between standoffish and confessional stances while discussing her own journey in the music industry, at one point stating, "That's the thing about my music. I write it and I put it out there, and people can interpret it the way they like." The statement represents, among other things, the nose-thumbing attitude she projected during her early years that so clearly inspired artists like Allison and Jordan. Despite the new, confounding shapes her music continues to take, that attitude is still clearly within her, and it's wholly possible that it'll continue to inspire younger artists for years to come, regardless of how and when she expresses it.