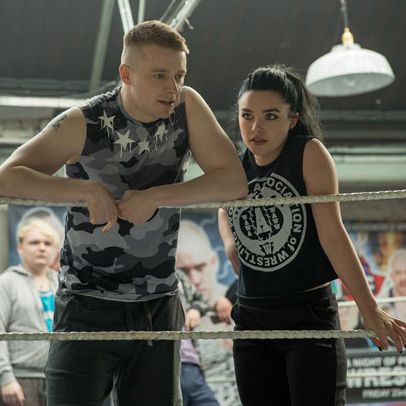 Photo: Metro Goldwyn Mayer
"Do you like wrestling?" Saraya, a.k.a. Britani, a.k.a. Paige (Florence Pugh), asks a gaggle of blondes while passing out fliers for her family's scrappy showcase. The girls look down their nose at the goth, pierced Saraya and insist that they do not, and Saraya, expecting such a response, replies earnestly, "How do you know if you've never seen it?" Fighting With My Family, a WWE Entertainment production, is savvy enough to guess that most of its target audience are more aligned with those girls than anyone else in the film, who, even if they've warmed up to the Rock as a summer tentpole movie star, wouldn't be caught dead paying for Wrestlemania. In that regard, Fighting With My Family is some of the gentlest and most effective brand PR ever — by the end of the film, you certainly feel as if you've seen some wrestling, and I'd dare you to say you didn't like it.
But it's also a pretty delightful Cinderella story in its own right, and just clear-eyed enough about the absurdities of a life in wrestling to have some grip to it. Based on the true story of WWE Champion Saraya "Paige" Bevis, the film is the improbable love child of writer-director Stephen Merchant, executive producer Dwayne Johnson, and critical darling Pugh, a combination so compellingly odd that even in its saggier moments one can't help but lean forward. It primarily follows the rise of Paige, starting with her humble beginnings training and performing alongside her mother Julia (Lena Headey), father Ricky (Nick Frost), and brother Zak (Jack Lowden) in their own family-run league. The family has a small but ardent fan base, and barely scrapes by on ticket sales, but Julia and Ricky have embedded big, shiny dreams of wrestling stardom in their kids' heads.
When they're invited to WWE tryouts in London, the two siblings think it's their golden ticket. But Saraya — who now goes by Paige in the ring — is the only one who makes it through the qualifying rounds. She's shipped off to Florida for training, while Zak returns home to Norwich, to lick his wounds and care for his new child. The film then splits off into two stories on two sides of the pond: Saraya's somewhat by-the-numbers against-all-odds underdog story counterpointed with Zak's life back home, as he tries to recalibrate his picture of his whole life in the wake of professional disappointment.
The former story has more conventional drive to it, and features a truly great Vince Vaughn as Saraya's no-nonsense coach, who sees a spark in her and is all the harder on her for it. Much of this, as one might guess, is less about wrestling and more about Saraya figuring out who she is and what she wants outside the context of her family and their fervor for the sport — she goes by three different names at the outset of her WWE career, and that is most certainly a metaphor. (She settles on Paige as her official stage name — and if the sound of Pugh explaining to Vaughn in her deadpan voice that "she's a witch from Charmed" doesn't instantly endear her character to you, I don't know what to tell you.) The working-class Brit, with her heavy-metal pallor and mop of dyed black hair, is an odd duck next to the tanned and toned models turned wrestlers she finds herself fighting alongside, and she clashes with them at first, risking becoming the heel early in her American debut.
So far, so sports movie — though the pageantry and showmanship of professional wrestling add zest onto the barrage of training montages. But the film needs the Zak half of the story not only as the latter part of a "thrill of victory/agony of defeat" dichotomy, but to deal honestly with how little sense, how unfair something like wrestling can be if you decide to put all your eggs in it. Merchant is more brutally honest than most sports movies — or any kind of rising-star movie, for that matter — about failure, and it makes Fighting With My Family better than it needs to be. The entire cast is a pleasure, particularly the dynamo Pugh, and it's plenty of fun to watch the doors fly open for Paige, especially when the person opening them tends to be Dwayne Johnson (who plays himself in a supporting role). But what makes it memorable are its funny, sad little corners of very specific humanity. By the time the de rigueur actual footage of Paige and the Bevises starts rolling over the credits, you almost don't want to see it — it's a plenty good story without the supposed validation of having actually happened.