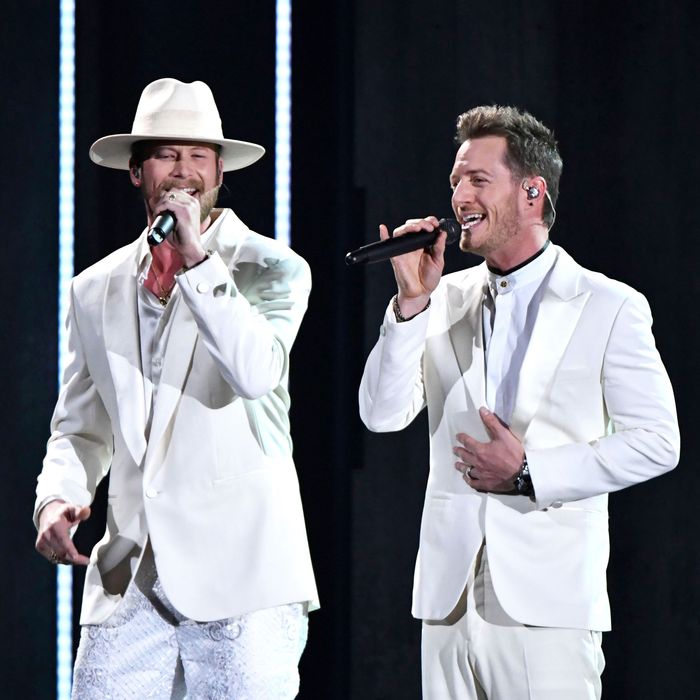 Photo: Charles Sykes/Invision/AP/REX/Shutterstock
Florida Georgia Line catches hell for mixing flavors people aren't accustomed to having at the same time. The country, pop, and rap fusion of the vocal group's early singles "Cruise" and "This Is How We Roll" is emblematic of the kickback from rap ascending to the forefront of American music. Over the last decade, hip-hop values have crept into areas where they weren't always welcome. Collaborations that seemed outrageous a decade ago are running the charts now. Florida Georgia Line's lyrics about loving Drake and 2pac as much as Hank Williams and Travis Tritt are the logical conclusion of the tastes of fans who like "a little of everything." They've adopted a fruit-smoothie approach to pop music; they toss everything in a blender and embrace whatever offbeat textures develop in the process. Sometimes the mix benefits from unlikely pairings. Sometimes it leaves a weird aftertaste. Other times it comes out cloyingly sweet. The method that creates great songs like "May We All" and "Dirt" is the same one that makes horrors like the shaky reggae tune "Sun Daze."
Singers Brian Kelley and Tyler Hubbard seem wise to the reservations that critics and listeners have voiced about their music, that they're playing with oil and water adding outside elements to country music, that they're the architects of shameless, fratty pop music that is carrying country away from its roots. Florida Georgia Line's growing catalogue sometimes feels like a conversation with these criticisms. At each step, they get a little more eager to prove that they have chops, that they're more than just two bros who write songs about stargazing with their girlfriends in the cab of a pickup truck. (The urge hasn't always worked to their advantage; 2016's Dig Your Roots tried to flex its range with oddball collaborations that didn't always connect.) From the title to the music, this week's Can't Say I Ain't Country is a concerted push toward more traditional country from a group whose interest in the classics comes across in the lyrics but not so much the music. Surprisingly, the further the record wanders from the script, the better it gets.
The glut of straight-laced country tunes peppering the new album cover a range of styles to mixed results. Lead single "Simple" is an unfussed love song with a whiff of Mumford & Sons folk-rock pep in the verses and a chorus that rescues the song from its own cutesiness. "Women" reunites Florida Georgia Line with Jason Derulo for a wistful ballad whose hook — "Women, beautiful women, we're all better off with them right by our side" — is good-natured but deserving of a few more drafts. (Country industry men ought to show their appreciation for women by giving them opportunities in the biz. Kacey Musgraves had to win the Grammy for Album of the Year in order to get a single from the excellent Golden Hour jumping on the country airplay charts.) "Told You" is a pretty torch song that dips its toes into soul and blues, like the quiet songs on Chris Stapleton's Traveller. "Speed of Love" makes good on the respect Kelley and Hubbard pay to '90s forebears like Alan Jackson in interviews with a fast-paced country-rock burner.
Can't Say I Ain't Country's gift is balance. It breathes because it isn't straining to find a dozen ways to express the same ideas about love and companionship using the same instrumentation. It doesn't run itself off course with genre experiments that push the group past the limits of their skill set. It's home to a few of the best Florida Georgia Line country/hip-hop hybrids. "Talk You Out of It" and "Small Town" fuse hip-hop drum programming, R&B vocal tics, and country instrumentation without calling attention to the fact that a clever marriage of genres is happening, the way the big-deal FGL party songs sometimes do. The good songs are so good that you'll wish the group had done some whittling. The track list smartly spreads the best material around, but by track 20, last year's meteoric "Meant to Be," the album starts to wear. Less some chaff, Can't Say I Ain't Country might rank as one of the best Florida Georgia Line studio efforts. As drawn out as it is, it's still a strong effort from a group with a very successful shtick that's successfully angling to prove that they're more than just the guys from the bro country radio hits. Album No. 4's usually the one where things get weird. This one took Florida Georgia Line back home.