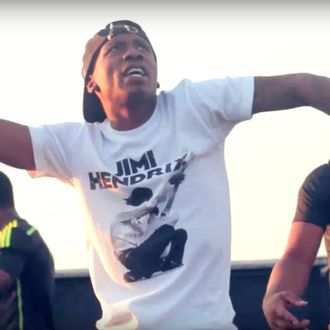 2 Milly, milly rocking.
Photo: Born2WinProductions
The publisher of Fortnite is hoping to diffuse some of its recent legal woes. In December, the rapper 2 Milly filed a suit against Epic Games saying it used his art without permission or compensation in the form of a dance, dubbed "Swipe It" in Fortnite, that he created in the video for his song "Milly Rock." This week, Epic moved to get Milly's complaint dismissed on the grounds that, "No one can own a dance step." In its motion, Epic further claims, "Copyright law is clear that individual dance steps and simple dance routines are not protected by copyright, but rather are building blocks of free expression, which are in the public domain for choreographers, dancers, and the general public to use, perform, and enjoy."
Within Fortnite, players can purchases dance moves their in-world avatars can then execute. Donald Faison said at Vulture Festival last year that a dance he made up in the show Scrubs is available in the game, but no, he has not been compensated, and both Alfonso Ribeiro and the "Backpack Kid" are suing Epic for the game's use of the "Carlton" and "Floss Dance" moves, respectively. In the case of 2 Milly, the rapper is not only suing for copyright infringement, but claiming his "right of publicity" has been appropriated. But Epic has an answer for that, too, saying in its motion to dismiss that, "Critically, Swipe It can be used with any Fortnite character, none of which Plaintiff alleges share similar physical characteristics to him," reads the motion. "And Plaintiff has not asserted that he has appeared in a similar setting to Fortnite, namely he has not fought in a battle royale using weapons to kill opponents. These additional elements make the Swipe It emote a transformative use."
So Epic says you can't copyright a dance and that it has not improperly used 2 Milly's likeness. We'll see if the courts agree.