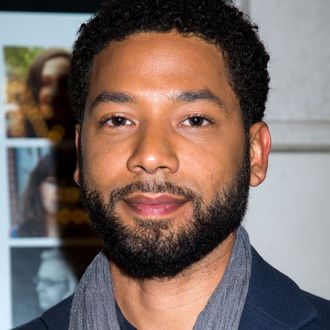 Jussie Smollett.
Photo: Broadway World/REX/Shutterstock
Hours after Empire actor Jussie Smollett turned himself in to Chicago police, after being charged late Wednesday of felony disorderly conduct for making a false police report, his bosses have issued a statement that they are weighing their options in regards to his future on the show. Smollett, 36, claimed on January 29 that two men who yelled racist and homophobic slurs attacked him outside of a Subway restaurant in downtown Chicago. After interviewing the two men for 48 hours and releasing them, Chicago police announced at a press conference Thursday that Smollett staged the incident and paid $3,500 to two men to help him carry it out.
Although 20th Century Fox Television has stood by the actor as rumors of a hoax swirled for the last couple of weeks, things changed after the actor was arrested. "We understand the seriousness of this matter and we respect the legal process," the statement read. "We are evaluating the situation and we are considering our options."
Chicago police said Smollett was motivated to orchestrate a fake attack because he is unhappy with his salary and wanted attention. Empire is currently in production on the penultimate episode of its fifth season. Since Smollett reported the attack, his bosses and colleagues have not wavered in their support. In a statement issued on Wednesday, hours before a grand jury indicted Smollett, the studio said: "Jussie Smollett continues to be a consummate professional on set and as we have previously stated, he is not being written out of the show."
Additional reporting by Maria Elena Fernandez. This is an ongoing story has been updated throughout.