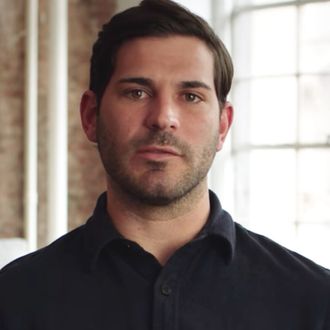 Jerry Media CEO Mick Purzycki.
Photo: Netflix
Netflix and Hulu's dueling Fyre Festival documentaries are only slightly less dramatic than the failed music festival itself. According to a report from The New Republic, the CEO of Jerry Media — the firm responsible for advertising the festival, and a producer of the Netflix documentary — claimed to have "final cut" over the documentary. In a March 25 email to a freelance cinematographer hired by Fyre founder Billy McFarland, Jerry Media CEO Mick Purzycki wrote: "I have final cut on the film and will not be approving anything that is not done with integrity." (To make things even more confusing, that cinematographer, Michael Swaigen, eventually become an associate producer of the Hulu documentary.)
When contacted by The New Republic's reporter, Netflix disputed Purzycki's level of control. "Jerry Media did not have final cut. There was an initial agreement that either party could walk away at any point and retain the rights to what they came into the project with," Netflix said. "This was superseded by the distribution agreement where the final cut was with the director." Purzycki confirmed that he did send the March 25 email, but said that, later on, "all production companies ultimately agreed that final cut belonged to the director and the distributor of the film." Even with the director's cut, Jerry Media comes out looking squeaky-clean in Netflix's telling of events.