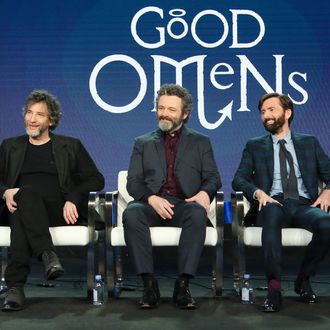 Anglophiles who appreciate darkly comedic religious satire, rejoice! Good news came out of Amazon's Good Omens panel at the Television Critics Association press tour in Pasadena on Wednesday. For one, creator Neil Gaiman revealed that all six episodes of the adaptation of his and Terry Pratchett's biblical fantasy novel about an angel and demon who ban together to stop the impending end times will hit Amazon Prime on May 31.
And then there's the bold-name casting. We already knew that Jon Hamm will play the Archangel Gabriel — a kismet fit since Gaiman revealed during the panel that Good Omens was one of the Mad Men alum's favorite books in high school — and that Michael Sheen and David Tennant don British accents to play the show's leading spirits Aziraphale and Crowley. But Gaiman revealed at the TCA panel that Benedict Cumberbatch has also been cast to voice a "a giant, animated Satan" who is "400-foot high."
Why such all-star casting for the part of the Dark Lord? Gaiman said that they'd already cast Frances McDormand as God, so they "needed a performance that would work" against that kind of acting magnitude and could "give [her] a run for her money."
We'll have to wait until the season's sixth and final episode to hear Cumberbatch's take on Satan (and whether it'll sound anything like his growling timbre in The Hobbit). But, as executive producer Douglas Mackinnon joked during the panel, when the episodes finally drop at the end of May, "You can actually say, No shit, Satan," instead of Sherlock.