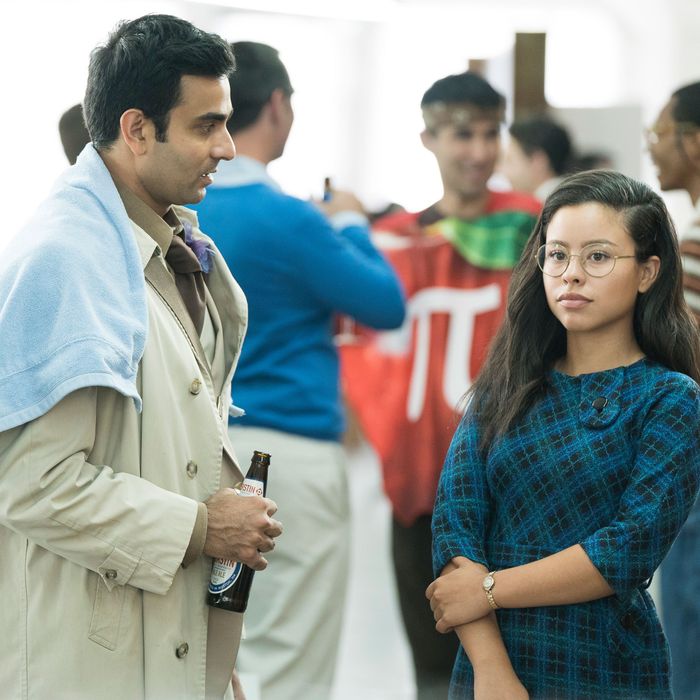 Photo: Eric McCandless/Freeform
Six episodes in and Good Trouble is still delivering insanely solid episodes of television. They are currently juggling a whole smattering of storylines, none of which I dread to see get airtime. What a world! Of course, some pique my interest more than others, for I am only human. In "Imposter," Callie and her Judge Wilson problem are compelling, but everything going down at the Speckulate office is really what I want to see unfold. Give me Mariana refusing to be disrespected! Give me Gael standing up for his sister! Give me maybe some weird flirtation type thing happening with Evan Speck? I SAW WHAT I SAW.
Let us begin with poor Raj — Hot Raj, as Mariana perfectly christens him — really stepping in it. Despite the disappointment he felt after realizing that no, Mariana was not inviting him on a date, the two manage to bond as friends. They have a separate chat where they vent about Alex, who continues to be horrible by loudly and condescendingly correcting Mariana's mistakes AND STILL MISPRONOUNCING HER NAME, and Sam, who has a temper tantrum when Alex refuses to listen to his group costume idea for the upcoming Speckulate anniversary party. She still hates her job, but having Raj makes it a little more tolerable — especially after she has a tense run-in with her other ally, Casey.
Mariana goes to vent about being kept on "maintenance duty" rather than getting an assignment for the supersecret [whispers] "new social network" project Evan has assigned the Blue Team, but Casey gets up in arms immediately. You can guess that Casey thought she'd be assigned the [whispers] "new social network" and is taking that frustration out on Mariana, but all Mariana hears is Casey agreeing with Alex and blowing Mariana off.
All of this is to say, Mariana is feeling even more alone at Speckulate than usual. So when Raj asks her to help him with a few things regarding the [whispers] "new social network," she jumps at the chance to feel like a part of the team and hang out with the one person she can still count on at work. Unfortunately, when Raj comes over to the Coterie, he misinterprets a few things, leans in for a big ol' kiss, and gets denied. It is awkward as hell and Raj scampers off so fast he basically leaves a cartoon trail of dust behind him.
The awkward train continues chugging along at the Speckulate costume party the next day. (Not awkward? Mariana's very cute Margaret Hamilton getup.) Raj does seem genuinely sorry for crossing that co-worker boundary, but his apology to Mariana is met with an "it's fine" that most definitely means it isn't fine. And then she has to watch Raj, Sam, and Alex bond like the fun little team they are. To make things worse, Mariana has a run-in with Evan, who completely ruins cheese for her and FOR ALL OF US. It is, officially, the World's Worst Party.
And not just for Mariana! She runs into Casey in the bathroom Having a Moment after being berated in front of her team. She finally lets Mariana see her vulnerability — although she tries to hide it, she's just as frustrated here as Mariana. Mariana thinks it might benefit all of them if the women at Speckulate banded together. Casey laughs it off — it would be nice, but like that'll ever happen. LOL, Casey has never met an Adams Foster woman before.
Also having a terrible time at this party? One of the waitstaff … who just happens to be Gael's sister, Jazmin. It's her new gig after being fired from her retail job. She's still having a tough time, but she refuses to let bigoted people tear her down. She wants to officially change her name and gender marker on her birth certificate so that she can avoid the problems that come with having to explain her situation as she's applying to jobs. She can't do that without a lawyer because she has a felony that she was unfairly charged with. Gael admits to Callie, whom he asks to help with the birth certificate issue, that he thinks Jazmin might be bringing some of her troubles on herself. When Jazmin shows up to work the Speckulate party, Gael learns that he was very wrong and also kind of a dick for thinking that.
Things are going just fine — she meets an angel-person waiter named Zeke who asks her out and then when she tells him she's trans, asks her out again — until their boss delivers their paychecks and reams Jazmin out for lying on her paperwork about her name and gender. They won't be needing her services again. Gael watches this go down and WILL NOT STAND FOR IT. They almost get into a fistfight, but Jazmin talks her brother down. Instead, they call in Callie for help. She brings Jamie along and they think there is a case here — Jazmin can sue the catering company. It won't be easy or cheap, but they all agree it is worth the fight. Gael is going to take a full-time position with Speckulate so he can pay Jazmin's legal fees and Jamie is going to work to get his firm to take the case.
I am very into Jazmin's storyline for what it is, but I am also into it in regards to how it will affect Callie's love life. This is beside the point, but it must be said: Callie's love triangle is currently A DREAM. I mean, she makes out with Jamie, fighting the good fight, but she also gives Gael, sensitive brother, some loving glances. Who will she choose?!
Alas, we must move on from such fun and flirty notions and visit Mariana back at the office. Mariana's working late, when who should walk in but Evan. He's there to ask her if she likes parties or not because she looked sad and bored today, and he doesn't like parties, or any social situations, either. What's going on here? He seems to be on the spectrum and Mariana is always so kind to him when everyone else in the office seems intimidated. Does he just appreciate that someone has normal conversations with him? Does Evan have a crush on Mariana? The latter would be very sweet … if Evan weren't the CEO of the company. Things could get murky here, but I'm excited to see where this is headed; thus far, any Mariana–Evan interactions have been episode highlights.
I hope the one place it's not going is Raj starting up the rumor mill — but I'm worried. As Mariana and Evan are talking in her office in the dark, Raj pops in to apologize again. I don't think Raj is someone to start office gossip, but it's easy to see how things could get misconstrued. Evan leaves and Raj once again wants to make sure everything is okay between him and Mariana. This time, Mariana isn't going to appease him — what he did wasn't okay. You guys, Mariana gives it to the guy. She feels disrespected! It was inappropriate! "Sorry doesn't cut it." And then do you know what she goes and does? She fires off an email to the women of the company: It's time they come together and fight for each other. She literally calls it "Fight Club." I imagine this Fight Club will have much less physical fighting and imaginary Brad Pitts and more ladies empowering one another than that other Fight Club, but one never knows.
Family Dinner
• Suck on that, Benjamin! Callie tells Wilson about her relationship with Malika before he can rat her out. The dude is not happy about the fact that Wilson doesn't remove her from the case — other clerks have been removed for much less. He makes a snide remark that Callie must have some dirt on Wilson.
• But does Callie have some dirt? She has her Hot Lawyer look into the details around Tate Wilson's arrest to see if Judge Wilson has a conflict of interest since the LAPD are the defendants in the Jamal Thompson case. Could Judge Wilson go easy on those officers because the LAPD went easy on his son? At first, it seems like there isn't a conflict, since Tate was arrested in Berkeley, not Los Angeles. But behold! The chief of police in Berkeley has just accepted a new position … as the chief of police for the LAPD. So, yeah, that might be a conflict.
• It's smart to weave Dennis (still breaking my heart) and Davia's storylines together. He cheated on his wife, Jennifer — who shows up looking heartbroken when delivering divorce papers — and kindly warns Davia that her thing with Jeff isn't going to end well. The two of them sing a lovely version of "Danny's Song" up on the roof, yet still the evening ends with Davia telling Jeff that yes, sure he can see her when he's in L.A. again.
• Will Dennis and Jennifer reconcile? Please say yes, I am very invested in their relationship, which we have only know about for like five minutes.
• I could've watched a whole episode of Callie and Jamie flirting and eating grapes on a park bench. Does that say more about their chemistry or my fondness for flirting whilst eating grapes? You decide.