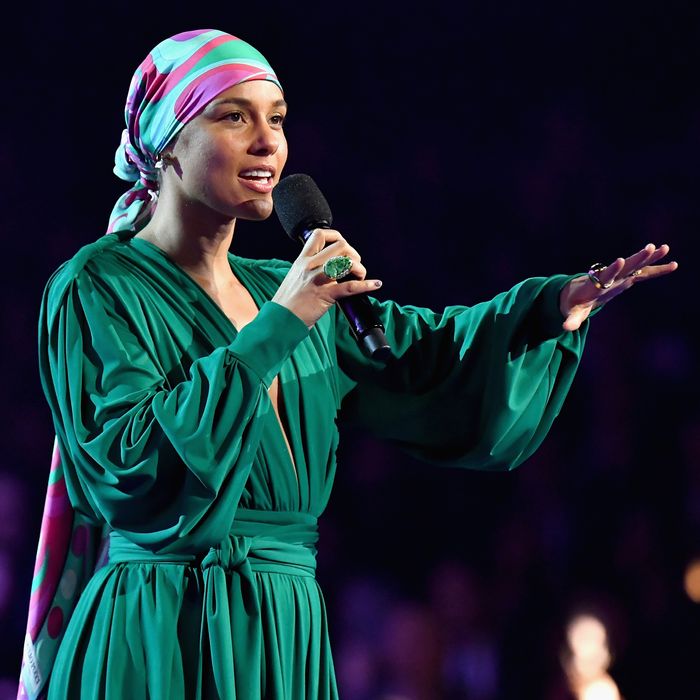 Photo: Jeff Kravitz/FilmMagic
The Grammys are that popular kid everyone at school finds a little intimidating. Their primary source of power is people's unquestioning acceptance of existing hierarchies and social mores. When they cause trouble, people muse about what would happen if everyone abruptly stopped feeding them the attention that makes them seem important, but every year we fall in line again to see what else they're capable of. The Grammy broadcast is supposed to be a show about celebrating talent, but the Recording Academy's sense of the best talent differs so frequently from public opinion that the broadcast splits its time between making mistakes and overcorrecting for them, so that it always feels like it's in conversation with itself. This year, many of the biggest stars skipped the show, or else showed up with no intention of performing. Beyoncé, Jay-Z, Kanye West, Ariana Grande, Childish Gambino, Kendrick Lamar, Ed Sheeran, Taylor Swift, and Rihanna were all no-shows. Drake broke his Grammy boycott to criticize the show during an acceptance speech, and they cut abruptly to commercials. Apple Memoji ads during said commercial breaks seemed to taunt the show with smiling cartoon avatars of stars who didn't bother to attend. After a row with producer Ken Ehrlich, Ari wore her Grammy dress around the house as her Memoji piped her new album's single into the broadcast. Donald Glover sent his to preview a new single, but when "This Is America" won for Record and Song of the Year, a first for a rap song, he was nowhere to be found.
A drought of megawatt star power made for a peculiar Grammy ceremony, but the show did surprisingly well with what it had. Alicia Keys hosted, exuding extreme comfort and unintentionally hilarious stoned-mom charm through the night. Some viewers complained that she lacked the personality to carry a nearly four-hour prime-time broadcast, but her offbeat bits and wardrobe choices kept the night awash in good-natured chuckles, and her tributes to her friends and influences allowed the Recording Academy — who caught hell a year ago when Grammy president Neil Portnow reacted to accusations that the show centers male performers by telling women to "step up" — to look like its getting with the times. You could argue that the theme of the show was "Women!" Kacey Musgraves's Golden Hour took top honors and edged out most other nominees with a near sweep of the country categories. Cardi B's Invasion of Privacy took home the first Best Rap Album Grammy awarded to a woman. Janelle Monáe's showstopping medley of Dirty Computer cuts packed the stage with black women singing, dancing, and playing instruments. Lady Gaga played both Ally and Jackson in an offbeat, melodramatic rendition of "Shallow." Kacey Musgraves, Katy Perry, Miley Cyrus, and others joined Dolly Parton for a tribute that ended in a gorgeous cover of Neil Young's "After the Gold Rush." St. Vincent and Dua Lipa played sexual tension like an instrument in a mix of their latest singles. Jennifer Lopez ran point on a 60th anniversary Motown tribute.
A few of these ideas were silly. Katy Perry came to try to match ostentatious vocal runs with the other singers during the Dolly medley and got scorched by Kacey Musgraves, whose poise is her secret weapon, and Miley Cyrus, who has been singing her godmother's songs longer than most people realize. Jennifer Lopez was the wrong choice for the Motown medley. She is a capable actress, a fantastic dancer, and a passable singer, but Motown was a machine that lead with strong vocals and let everything else fall in afterward. Lopez's voice was nearly buried in the mix and didn't appear to be live. A Motown tribute where the star doesn't sing is borderline offensive. The best Motown moment was served when Diana Ross, singing "The Best Years of My Life" and "Reach Out and Touch (Somebody's Hand)," declared the show to be a birthday party for herself, when her birthday is a month away. Alicia Keys's mid-show medley of jazz and soul classics, rock standards, and modern R&B hits advanced the sense that everyone was doing whatever the hell they wanted onstage all night. Giving ample air time to performances and kicking most of the acceptance speeches to the online preshow special kept the prime-time broadcast from getting too political, barring Portnow's speech patting himself on the back for figuring out that he needed to recognize talented women.
The Grammys needed to say more this year, though. Double nominee 21 Savage has been on 23-hour lockdown in ICE's custody for days after an arrest that seems bogus, and the Grammy broadcast was packed with his peers. Drake, Cardi B, Offset, and Post Malone all got face time last night, but the only time Savage was explicitly mentioned was at the tail end of the show, when Childish Gambino producer and Black Panther composer Ludwig Göransson took time out of his speech to show support, since Savage did ad libs on "This Is America." (Post Malone performed the 21 Savage collaboration "Rock Star" in a medley featuring the Red Hot Chili Peppers and reportedly wore a "Free 21 Savage" T-shirt under his suit jacket, but if you didn't know Savage raps on "Rock Star" or catch up with Posty's social media to see the shirt, you more than likely missed the nod.) Elsewhere, the Grammys showcased LGBTQ women but stopped short of giving them TV time at the podium. The St. Vincent and Janelle Monáe performances radiated palpable queerness, but the chance to spell it out for the viewing audience was lost on everyone, although Brandi Carlile did touch on her own coming-out story in a preshow acceptance speech.
Ultimately, the Grammy broadcast did more right than wrong, and the wins were spread around mercifully evenly, although there was weirdness down the ticket, like Greta Van Fleet winning Best Rock Album for the Led Zeppelin cosplay of From the Fires and Sting and Shaggy taking home Best Reggae Album for 44/876, a work that's more fun to watch them talk about than to listen to. Everyone got a little something, whether they showed up or not.
The vibe of the morning after the Grammys is usually frustration about the many awards that went to the wrong artist, but this year, the only big miss is Mac Miller's loss for Swimming. (At least Cardi won with the McCormick family's blessing.) The Grammys need new blood. Ehrlich has been producing the show since 1980, longer than most of the featured talent has been alive. Portnow has been president of the Academy since 2002, a time when the industry had different concerns and (laughably false) confidence in the idea that the public will always pay top dollar for product. Portnow's imminent exit presents an opportunity for the Grammys and the Recording Academy to renew its relationships and reclaim a measure of prestige. But the right move for the Grammys is fairly obvious. The question is always whether they take it.