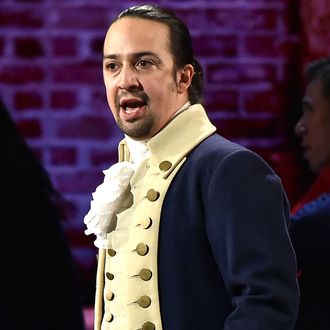 Lin-Manuel Miranda.
Photo: Theo Wargo/Getty Images for Tony Awards Pro
A Friday evening Hamilton performance in San Francisco left three people injured after an attendee suffered a medical emergency that was mistaken for an active shooter situation. Per CNN, a woman experienced a heart attack during the musical's pivotal scene when Alexander Hamilton is shot by Aaron Burr in a duel, which caused many audience members to "self-evacuate" after believing the woman, who stood up to leave the theater to seek treatment, was actually shot. Panic further spread when someone in the audience yelled "gun!", prompting the theater's attendees to stampede outside. Police told CNN that three people were injured and taken to a nearby hospital as a result, with the most serious injury being a broken leg. The woman who suffered from the heart attack was also hospitalized and in critical condition.
In a tweet, the city's Orpheum Theatre said an attendee "activated the theater's fire pull station," which instructed the audience and cast to "follow the life/safety system's automatic announcement and exit the theater." However, followup tweets from attendees said they believed the theater failed these supposed safety protocols, with many people likening what happened to "mass chaos" with "absolutely no support and direction" from the staff. In fact, one attendee witnessed "staff hiding themselves" from the pandemonium.
As a result of the panic, the Hamilton performance did not finish and attendees were instructed by police to go home.