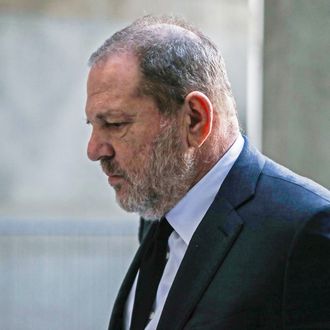 Photo: Anadolu Agency/Getty Images
Harvey Weinstein's sexual-assault trial in Manhattan is now scheduled for June 3, about one month later than the previously set date, an official with the New York State court system said.
Weinstein was originally scheduled to go on trial May 6, court papers filed in January had revealed — which would have been less than one year after his arrest.
The date change comes less than one month after a major shake-up on Weinstein's legal team. Reports claimed that Weinstein and lawyer Benjamin Brafman had been at odds for weeks.
Weinstein wound up hiring new lawyers; among them were Jose Baez, who defended Casey Anthony, and Ronald Sullivan, who repped former New England Patriot Aaron Hernandez.
Justice James Burke, who is overseeing the Weinstein case, ultimately green-lit the change during a proceeding. Prior to doing so, however, Burke grilled Baez and Sullivan about whether their previous representation of Rose McGowan, an outspoken Weinstein accuser who had been charged with cocaine possession, might pose a conflict of interest.
Burke asked Weinstein, "Do you waive any conflict that might pose?"
"Absolutely,"  Weinstein answered.
(McGowan wound up pleading no contest in that case, according to reports.)
Baez and Sullivan had told Burke that they expected to follow the previously discussed case schedule. But both lawyers are on the legal team defending hedge-fund honcho Mark Nordlicht in a securities-fraud trial that starts this week.
Neither Sullivan nor a rep for Baez immediately responded to requests for comment. The Manhattan District Attorney's Office also declined to comment.
This short trajectory from arrest to trial is uncommon in state court, where cases can wind through the system for years. Brafman insisted in late 2018, however, that Weinstein was eager to clear his name.
Weinstein faces five counts in relation to allegedly forced sexual encounters with two women, Mimi Haleyi and a woman who still hasn't been publicly identified.
He has pleaded not guilty in the case.