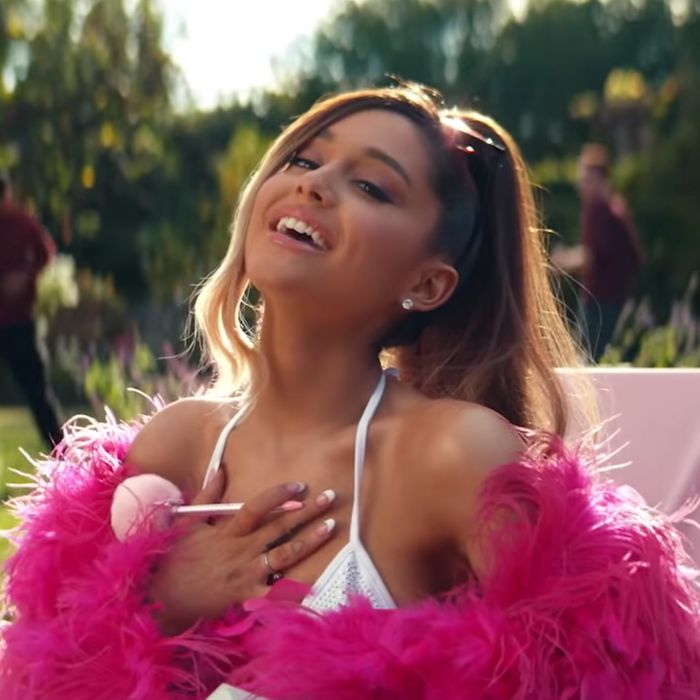 If you needed any more proof that Ariana Grande — a pop artist who has built a sturdy and impressive career on impeccable singles featuring of-the-moment collabs and deliciously retro R&B callbacks — has become one of the biggest musical superstars right now, just look at this week's charts. After the release of her latest album, Thank U, Next, three of her songs — the already-chart-topping "7 Rings" and the title track, along with "Break Up With Your Girlfriend, I'm Bored" — respectively occupy the top slots in the Billboard Hot 100. The last artist to do so? The Beatles, 55 years ago. In addition to that record-matching claim to fame, 11 of Thank U, Next's songs charted in the top 40, breaking the record for the most top-40 charting songs on the Billboard Hot 100 by a female artist. (The previous record holder was Cardi B, who had nine notches following the release of last year's Invasion of Privacy.)
On the surface, these achievements are impressive, well-earned, and indicative of the artistic and cultural moment Grande's currently enjoying. More so than any previous full-lengths in her solid discography, Thank U, Next and last summer's Sweetener represented auteur moves in terms of sound and lyrical content; the latter also marked the first time she'd largely contributed her own lyric writing. Gesture toward the headline-dominating nature of her personal life as a factor for this success if you must; but along with the diaristic, fascinating openness she's approached said exposure with, it's inarguable that the strength of the music itself — signifying a sonic and lyrical personality in ways that her previous albums hinted at — brought her to this chart-busting point.
This success story is also indicative of the ways in which chart success is measured circa 2019 — a result of the myriad changes in Billboard metrics brought upon by the digital age, from YouTube dance crazes (remember when Baauer's "Harlem Shake" was the No. 1 song in the country?) to the tallying of streaming-service play-throughs. Ariana and Cardi aren't the only artists over the last year to gain a boost (brief, long-lasting, or otherwise) from this frequently evolving system: Following the release of Drake's Scorpion, a whopping seven songs from the album (including previous, then-current, and future chart-toppers "God's Plan," "Nice for What," and "In My Feelings," respectively) occupied space on the top ten. Lil Wayne notched four slots after the release of his long-delayed-and-anticipated Tha Carter V, and the same went for J. Cole's K.O.D. and Eminem's Kamikaze — albeit without any songs that possessed the superhuman staying power that Grande, Cardi, and Drake have exerted.
The rest of this week's top-ten songs in the country (dated February 23, 2019, if you're reading this in the future) are similarly indicative of the increasing dominance of the charts by just a few familiar-face pop stars. Seventy percent of the slots are currently occupied by artists with multiple songs on the list; besides Ariana, there's Halsey's "Without Me" and her appearance on the Benny Blanco and Khalid collab "Eastside," and Post Malone — who, from November of 2017 on, has only spent five weeks total without a song in the top ten — does double duty with his end-of-year trifle "Wow" and the Swae Lee Spider-Man: Into the Spider-Verse collab "Sunflower."
This relative chart-homogeneousness may be dismaying, but a simple glance at the recent trajectory of pop itself proves that it's not surprising. Over the course of 2018, there were 12 weeks in which at least half of the Hot 100's top ten were overtaken by multiple songs from the same artists — an occurrence that didn't take place a single time the year before. More than a few of these instances can be chalked up to the aforementioned release-week bump, as well as Post's continued chart dominance; as new releases from big-deal pop-world artists like Chance the Rapper and Rihanna are set to arrive this year, we're likely to see this trend continue. There was a point in 2018 in which pop's direction felt more lost and all-over-the-map than it's ever been; in 2019, it seems wholly possible that pop will resemble a monolith of monoculture made up of just two or three distinct elements and little else.
This would typically be the section of an essay in which to lay into the almighty algorithm of streaming-era musical consumption — to blame the menacing machines and the torment of tech for forcing an increasingly narrow pop spectrum on unsuspecting consumers. But as unusual as this recent pop monopoly is, it's also not a case of things not having been this way before; the truth, instead, is somewhere in the middle. Using the charts from 2008 as a sample set, the last two weeks of that year featured a similarly astounding sameness, powered by recent releases from heavyweights Kanye West, Beyoncé, and Britney Spears, as well as that fall's overall chart dominance from T.I. In the last week of 2008, 80 percent of the top-ten songs represented multiple selections from those artists — 10 percent more than the swarm that this week's chart represents.
Indeed, scanning the Hot 100 charts circa 2008 suggests that it's not a new sensation in the slightest to have artists notch multiple entries in the top ten. Besides the aforementioned artists, that year featured Chris Brown, T-Pain, and Lil Wayne achieving such a feat; paired with similar accomplishments in 2017 from the Chainsmokers — whose "Paris" and respective Coldplay and Halsey collabs "Something Just Like This" and "Closer," respectively, were chart mainstays over a three-month period — this micro-phenomenon can often be attributed to artists simply having a moment in the form of multiple songs dominating the cultural consciousness. (Remember: This is an occurrence that dates back to the freakin' Beatles.)
The frequency of such chart domination — especially by multiple artists at once — is more likely to raise eyebrows when glancing at raw data. In 2008, there was a total of 16 weeks in which the Hot 100's top ten was wholly different in terms of artists from song to song; in 2017, that number grew to 24 weeks. Last year, that only happened twice; this year thus far, only once — on the week ending January 5, in which Christmas classics dominated alongside entries from (guess who) Post, Halsey, and Grande. Why is this happening more frequently, and is there a secret to these artists' respective success beyond pure market ubiquity?
A potential answer to those questions can be found through the chart performance of a figure who truly understands the power of manipulating ubiquity: DJ Khaled, who's achieved a Guy Fieri–like ability over the past few years to shake off his previous reputation as pop's most grating charlatan by way of pure staying power. For most of the summer of 2017 (a year in which no more than 40 percent of the top ten slots were occupied by artists with multiple entries), he was a multiplicity mainstay off the strength of collab-loaded singles "Wild Thoughts" and "I'm the One"; the latter helped propel Quavo of Migos (a group that has yet to achieve the feat) to similar status, via chart overlap with his Post Malone collab "Congratulations." Collab-powered singles — previously territory largely explored by hip-hop and R&B — have increasingly become the juice of life that pop music subsides on.
They're how Halsey (whose upper-echelon chart presence is somewhat new in the context of her still-evolving career) has maintained her own duplicate status, and it's given Drake an extra and albeit unnecessary boost with heat-gaining singles from Lil Baby and BlocBoy JB. Arguably, no one has benefited more from collabs in terms of chart dominance than Cardi; between her clock-punching appearances on Bruno Mars's "Finesse," Maroon 5's "Girls Like You," and G-Eazy's "No Limit," her down-for-whatever approach has made her a near-constant top-ten presence for the last year and a half, months after chart-topping topline singles like "Bodak Yellow" and "I Like It" dropped off.
Last week, Cardi returned with another Bruno collab, the slow-jam "Please Me," as well as a guest verse on Cali rapper Blueface's increasingly popular "Thotiana." The relative strength of either song and her respective performances aside, it seems inevitable that both will reside in the top ten simultaneously in weeks to come — proof that the key to being everywhere in pop circa 2019 might be as simple as doing everything.