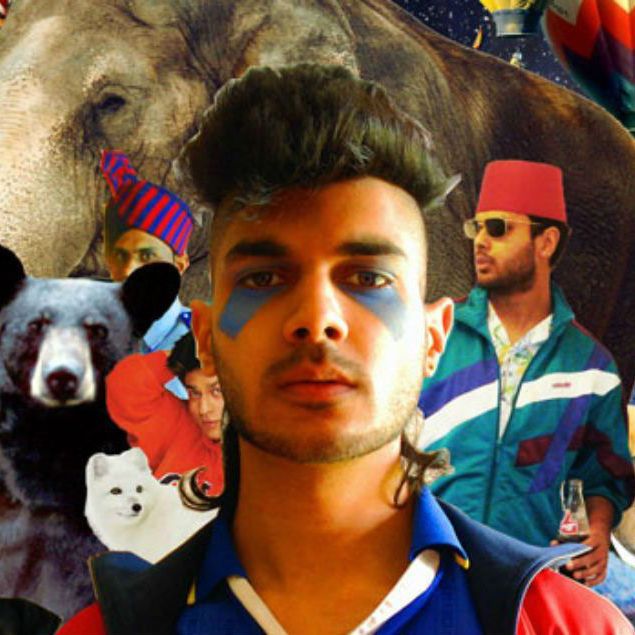 The simplified Jai Paul narrative reads like a moralistic fairy tale: A miraculously talented singer appears out of thin air with songs like nothing anyone has heard before. But the greedy townspeople steal his masterpiece and sell it, and the shy genius disappears, leaving only two demo singles and the spectral mp3s of his unofficial debut.
Jai Paul's 2007 demo version of his song "BTSTU" (featuring production from his brother, Anup "A.K." Paul) first caught fire in 2010, when music blogs discovered it on his MySpace page. The song quickly made the rounds online; its watery dynamics, effortless melodies, and iconic "don't fuck with me" falsetto vocal made clear that Paul was as iconoclastic as he was gifted. "Dude's on some shit," concluded the Fader. The song appeared at the perfect moment to catalyze a latent trend: Spurred by releases from acts like Discovery, left-field audiences were abandoning the ramshackle affectations of aughts rock-based indie and seeking out sleek electronic pop and R&B. It was a fluid era of dissolving hierarchies. Paul's weird, wonderful single fit right in.
In his first and only interview — with Dazed in January of 2011 — Paul said that the song "felt like the first time all my ideas had come together into something really concise, so I was really proud of it."
"BTSTU" received an official release on XL Records in April of 2011, titled "BTSTU (Edit)." It continued blowing up online and on British radio, where Zane Lowe declared it the Hottest Record in the World. A month later, Drake released a freestyle over the song titled "Dreams Money Can Buy," and Beyoncé sampled it on her album cut "End of Time" the next year. With anticipation at a fever pitch, Jai released his next single "Jasmine (Demo)" on XL in April of 2012. It felt like an immediate classic. The song presses on further into the smudged lane established by its predecessor. Warm guitar shimmers as if glimpsed beneath a lake. Sub bass rumbles within a thick coat of side-chain compression. Jai's voice seems to come from somewhere impossibly near and distant at the same time.
"The production concept made the tracks kind of unstable and unwieldy — mixes which were on the edge of swallowing themselves," said Adam Bainbridge, who records as Kindness, in a 2017 interview.
Jai Paul's influences were obvious enough: Prince, D'Angelo, maybe a little Panda Bear. But the way he combined them was not. He used production techniques that prioritize dramatic ambience over sonic clarity, imbuing weird sounds with warm analog grain. Paul stands alongside Burial as a modern master at creating digital textures that feel viscerally real.
Excitement for Jai Paul's debut album built steadily over the following year. One weekend in April of 2013, it seemed to arrive. A release containing 16 untitled tracks appeared for sale on Bandcamp to immediate online fanfare. Some songs were fully formed and brilliant. Others, less than a minute long, felt unfinished. Celebration was short-lived; the album was taken down within two days. In his first and only tweet, Paul wrote, "Demos on bandcamp were not uploaded by me, this is not my debut album. Please don't buy. Statement to follow later. Thanks, Jai." The statement never arrived, and neither did an official version of the release. The truth about what happened remains shrouded in mystery.
In late 2012, XL sent some in the media a musical Christmas card that played an unreleased Jai Paul song. Unofficially titled "Str8 Outta Mumbai," it appeared as part of the leak the following year. With technicolor caliber synths, Bollywood samples and a "woo-hooo" vocal topline, it brings to mind a postcolonial take on Blur's "Song 2."
Jai's influence can still be felt across the current landscape. One obvious torchbearer is recent Young Turks signee 1010 Benja SL, along with British electronic producer (and A.K. Paul collaborator) Mura Masa and, in his poppiest moments, experimental singer Yves Tumor. If you squint, trace elements can be detected in mainstream pop songs like Zayn's "Rainberry" and Halsey's "Hopeless."
"When I think about how much Jai Paul and A.K Paul influenced a generation of artists on only a few tunes (demos) it's kinda mind blowing," wrote R&B singer Nao on Twitter.
Over the next few years, as Jai Paul retreated from his disastrous brush with the limelight, his brother A.K. stepped forward. After contributing guitar work and production to Jai's singles, he ended up writing on Emeli Sandé's multiplatinum 2012 debut Our Version of Events. He also co-wrote songs with Sam Smith and Jessie Ware.
A.K.'s first release under his own name came in 2014, when he released "So Good," a striking collaboration with Nao. It's more crisp and defined than Jai's material, but it retains the same emotional warmth and sensuality. Over the next two years Paul continued to be an in-demand collaborator, releasing a song with the singer Jones and picking up a production credit on Miguel's Wildheart (after appearing in a rare photo in the studio with Jai and the singer).
Jai Paul is yet to release any new solo material since his debut was leaked. Behind the scenes, though, Jai and A.K. have continued working, producing, and releasing music from like-minded young musicians. Even if Jai has retreated from the starring role he seemed destined for at the beginning of the decade, it's likely he and his brother will continue to influence the shape of pop music for years to come.
In March of 2016, the Paul brothers announced a strange new venture called the Paul Institute, alongside their friend Muz Azar. At first, the Institute was just a mysterious web page with an email address. But a week later, A.K. released his debut solo single through the Institute. "Landcruisin'," with its twitchy night-flight grooves, lives up to the description given to it by an enthusiastic Zane Lowe: "Blade Runner pop."
Jai Paul has only appeared in a handful of photos. Whether intentionally cultivated or not, an air of mystery surrounds him. So approximately zero people were prepared for the report that appeared in an obscure British real-estate magazine called Property Week in 2017. The story — which included a photo of Jai and A.K. Paul holding shovels and wearing yellow construction vests and hats — declared that the Paul Institute had purchased a building in London formerly used as a nightclub by the BBC to serve as a home base for a "growing collective of musicians, artists, and technologists."
The brothers' beatific smiles and the building's strange metallic dome gave the impression that they were starting a New Agey cult organization ripped from the pages of a Pynchon novel. "How will he have to time make an album," wrote a despondent fan on the Jai Paul Reddit page, "when he will seemingly manage some kind of music school?"
Over the past two years the nature of the Paul Institute has become clear. It's basically a record label combined with a talent incubator: The Pauls find young musicians who share their '80s-influenced pop vision and nurture them creatively, often playing on, co-writing, and engineering their records. Think Jimmy Jam and Terry Lewis for the Central St. Martins set.
To date, the label has released music from four artists (plus A.K. himself): HIRA, REINEN, Fabiana Palladino, and Ruthven, all of whom were relatively (but not entirely) unknown beforehand. In an interview with Dazed, Palladino said she met up with Jai after he reached out. "I was totally aware of that 'mystique', but that's just internet stuff," she said. "He's a normal person. It's funny that people think he's a magical being." Ruthven simply emailed some demos to the address on the Paul Institute website, and heard back within a few days.
The Institute has collected the seven singles it's launched so far on a Spotify playlist titled Official Releases From the Paul Institute. Taken as a release itself, the playlist is one of the most interesting projects of the past few years. The music is clearly indebted to pop and R&B touchstones like Prince and Kate Bush. But it's not faithful retro-fetishism; the songs combine vampy '80s synths and drums with a chromed-out future-facing sheen. It's as if the Pauls have built a wormhole between 1987 and 2022, ignoring everything in the interim.
In 2017, Palladino released her Paul Institute debut single "Mystery." It's co-written and produced by Jai Paul, and even features his backup vocals, his first official appearance on a record since 2012. Big, stomping pads form the song's backbone; about halfway through, gated drums explode in the mix like rhythmic shooting stars. Palladino's voice is strong and clear, harmonizing with Paul's wispy falsetto. It's a startling introduction to her gifts, and her 2018 single "Shimmer" is even better. She produced it herself, while Paul contributed electric guitar and synthesizers. It starts with Palladino's delicate harmonies emerging from a waterfall of sparkling electronics. Then galloping drums come in and she kicks into gear. Inspired by Chaka Khan and Donna Summer, Palladino struts with Coachella-caliber confidence; "You think I'm an easy target / I won't keep my voice down," she sings, sounding like an android cloned from a Haim sister.
By day, Ruthven is a London firefighter. When he's not rushing into burning buildings, he's making slinky jams. On his 2017 single "Evil," his robust voice twists and turns over neon-hued synths and percussion that owe a heavy debt to Bad-era Michael Jackson. His follow-up, 2018's "Hypothalamus," sounds like a natural extension of "Jasmine," with a catchy synth line thrusting through side-chained murk. But where Jai's songs tend to maintain an even keel, this one combusts at the end, courtesy of an arena-ready guitar solo from A.K. Paul.
In 2018, the Paul Institute added two new faces to the fold, REINEN and HIRA. The latter is a British R&B singer who'd previously collaborated with A.K. on a song called "Eve." His Institute single "Red Light Drive" is a thick, low-slung slice of Prince-indebted late-night pop — it's what you might get if the Weeknd mainlined the soundtrack to every Michael Mann film.
The Institute really started showing its range with REINEN's 2018 track "Masquerade." A devotee of Kate Bush and Peter Gabriel, REINEN exudes theatrical maximalism, crooning over martial percussion. The song overflows with odd bits of sound: choral synth pads, laughing voices, strange chimes, birdsong; it sounds like the entire soundboard for a Broadway play being called into action at once. "I had a feeling of being submerged in a pulsating, kaleidoscopic ballroom," the singer told Dazed.
It's totally possible that Jai Paul's name may never appear on another solo record. But in guiding the Paul Institute's stable of talent as they expand its glittery pop-funk universe, it appears the reclusive genius has found a creative lane he feels comfortable in.