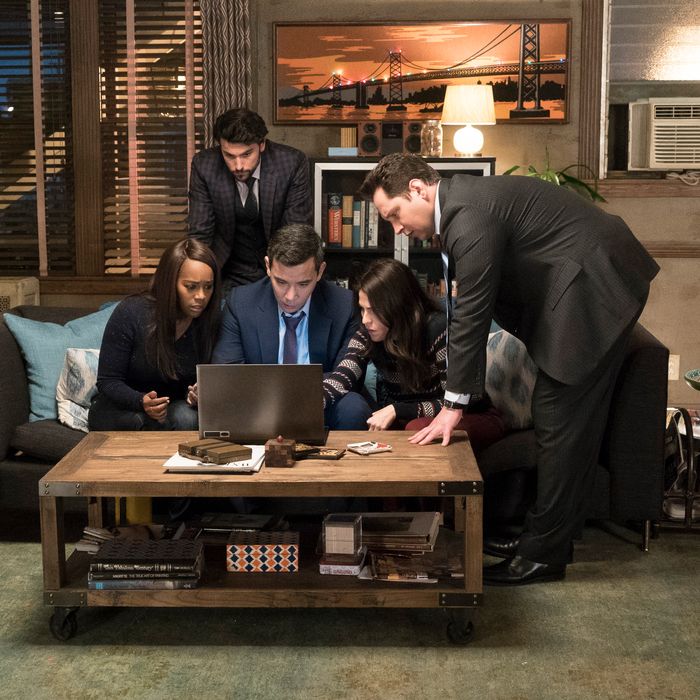 Gentle readers, I'm back! Sure, I took a little break for Valentine's Day. Sure, I found myself breathing a little sigh of relief that I was missing an episode that would probably be full of the misadventures of the Keating Gang. But … NONE OF YOU told me that the Honorable High Priestess Cicely Tyson would be gracing the episode. She had playful phone sex on her daughter's home phone line on Christmas Day and encouraged Annalise and Nate to get married. She was a queen in every second that she appeared onscreen, and I missed her this episode. I do desperately need to understand why we got a Christmas episode on Valentine's Day. What a bizarre timeline that we live in. We're not here to talk about the episode from last week, but we have to talk about the charge toward the season finale. It was … acceptable.
Here's the thing we all have to accept about How to Get Away With Murder: When Viola Davis is not onscreen, the whole thing falls apart. At one point, I pressed pause to get up and get a snack and the whole screen was filled with Viola Davis's face. I was like, "I could watch this for a full 45 minutes." Then Laurel or Gabriel would do or say anything and I'd be falling asleep.
There are a couple of characters who are acceptable for me to look at and listen to: Michaela, Nate, Chaotic Sexual Teagan, and Oliver when he's hacking. The show hasn't really figured out what to do with the other characters as they try their best to match the charisma factory that is Viola Davis. The show also hasn't figured out what to do with Gabriel now that he's spun out all his narrative juice. He told everyone that Sam was his dad, she sneaked into Annalise's house, we had some sad flashback moments, he told the FBI that the governor did it. He's a dried-out sponge now. Do we need him to flirt with Michaela in extended scenes that end up with Michaela feeling sorry for herself? No! Especially because overconfident Michaela is the best Michaela.
So where did we end up after last week's episode to get ourselves ready for this week? Speed round: Nate made Ron's death look like a mob hit. The FBI lady with the square head got a warrant for the wedding photos. Annalise was offered complete immunity if she's going to talk to the FBI and Laurel decided to call the FBI too. For reasons. I feel like no one is on Laurel's bullshit with her at all times (but she will soon be vindicated). Bonnie had a pregnancy scare and it almost tore her the fuck apart. Teagan leaned into her magnetic sexual energy and got the FBI lady with a blunt bob to make out with her and get her taken off the case. Annalise found herself face to face with the governor who told her that Emmett Crawford was the one who killed Nate Sr. Cicely Tyson had phone sex on Christmas Day. Twelve Stars.
Let's get into this week with the double bombshell that the FBI lady with the blonde hair was taken off the case and that Emmett is the one who ordered the hit on Annalise. Teagan is appropriately suspicious because it's a known fact that the governor is a messy bitch who lives for drama. Annalise thinks that Emmett ordered the hit because the phone calls happened minutes after she quit. She thinks he wants to destroy her. Fortunately for her, Emmett also wants to bang her. She's going to take advantage of that to get some answers.
CAN WE TALK ABOUT ANNALISE'S SEXY OUTFIT? Oh, man. First, she picks up a white blouse with ruffles. How is that your first thought when it comes to "I have to dress to seduce." She thought, Lemme try the froufrou blouse. Next, she puts on ankle boots with a kitten heel. When Viola Davis becomes Annalise Keating, she's completely incapable of walking in heels. The rest of her sexy outfit is a mildly lacy top, a black-and-white patterned pencil skirt, and a LEATHER BLAZER. What in the Mary J. Blige is happening here? How is this the sexiest outfit she could come up with? What she wore to the wedding was sexier and less confusing. She goes into Emmett's office and teases him about his attraction to her. She's wearing a leather blazer. Y'all, I can't.
Laurel gets a strange heavy-breathing phone call and heads to the FBI to ask about her mother. She thinks her mother might be in danger and she assumes that they put her mother in witness protection, so can they just call her? The FBI lady offers her the same immunity deal she offered Annalise, but she's going to need some information.
Gabriel comes to visit Annalise to tell her that his mother wants to come visit but he never told her he transferred. Can we get this man out of the show? We're seducing FBI agents over here, kid. Do not come at Annalise with any problem less than that. Okay, here's basically everything that happens with Gabriel: He asks Annalise for this, she sends Michaela to use the powers of studying to put him in submission, but he makes Michaela feel bad about not being interested in her birth parents. That's seriously all he does this episode. I'm very much over Mr. Cheekbones.
Meanwhile, the rest of the Keating Gang is either focused on Frank trying to get them to forgive Bonnie or working with Bonnie to file a motion to get the laptop back from the FBI. For all of her wallowing, Bonnie is getting a lot of attention. Laurel gives Bonnie the most perfunctory forgiveness, and I guess we're moving on from that.
Emmett asks to see Teagan to let her know that IT showed him the email where she's referred to as Jane Doe and he wants to know if it's true. Teagan has a mild freak-out, but Emmett tells her he's planning to leave. She should have his job, and he's going to run for district attorney. This pisses everyone the fuck off. Annalise is even more motivated to go after Emmett, and when they see some footage at the prison where he's visiting Nate Sr., she's ready for a fight.
On their date, Annalise starts off medium-charming with Emmett, but she quickly drops the info about him running for district attorney. She accuses him of being a people pleaser when he's covering up something and there must be a few bodies buried along the way. He says that she's just pushing away a man who might care for her and call her on her crap. Annalise storms out of the dinner and winds up drinking at home. With the date being less than successful, they've got to get some more evidence. Bonnie heads to the warden and plays him the phone call of Ron calling him to get the video footage of the prison.
Then there's this whole thing with the laptop. This was imitation law. This was the law lite. It all comes down to Oliver hacking to find some information about the judge that gives the warrant the appearance of impropriety, and he gets the whole thing dismissed. This episode really took its time to explain exactly how the appearance of impropriety works. Like … several times. Once they get the computer back, they can see a photo taken by the computer of the person who was trying to get through the firewalls and, of course, it's the FBI lady. She has her web of crimes behind her with Annalise's big-ass picture in the middle. Uh-oh.
Annalise says they would already be in jail if they had any evidence and the Keating Gang should keep calm. We all know that literally every member of the Keating Gang is incapable of keeping calm. Emmett storms over to Annalise's apartment to say he didn't kill Nate Sr. Ooooh, it's final-montage time. While Annalise and Emmett argue about how great their date was or wasn't, the Keating Gang debates where in the world they should abscond to. At one point, Annalise says, "Game over. The world doesn't belong to you and your good ol' boys. It belongs to me." Yes, please.
Suddenly a box arrives at the door of the Keating Gang that's addressed to Laurel. I spent the last three minutes of the episode thinking it was a bomb. I expected the house to blow up, but no, it's a scalp. It's Laurel's mother's scalp. At the same time, across town, Frank recognizes Laurel's brother in the prison footage.
Next week is the finale, and I'm prepared for the entire episode to be a montage to deal with all these incredible plot threads that have to be tied up.