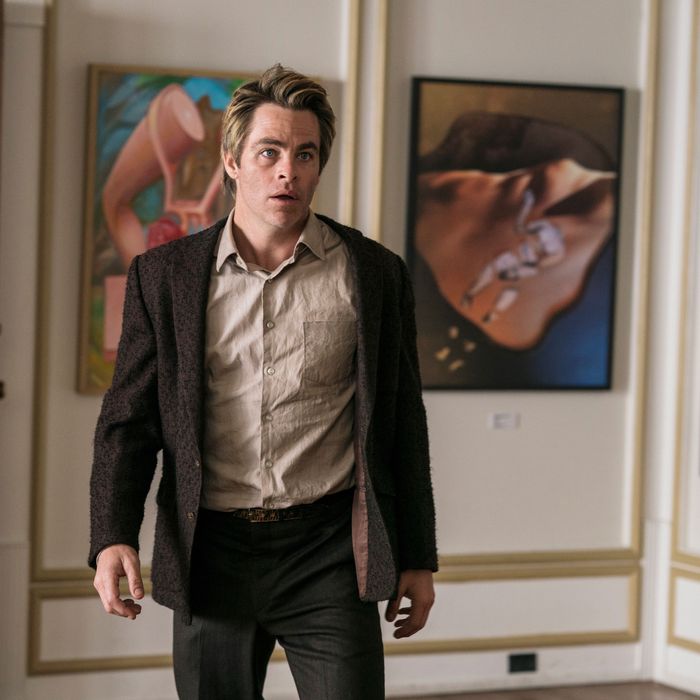 This week's episode of TNT's I Am the Night, "Matador," ends with what creator Sam Sheridan calls "the oh shit moment," his favorite beat in any detective story.
In this case, the moment arrives after Chris Pine's journalist Jay is being chased through an art museum and stumbles into a gallery of works owned by the infamous L.A. gynecologist Dr. George Hodel. "He walks in and he couldn't care less. Then he's like, This stuff's gross. What a joke. Who would buy this? Then he has his first flash," Sheridan says. Looking at the paintings showing women's severed torsos and limbs carefully posed, Jay's recalls the crime-scene photos he's seen of Elizabeth Short — the real-life aspiring actress who was brutally mutilated and murdered in 1947 and dubbed the Black Dahlia — followed by the photos he took of another murdered woman, Janice Brewster, in the premiere episode. He realizes that the Black Dahlia murder may have been Hodel's own sick Surrealist masterpiece.
The visual link between Surrealism and the Black Dahlia body was what interested Sheridan most when he and co-executive producer Patty Jenkins began talking about doing a series inspired by the life of Fauna Hodel, whose search for the truth about the family that gave her up for adoption fuels I Am the Night. Sheridan was a painter in college and his mother was an art historian, so he had his own epiphany when the real-life Fauna showed them books making that connection, including Exquisite Corpse and Black Dahlia Avenger — the latter written by George Hodel's son Steve Hodel, a former LAPD homicide detective who believes that his late father was Short's killer (and murdered other women as well).
"There's this undercurrent of misogyny that's very strong," Sheridan says of Surrealist artists like Salvador Dalí. "Certainly in Man Ray, turning women into the coat rack where it's a woman's body with a cut-out head. All these compartmentalizing of women's bodies … You look at something so many times as you're young and you never really reevaluate it. Hodel's interest really made me look at the way these guys thought about women in a different way."
George Hodel was friends with the American artist Man Ray in the 1940s, and his son believes that the severing and positioning of Short's torso and the cutting of her mouth were homages to two of Man Ray's most famous works from the previous decade: Minotaur and Observatory Time: The Lovers. Neither is on display in the gallery in the episode, though. "Because of artistic license and intellectual property rights, using real Surrealists is tricky," Sheridan says. "You can't link famous real people to a serial killer, particularly in Europe."
That presented an interesting challenge for production designer Julie Berghoff, an Emmy winner for Hulu's The Handmaid's Tale. She was able to clear the use of two works by German surrealist Max Ernst for the gallery, most notably Celebes. (A digital file of Celebes was printed onto a canvas, which had to be destroyed after filming was wrapped.) The rest of the pieces, which figured more prominently into Jay's "oh shit moment," were originals produced specifically for the show, by a small group of artists who incorporated Berghoff's sketches of relevant Surrealist themes and symbols (such as a rose or keyhole, which linked back to the murders).
"One of the influences was making women like machines," Berghoff says, pointing to a key painting featuring a faceless woman lying on a Grecian ruin. "We wanted them not to be seen. That was the whole idea of having the mirror for a face and making [the body] more like a mannequin. It was almost like an offering."
For those flashes Jay sees of the victims' bodies, Berghoff worked with the special-effects and makeup team to create cadavers, but they also did photo shoots with an actress. The pictures were projected onto the wall amid Jay's revelation, Sheridan says, to spark that feeling of being inside his head.
The sequence went through "endless versions" in the editing room to mimic that tricky effect — "The story is so well-known that, of course, like one Google search undoes all my work of trying to stage these reveals," Sheridan says with a laugh — and it climaxes with Jay coming face-to-face with a large sculpture of a bull that Berghoff viewed as part–Grim Reaper. (To the Surrealists, the half-bull, half-man minotaur represented unbridled male power and sexuality.) The piece wasn't described in the script, but in her research of Hodel's life and home, Berghoff noticed that he liked to travel and collected sculptures of animals, including a small bull. "His character was like this bull in a china shop," she says. That's why a bull appears at certain points throughout the series, and not just to represent Hodel.
"The bull really is about the evil in all of us. It's not sexual, it's more the blood lust," Sheridan explains. "[Different] characters see it at various times when the joy of killing is on them. The bull can happen to anybody. Those dangerous and horrible feelings are available to anyone."