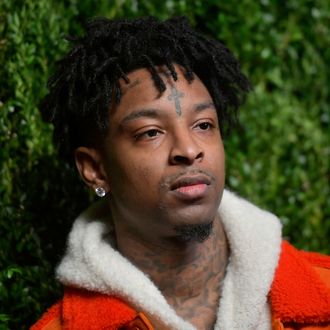 Photo: Roy Rochlin/Getty Images
On Sunday, multiple sources reported that 21 Savage was taken into custody by U.S. Immigration and Customs Enforcement (ICE), who allege the Atlanta rapper is a United Kingdom national who stayed in the U.S. after his visa lapsed. "His whole public persona is false," an ICE spokesperson told CNN's Nick Valencia per the journalist's tweets. "He actually came to the U.S. from the U.K. as a teen and overstayed his visa."
According to the Atlanta Journal-Constitution, ICE spokesperson Bryan Cox said 21 Savage, whose given name is Sha Yaa Bin Abraham-Joseph, was arrested at a traffic stop in Atlanta, along with three other people, during which ICE discovered his immigration status. The rapper allegedly received a one-year visa in July 2005. If the timeline put forth by immigration officials is true, 21 Savage would have been 12 when he arrived in the United States. Per CNN, the rapper is "presently in ICE custody in Georgia and has been placed into removal proceedings before the federal immigration courts."
The rapper's lawyer Dina LaPolt told TMZ in a statement: "We are working diligently to get Mr. Abraham-Joseph out of detention while we work with authorities to clear up any misunderstanding. Mr. Abraham-Joseph is a role model to the young people in the country — especially in Atlanta, Georgia and is actively working in the community leading programs to help underprivileged youths in financial literacy."
Update, February 4: According to CBS News, 21 Savage wasn't the target of the original arrest that landed him in ICE custody. His cousin, Quantavious Thomas (who goes by the rap name Young Nudy), and two other men were instead the focus of a sting that resulted in the traffic stop. Young Nudy was arrested and charged with aggravated assault and participation in criminal gang activity; CNN's Nick Valencia reports that a background check was then run on 21 Savage, during which his alleged immigration status was discovered and he was transferred into ICE custody. Asked how that alleged status wasn't flagged during 21 Savage's 2014 arrest on felony drug charges, law-enforcement officials tell Valencia that they "weren't aware of it then and became aware of it in the fuller picture afterwards." As Valencia notes, that doesn't explain how 21 Savage would've been able to tour overseas and reenter the U.S. since 2006 with an allegedly expired visa.
Britain's Foreign Office confirmed on Monday that 21 Savage is British and that they are in contact with 21 Savage's lawyers. Meanwhile, the Daily Mail published what appears to be a copy of 21 Savage's birth certificate that claims he was born Shéyaa bin Abraham in Plaistow, Newham, in East London on October 22, 1992, to two British-born parents, Heather Joseph and Kevin Emmons. According to the Mail, it appears his mother immigrated to Atlanta with 21 Savage in 2005 after separating from his father. They claim 21 Savage still has two twin sisters and a grandmother living in London, as well as his father. One of the sisters allegedly deleted tweets about 21 Savage's arrest, saying he "moved to America when he was mad young, so he basically is American, he grew up there," and that his potential deportation "smells fishy."
Update, February 4, 3 p.m.: 21 Savage's lawyer, Charles H. Kluck, has issued a new statement accusing ICE of attempting to intimidate his client into leaving the U.S. He says that Homeland Security has known about Savage's immigration status and history since 2017, when he applied for a still-pending new visa, but curiously did not take any legal action until Sunday. Kluck claims that the arrest is "based upon incorrect information about prior criminal charges" — referring to Savage's 2014 federal drug conviction, which was expunged from his record last year — and that ICE is refusing to release Savage on bond. "This is a civil law violation, and the continued detention of Mr. Abraham-Joseph serves no other purpose than to unnecessarily punish him and try to intimidate him into giving up his right to fight to remain in the United States," he says.
Savage's 2017 application was for a U visa, which is used for victims of a crime. In 2013, Savage was shot six times during an incident that also killed his best friend; his application claims that the shooting "severely affected [him] physically and mentally," and therefore should make him eligible for permanent residence. Kluck also notes that Savage has three American-born children, making him eligible for relief from deportation.