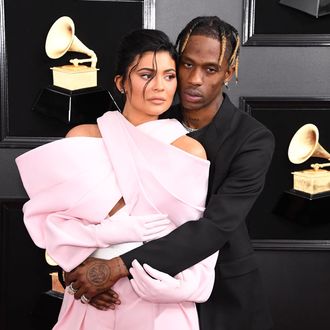 Kylie Jenner and Travis Scott.
Photo: Steve Granitz/WireImage
It's hard out here for a youngest self-made billionaire. First her best friend sleeps with her sister's estranged husband, then Travis Scott danced to "Baby Shark" in the club, which is too embarrassing for words. And now rumors are flying about infidelity on Travis Scott's part. Scott postponed his Buffalo, NY, show Thursday night "due to illness." TMZ is now claiming that the specific illness Scott suffers from is "been-caught-cheating-itis," a terminal affliction from which few recover. "Travis' reps say the rapper absolutely denies he cheated on Kylie. But, we're told on Wednesday he flew back from the East Coast to surprise Kylie and Stormi," wrote TMZ. "They were at her home in the evening, when she claimed to discover 'evidence' he cheated on her." What evidence, if any exists, remains undetermined.