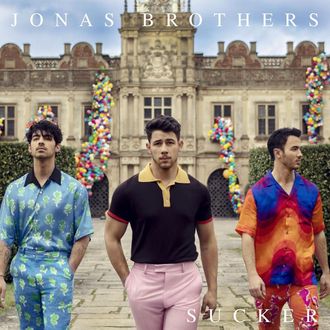 If you've been waiting with bated breath since the last time the Jonas Brothers released new music six years ago, we have some good news for you: The boys are dropping a single, titled "Sucker," tonight at midnight ET.
Nick, Kevin, and Joe Jonas all teased the new music on social media with some cover art (no, it's not the Lonely Island; it's the Jonas Brothers!). They also announced that they will be taking over The Late Late Show With James Corden from next Monday to Thursday for the first performances back together, including Carpool Karaoke.
The former Disney stars and purity-ring ambassadors made up the boy band the Jonas Brothers from 2005 to 2010, took some time off for solo projects from 2010 to 2012, had a brief reconciliation from 2012 to 2013, and then broke up for what seemed like the final time.
But alas! Six years later, they're all grown up and ready to make music again. In the interim, Joe was the lead singer of the band DNCE; Nick released a few solo albums; and oldest bro Kevin, who married his wife, Danielle, in 2009, became a father of two and started a real-estate development company. The other bros found love, too: Joe is engaged to Game of Thrones' Sophie Turner, and Nick, if you'll recall, married Bollywood turned Hollywood star Priyanka Chopra to much fanfare and a few magazine covers last fall.
It seemed like they were all but settled down and ready to retire into the sunset on their teen-pop fortune, but apparently, America's collective yearning for a simpler time tempted them back into the spotlight.
Check out their trailer for The Late Late Show below.