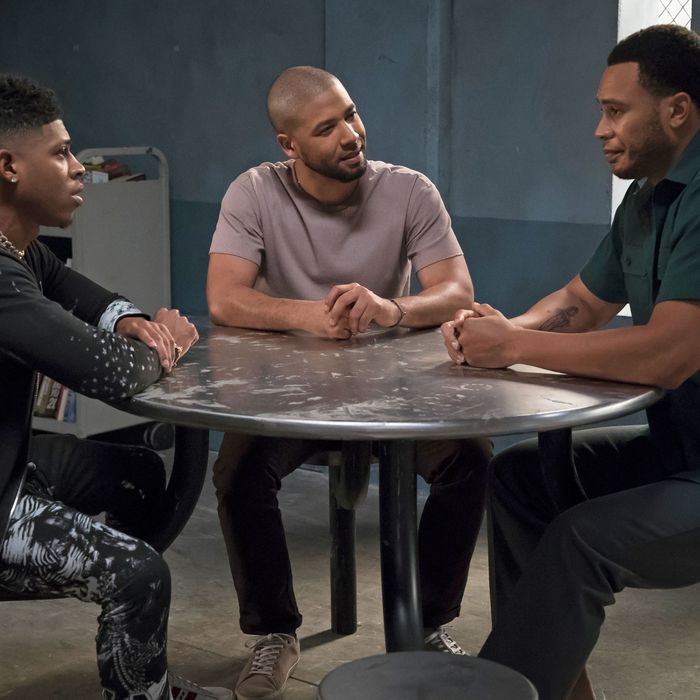 The Jussie Smollett saga just got another plot twist: Empire's producers stated on Friday that Smollett's character, Jamal Lyon, will be cut from the final two episodes of the show's fifth season, which is currently filming in Chicago. The announcement leaves fans wondering what this means for Jamal's fate on the Fox show — especially since we were already set up to potentially lose another major character this season.
When the premiere episode of Empire season five aired on September 26, it opened with a flash-forward of Lucious Lyon standing over a white coffin in mourning. The coffin reappeared in vignettes during most of the subsequent episodes, so naturally the question that fans want answered is, "Who died?"
Throughout the front half of the current season, which plays out in flashbacks leading up to the funeral, viewers speculated each week about whether the writers would kill off a major character as each episode inched closer to the answer. Empire has had some major deaths in the past, but they were always still secondary characters (like Anika in season four). Even after Lucious almost died in that car explosion in season three, but it was never clear how edgy writers would get with the fate of a main member of the Lyon clan. Would they actually take out Cookie (Taraji P. Henson), Lucious (Terrence Howard), or their sons, Jamal (Smollett), Andre (Trai Byers), or Hakeem (Bryshere Y. Gray)?
Lucious mourning at the funeral was a recurring scene for several episodes throughout the first part of the fifth season. Until December, when the winter finale ended on a cliffhanger with Andre Lyon flatlining on a gurney. This was just after Kingsley, the latest antagonist, threatened to "end him first," so it could have been ominous foreshadowing. But you never know with this show. Andre's fate won't become clear until Empire returns on March 13 — and now, with Smollett's legal drama unraveling in real time, it's increasingly unclear what's going to happen with Jamal as well.
Empire hasn't yet been confirmed for a sixth season, but if the show returns and is forced to move forward without Smollett, writing Jamal out won't be hard, but the character is an important one, and his absence would be felt. He's an openly gay pop star — groundbreaking for prime-time network TV — who we watched overcome a drug addiction and find what seemed like true love with an HIV-positive man. Throughout season five thus far, we've seen Jamal return to the United States after moving to London to take some time away from his family drama. It always felt like he had one foot back across the pond, but we also got the sense that he was going to stick around to help his parents reclaim ownership of Empire Records, which was stolen from them by the now-deceased Eddie Barker (Forest Whitaker).
Jamal sticking around also made sense because he is the most grounded Lyon cub. He's the brother who keeps Cookie, and even Lucious in a lot of ways (though Lucious may not know it), from really falling off the deep end. Jamal, despite his addiction issues, is probably the only brother who won't ever follow in Lucious's footsteps, which is good for the family business. His character attributes are needed for balance. Yet at the same time, Jamal is more interested in starting his own record label. He wants to do his own thing, but he keeps getting sucked back into the Lyon web of drama. The last time we saw him, he was protecting his family once again at the risk of losing his relationship.
One of Jamal's final scenes in season five's first half found him ending on bad terms with his fiancé Kai (Toby Onwumere, whose stand-in, Abimbola "Abel" Osundairo, is one of Smollett's alleged accomplices). Kai is an investigative journalist who discovered that Lucious has dossiers on all of his Empire artists containing unscrupulous information about some of the crimes they've committed, and he has managed to keep that information hidden from the public. Kai, being the professional that he is, wants to leak this information, but Jamal says his father is only doing this to protect his artists and tells him that his family doesn't need any more drama, to which he responds, "So you're asking me to choose between what's right and what's right for your family?" Jamal tells Kai that he is his family, and Kai shows him the "Truth Conquers All" tattoo on his chest. Basically, Kai tells Jamal that if he doesn't release the story, then he's going to resent him for asking him to kill it. After a brief standoff, Kai agrees to hold off on the story but says he needs to reevaluate their relationship. He got offered an amazing new permanent position in London that he's 99 percent sure he's going to take. It seems like it's a break, or a breakup, but it may not be, and that's something the show will need to address when it comes back.
If Jamal must be written off the show, then perhaps he'll conveniently follow Kai back to London. There was always the threat of Jamal going back there anyway, since it's where he seemed most happy, so it's the most obvious route. That way, he can remain overseas in limbo until Smollett's actual legal woes are resolved, but they probably won't kill Jamal. Empire without Jamal, or any of the Lyon brothers, would feel meaningless and could potentially tank the show — if Smollett's alleged hoax doesn't do that first.