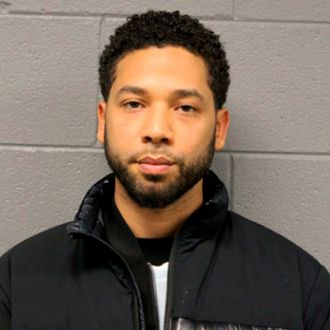 Jussie Smollett's mugshot.
Photo: Chicago Police Department
Jussie Smollett's motivation for allegedly paying two brothers to stage a racist, homophobic attack on him was displeasure over his Empire salary, Chicago police said Thursday. That might prove to be the case, but if so, Smollett and his reps hadn't made his displeasure known to his employers at 20th Century Fox TV.
According to two industry sources familiar with the situation, neither Smollett nor his reps at United Talent Agency had made any noise about a pay hike in the weeks or months leading up to the events of the staged January attack. "There were zero rumblings," said one of our sources. As for how much Smollett is currently earning for his work on the show, a top talent agency source familiar with the salaries of Empire's cast tells Vulture the actor is pulling down "around $125,000 per episode," not counting any monies Smollett might collect from sales of his musical performances on the show, or from any profit participation he may (or may not) have in syndication sales of the series.
Other sources, who declined to talk any specific numbers, hinted Smollett's paycheck might be a bit below $125,000 per episode but still in the low six-figure range. Smollett almost certainly started his career on Empire making much less money: Save for some work as a child actor, he wasn't a big name before the show debuted in January 2015, and there was little expectation the show would become a big hit. But as is standard in TV land, 20th Century Fox reopened the contracts of the show's main talent following season two, giving big salary hikes to account for the show's massive early success. While Empire ratings are way down from its early seasons, the series remains the No. 2 drama on Fox, behind only the Ryan Murphy–produced 9-1-1.
Smollett, who was charged with a felony count of filing a false report to police, is currently free after posting bail. Spokespersons for 20th and Smollett declined comment.